Author: ElectricBikeReview.com via YouTube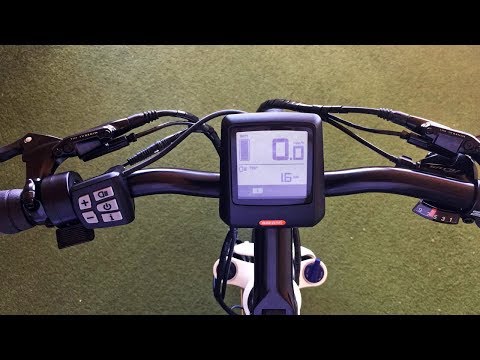 While visiting family in Arizona, I was able to spend some time digging into the Bafang DP C07.UART LCD display control pad and wanted to share some of the deeper settings with a short video overview. In this video, I show how to change units from miles to kilometers, how to clear the trip distance, average speed, and max speed, how to adjust the backlight and change the automatic light activation sensitivity. I also explain how walk mode works and how different levels of assist impact the throttle (if the bike has a throttle).
While the display is not removable, it is easy to swivel (to reduce glare), and this particular bike did have a full sized USB port located on the right side of the battery pack. In the past, I think I have actually seen similar looking displays which did have USB ports built into the base… I welcome your feedback on that. I have found that the remote button pad works very well and is simple to use. Rather than overloading a limited number of buttons with special press combinations to activate the lights or enter settings, this pad has an independent light button and information button. Just tap the i button twice to enter settings and hold the light button for two seconds to override automatic lights and force them on.
Quick tips:
– The buttons on the remote button pad include: Power, Lights, Information, +, and –
– To change units from miles to kilometers, double tap the i button and navigate to the second section by pressing i once, then use the + or – key to change units, double tap i again to exit
– To activate walk mode, simply hold the – button (this seems to work in any level of assist, including 0)
Navigation aids:
– How to enter into the settings menu at 3:26 (which covers resetting trip distance, average speed, and max speed, as well as changing units from miles to kilometers
– How to activate lights at 2:11 and 3:13
– How to activate walk mode at 2:27
– How to change menu readouts at 2:53
To compliment this video, I have also created a post in the EBR forums with written instructions and pictures which you can visit here: https://electricbikereview.com/forum/threads/bafang-dp-c07-uart-ebike-display-settings.22433/
The official Bafang website lists other displays and some specifications at: http://www.bafang-e.com/en/components/hmi.html
Bafang DP C07.UART Electric Bike Display Settings