Bike Test: Bulls E-Stream EVO AM 4
Sean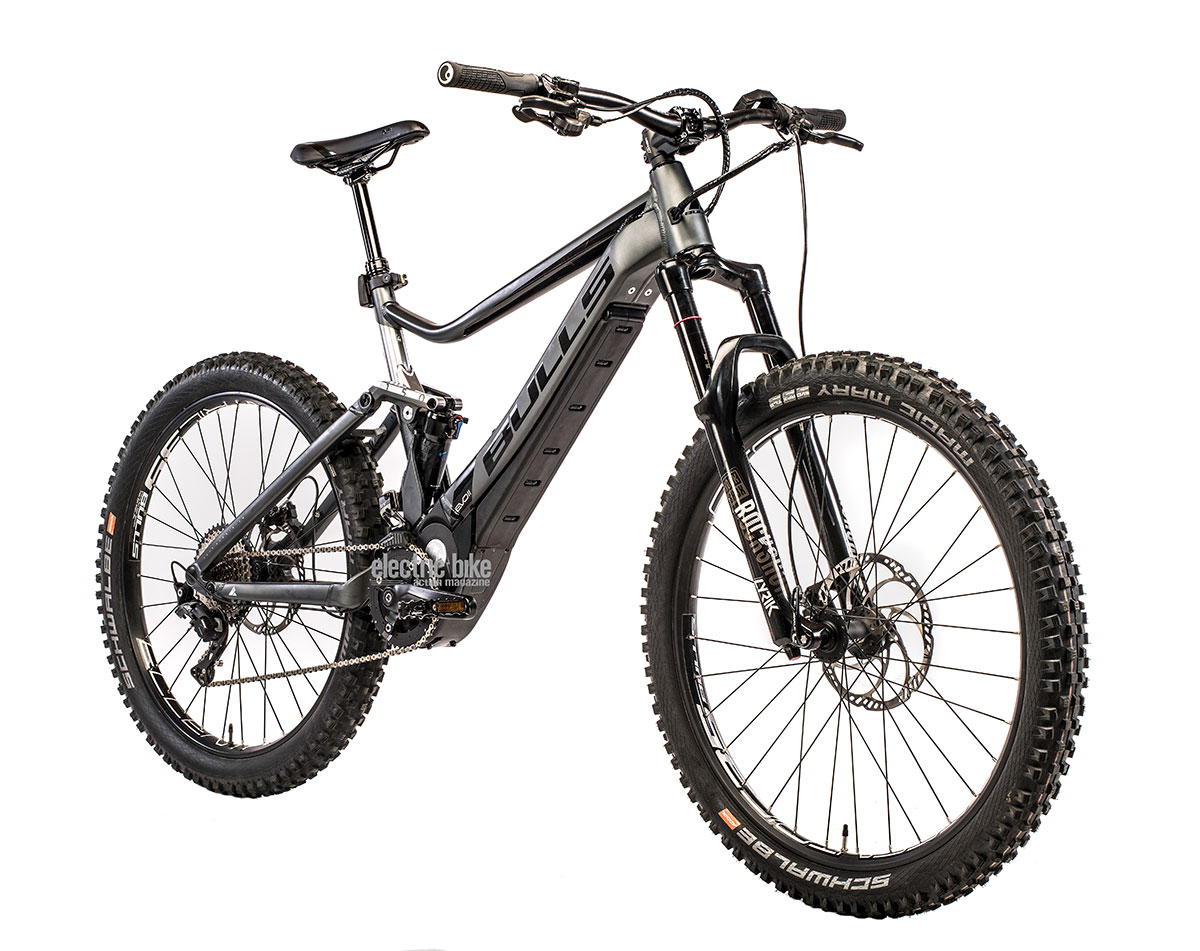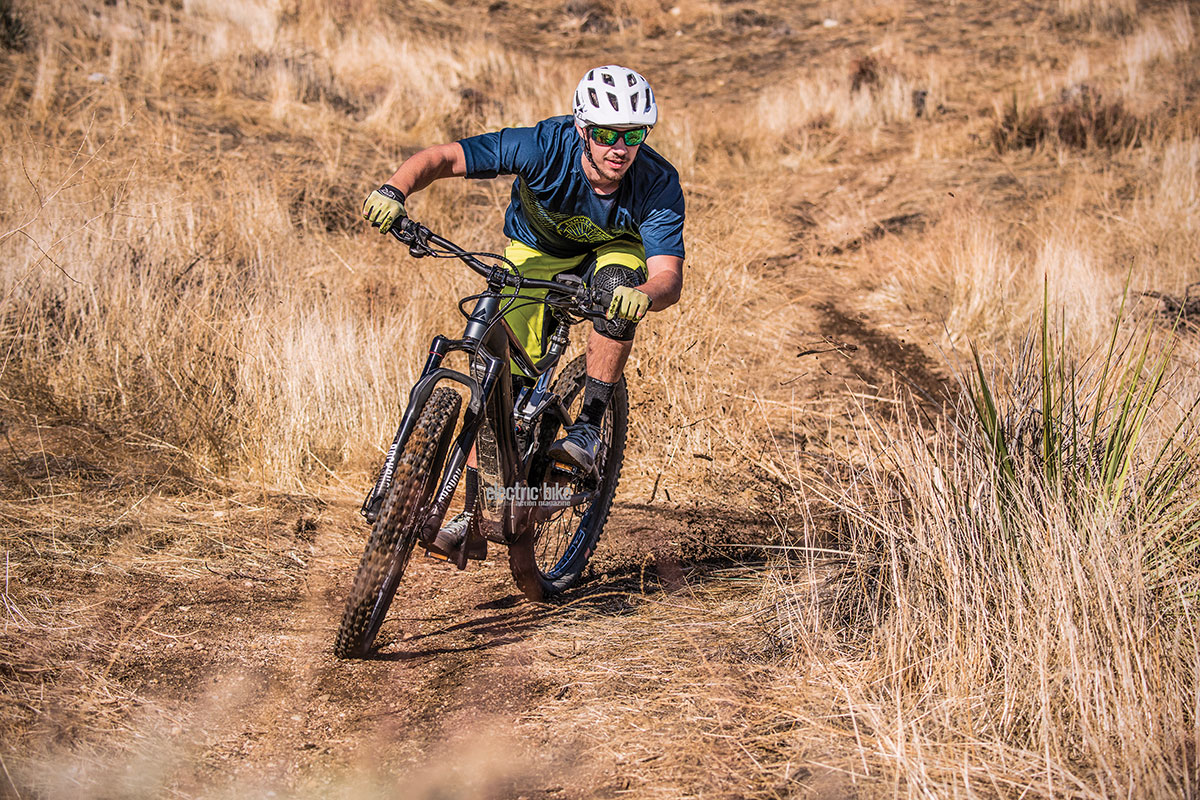 Bulls e-MTBs are evolving, and this new 2018 AM 4 version of the E-Stream Evo is the current culmination of their expertise in the off-road world.
THE BIKE
The aluminum Bulls is the first in the U.S. to feature the new Brose S motor, which boasts some subtle but worthy refinements over their previous T motor. There are a host of new electronic and mechanical refinements in the new S model—from new electronic components and new seals to replacing an internal steel bolt with a stainless steel one that results in a 15-percent increase in power with a gain in efficiency that increases range at the same time. It's the same belt-driven design that keeps the motor very quiet and keeps motor resistance to the pedals at a minimum when you go over 20 mph.
"Brose powerplants are known for their very smooth power
delivery, and that's exactly what we noticed on this bike."
The stem and saddle feature MonkeyLink modular receivers for lights. These things are really cool, with a magnetic connector and built-in power supply to allow for easy and fast mounting of lights. They have lights from 30 to 100 lux for safer night rides and even to use as daytime running lights.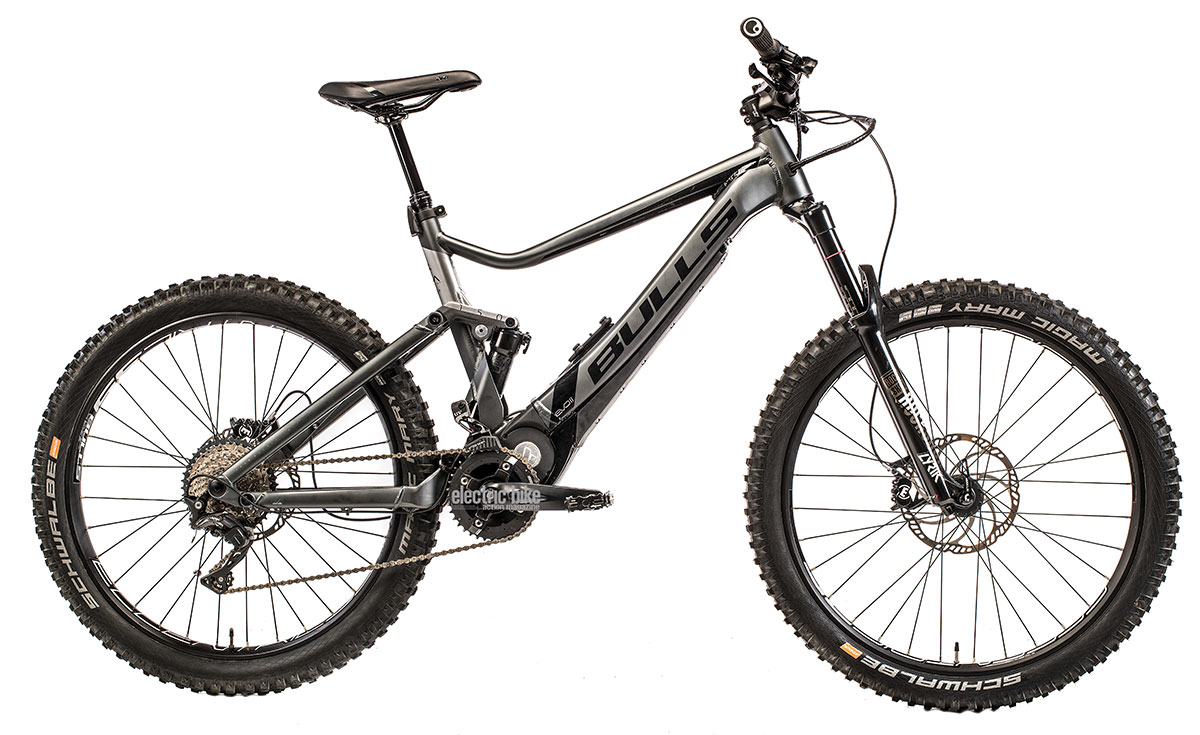 Finally, Bulls is starting to put dropper posts on most of their e-MTBs. This has been one of our complaints about their bikes, and they've definitely listened. The KS Lev Integra dropper post on this bike offers 120mm of travel, which offers outstanding clearance when you need it most, with internal cable routing and rapid return to get you back on the climb in no time.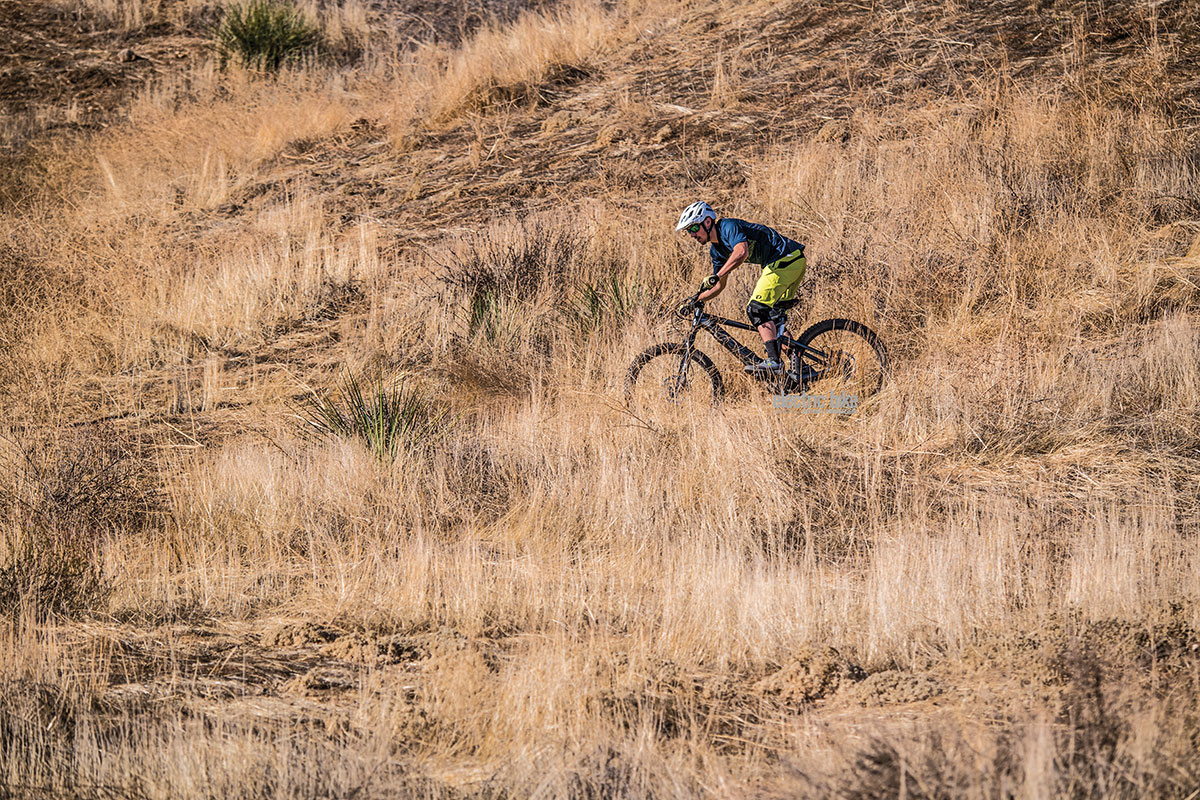 WHO IT'S MADE FOR
The AM 4 is a really well-set-up bike for experienced riders, especially at the just-above-five-grand price, and really especially for the (ever diminishing pool of) off-road cyclists who enjoy the pleasures and performance of a full-suspension ride. It has a lot of impressive features, components and capabilities to make it a fun, all-mountain bike to handle most types of terrain.
THE RIDE
Press the power button on the display and the bike becomes alive. It fires up in a couple of seconds. Throwing a leg over, it immediately feels ready to go.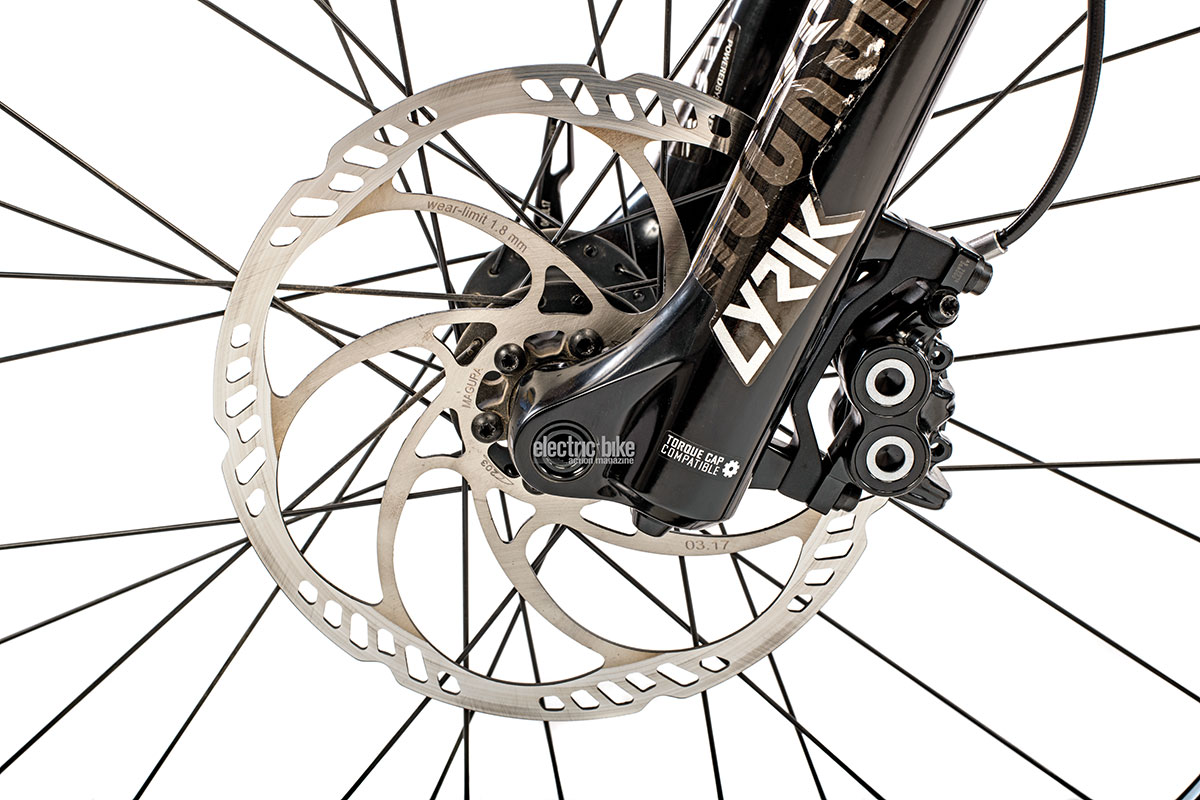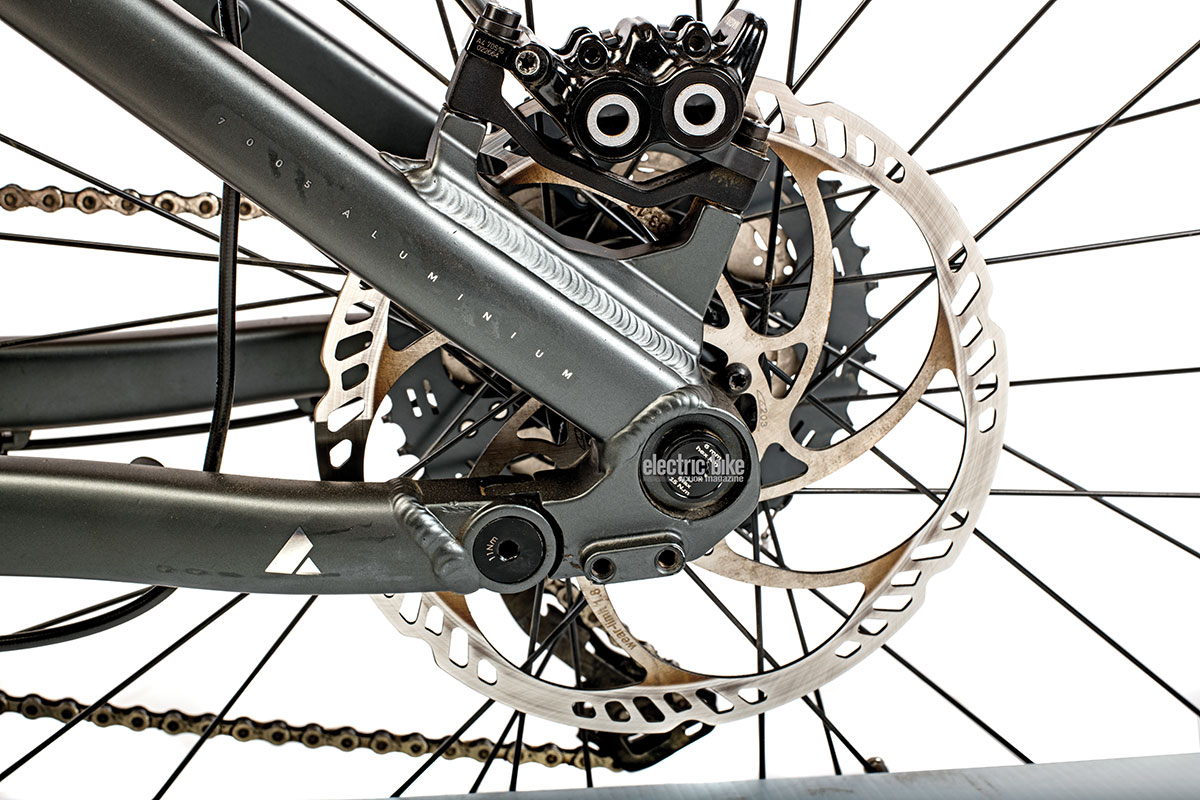 Front and rear quad-piston Magura MT5 calipers provide stopping power aplenty, as well as great modulation.
One of the coolest and most fun things on the bike was the new display from Marquardt. It's a simple controller design with great ergonomics (i.e., you can easily reach the buttons) and a small-enough display to show you everything you want to know while also staying out of your way so you can concentrate on hitting the best lines on the trail. We started flipping through the information and found the power meter. An actual readout, in real time, of the rider's input. A power meter can cost $600–$2000, but this one is integrated into the bike itself. This gamified our ride and made us try to see how much power we actually had. In many ways, it made us use less motor power and more human power.
The Bulls has Bluetooth features that connect to an app called Naviki that allows you to use navigation, integrates mapping your rides with other information (e.g., a heart rate monitor and keeping cadence information) and it even has its own contests. If you want to geek out on all the stats you can, or simply track your fitness and rides; either way, you can have the full gamut of choices.
Four power modes include Cruise, Tour, Sport and Power. The latter is aptly named, and most riders will only venture into that mode when they're climbing a near-vertical wall. We actually used Cruise and Tour most of the time, even on long climbs.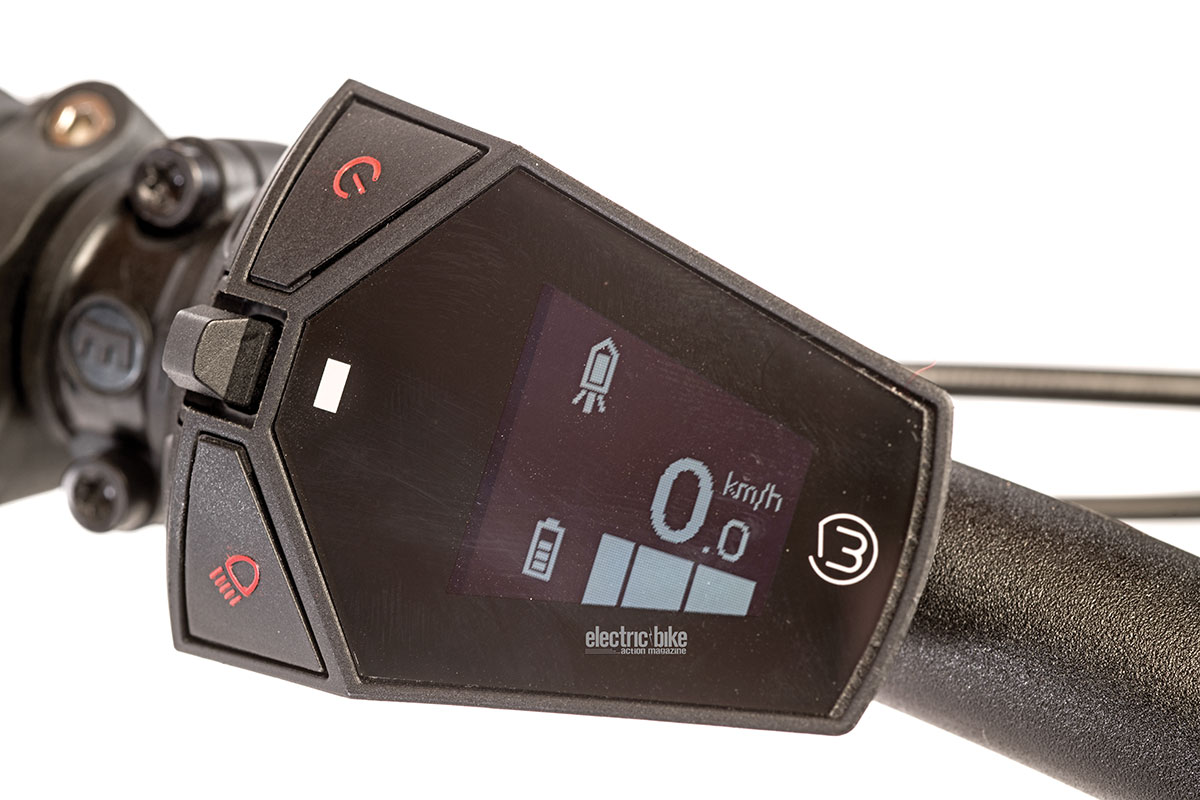 Using the new Marquardt control with this bike offers Bluetooth app connectivity, a built-in power meter, and it's incredibly easy to reach and use.
The new Brose S motor is, interestingly, the same type as the previous T motor in that both feature a motor originally designed and built to be a power-steering motor for a car. The way they've engineered the motor—with an internal belt drive—makes it very quiet. Brose powerplants are known for their very smooth power delivery, and that's exactly what we noticed on this bike. There's no thrilling "whoosh" of power, which means there are no surprises or jerkiness.
"This gamified our ride and made us try to see how much power we actually had!"
With 90 N/m helping us up the steepest of grades, we never wanted for assist power out on the trail. Couple that with good geometry and great tires that provided grip for days, and we rode up sections of trails that we normally avoid for fear of the bike looping out (it didn't) or breaking the back wheel loose. It inspired confidence in climbing darn near anything.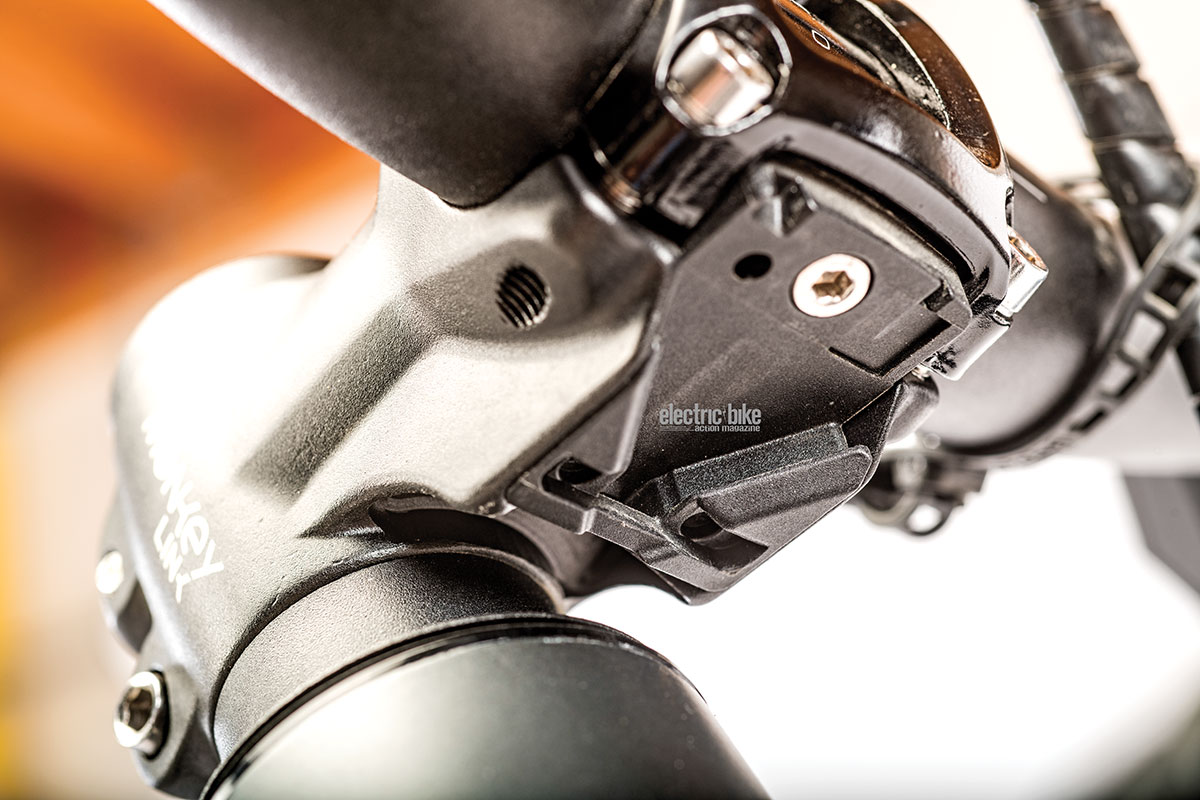 The MonkeyLink receiver on the bottom of the stem makes it easy to just plug in a light. No wiring required.
The claimed range on this bike is "up to 137 miles." As with most manufacturer claims on range, we think that's overly optimistic, but with the 650 Wh battery, the range is still over 30 miles in areas with serious elevation gains and a not-light rider with a full pack. We did several rides and always fully charged the battery.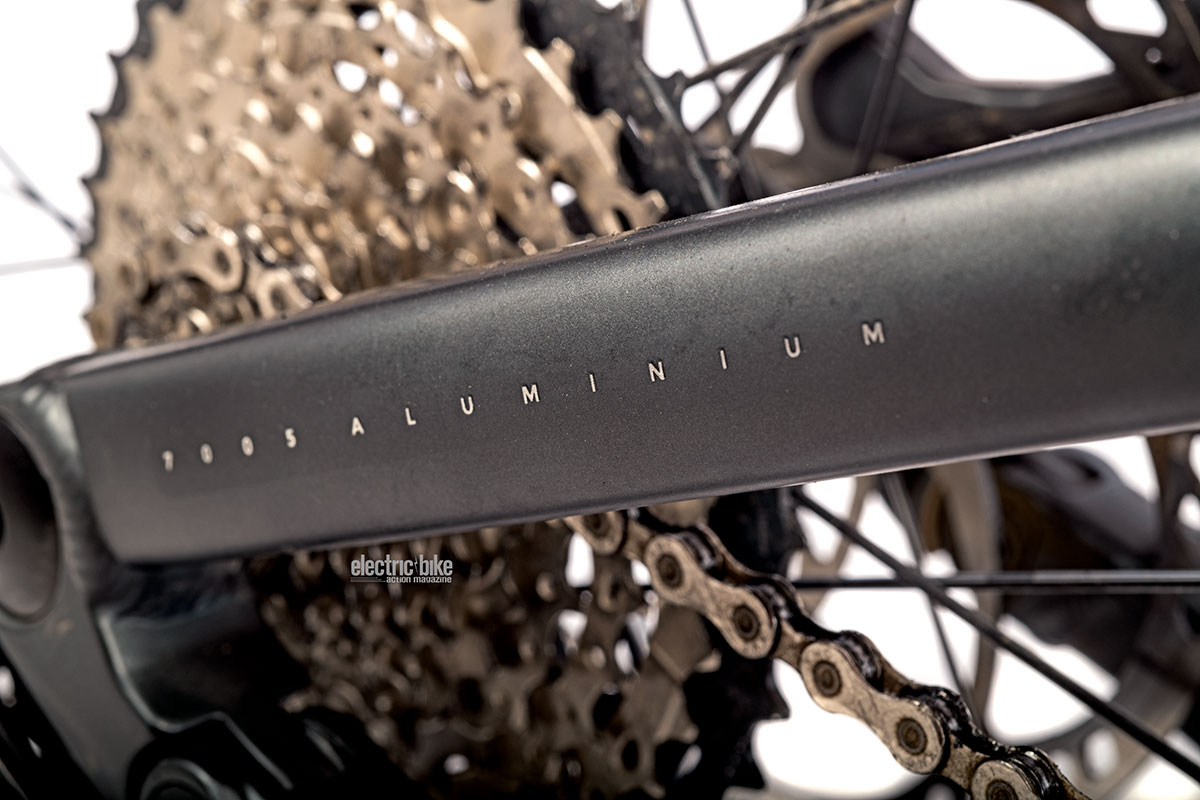 Anglophiles will love the use of the word "aluminium" on the chainstays.
The charging port is our favorite with a Rosenberger connector (like an Apple Magsafe magnetic connector), but it was flawed. Perhaps because our test bike was pre-production, the charge socket was on the battery itself, deep inside the frame, instead of having a separate frame connector on the surface. It was a bear to try to get it to connect and stay connected in a barely-wide-enough, 2-inch-deep hole. Fit and finish on pre-production bikes can be iffy, and we think this was the problem. This will be settled by the time regular production bikes are available.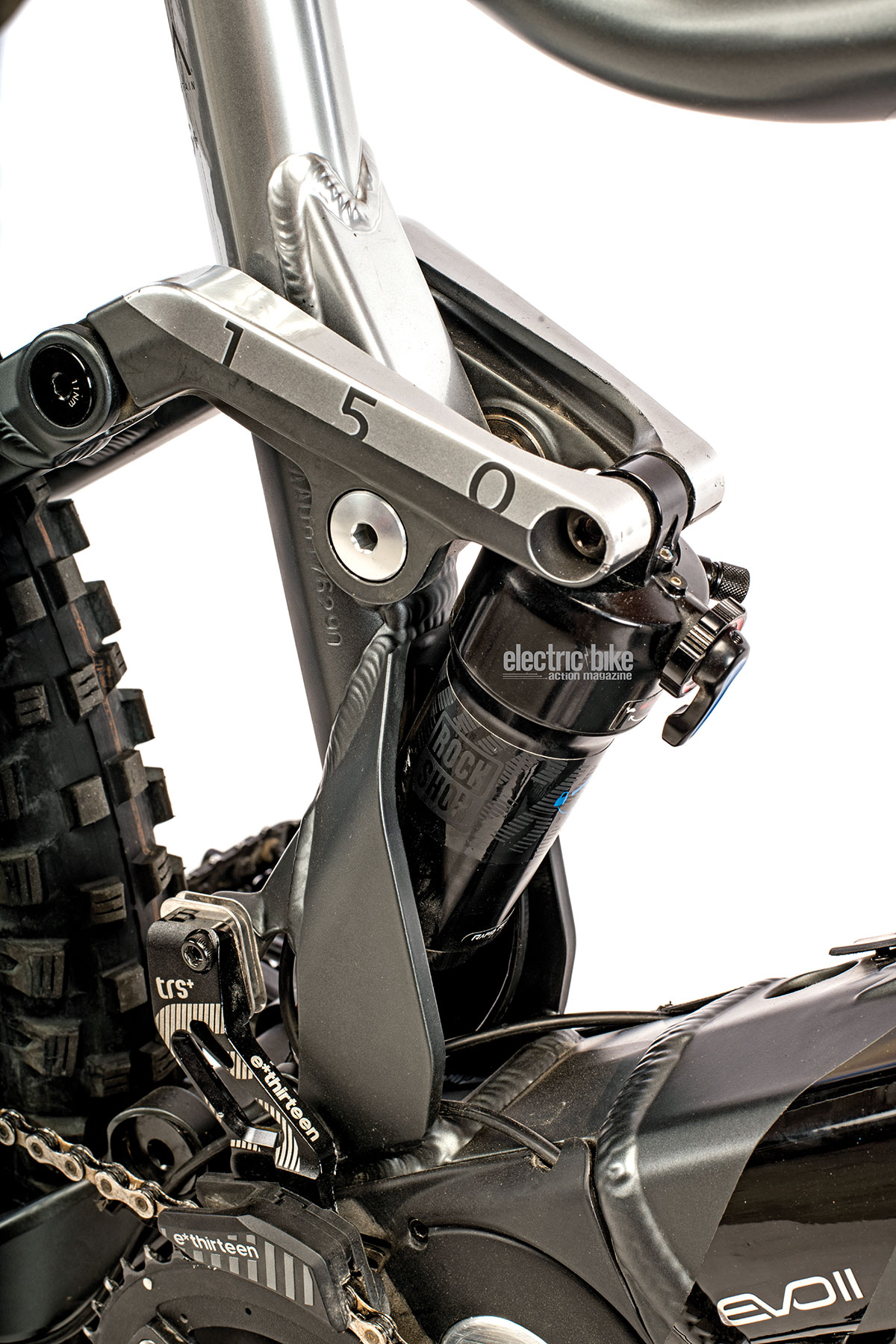 The RockShox Deluxe RT shock offers 150mm of travel for the rear—tons of customization per rider preference. It's protected from hits and some dirt in the frame but is completely accessible.
Surprisingly, even without rear suspension, descending on the Bulls was nothing but fun. The RockShox Lyrik fork is wonderfully sturdy and designed to be very tunable based on rider preference. Once you set the sag (with easy guides printed on the fork and rear shock), you can also change the low-speed compression settings from open to pedal to lock using levers on the fork and shock. The fork has 15 sub-click settings that allow further custom adjustment on the fly.
There are also Bottomless Tokens you can add to the fork to change the air-spring curve (reducing air volume) to ramp up the bottom of the stroke to resist bottoming out, and both the fork and rear shock have great options for custom tuning.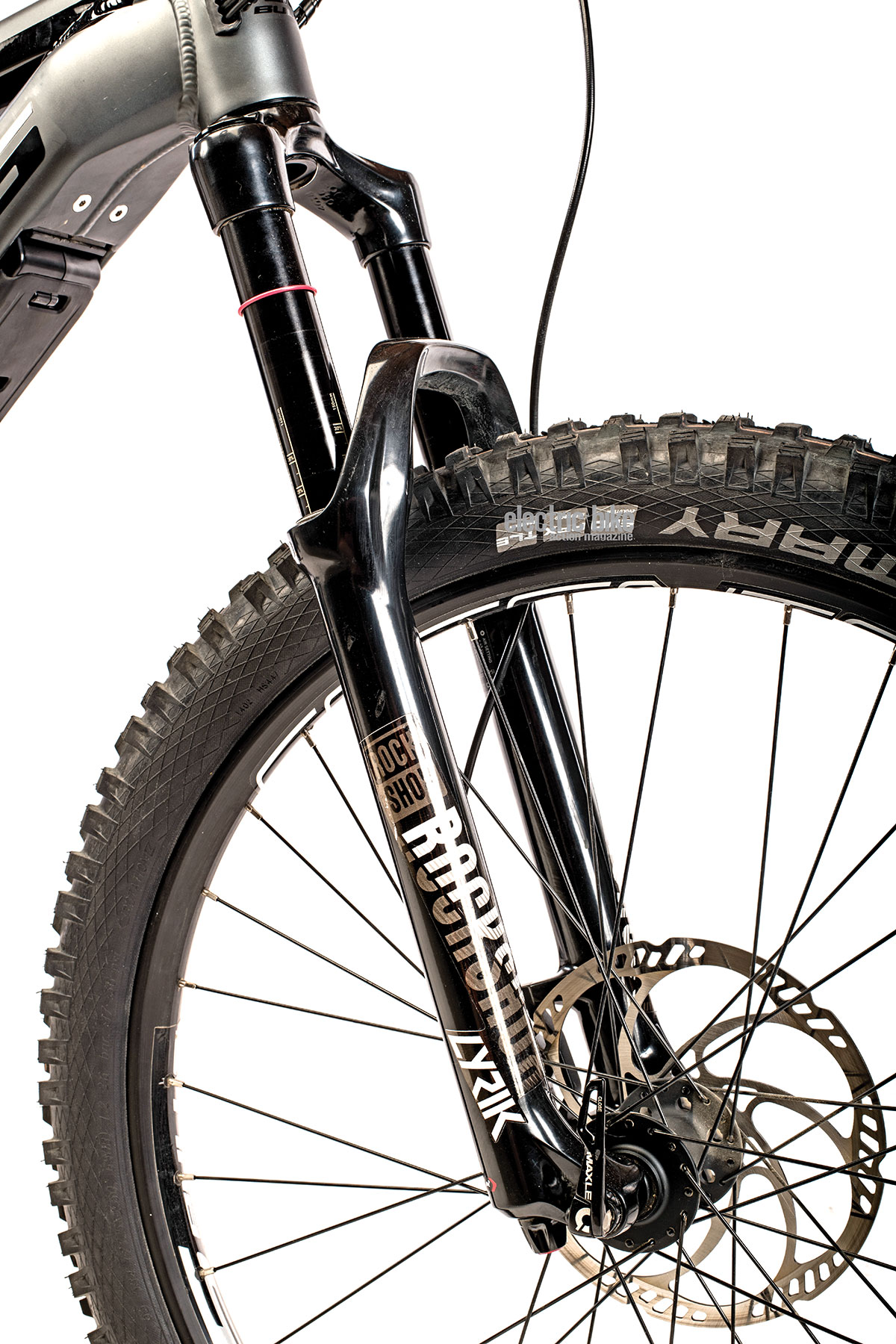 The RockShox Lyrik fork is one of the plushest and most solid forks we've ridden.
Braking is accomplished by Magura MT5 quad-piston brakes with massive 203mm rotors for incredible braking power. Modulation is good, but the rear will lock up pretty easily, especially under hard braking when the weight shifts forward. You can stop on a dime or toss yourself over the bars if you grab a handful of the front brake.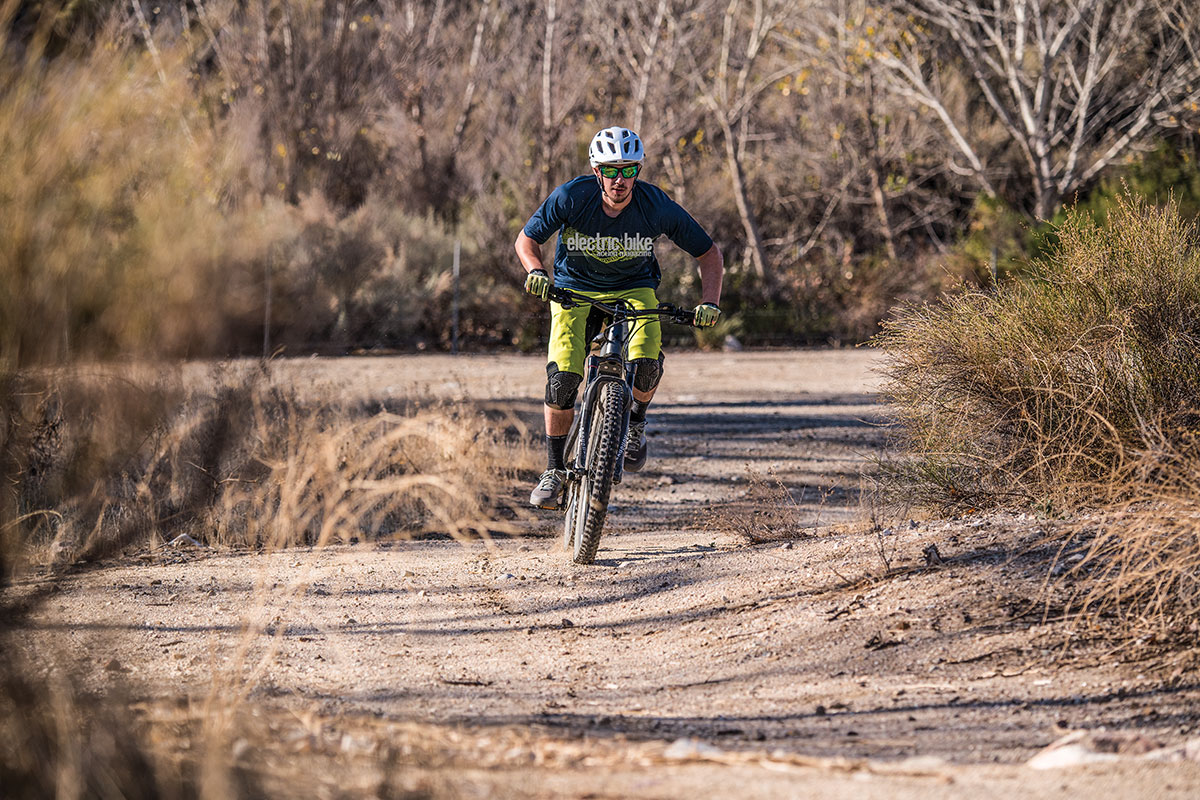 The Bulls saddle wasn't our favorite, but the KS Lev Integra dropper made us happy!
THE VERDICT
Even though full-suspension bikes, especially at this price point, are the cat's meow for off-road riding, hardtails are still in the game. This bike is aimed squarely at advanced riders who want an all-mountain, capable all-around bike with great range. Price and components are both excellent, ride quality and suspension is fantastic, and we loved the new display/controller.
Overall motor power is great and we did notice an ever-so-slight improvement over the older version. The only thing we have to complain about is that the saddle wasn't very comfortable, but that's if we pick nits. With the comfortable feel of the bike overall and the plush suspension, it's hardly noticeable.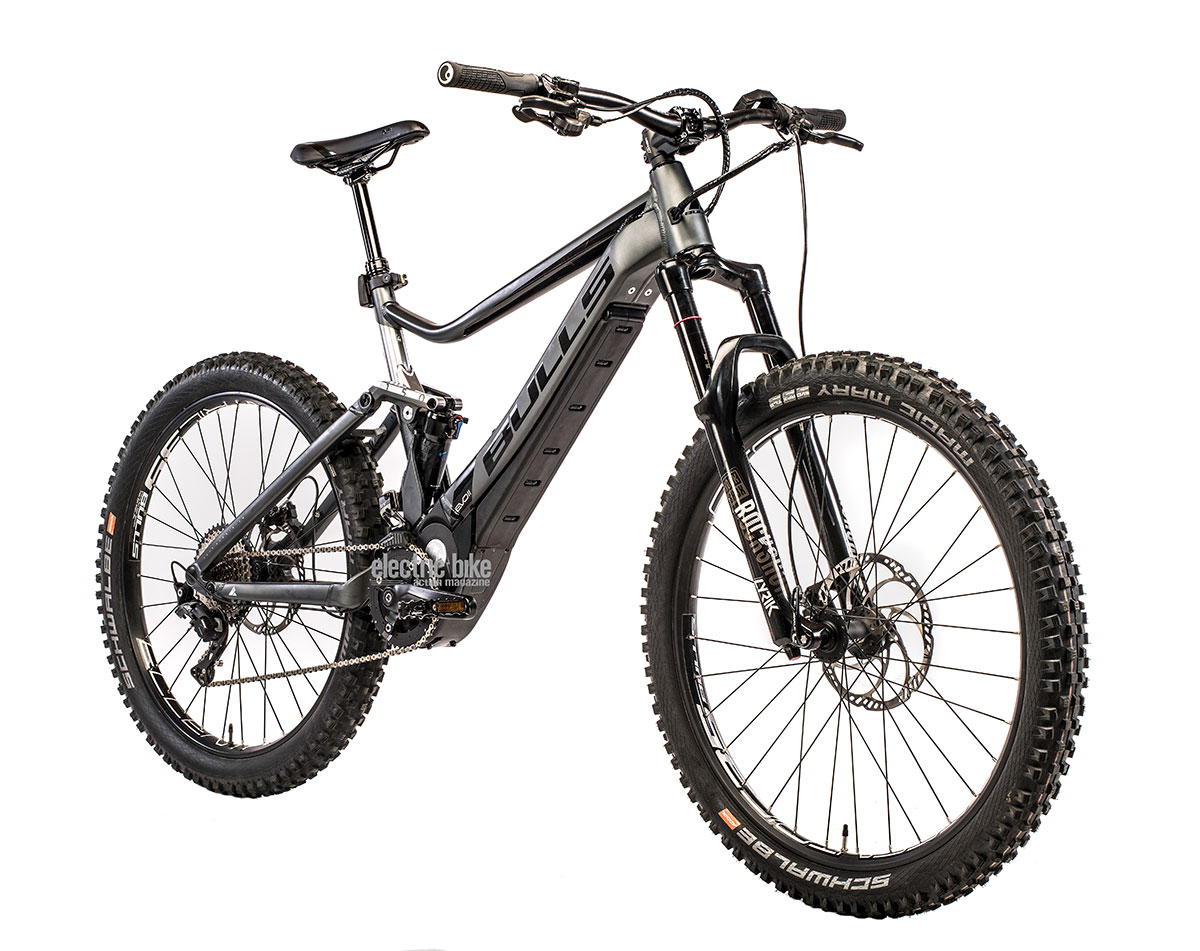 Bulls went with two different tires, front and rear—both Schwalbe; one Nobby Nic and one Magic Mary.
SPECS BULLS E-STREAM EVO AM 4
MSRP: $5299
Motor: Brose Drive S (250W)
Battery: 37V/17.5 Ah/650 Wh
Charge time: 4.5 hours
Top speed: 20 mph (with assist)
Range: 137 miles (claimed)
Drive: Shimano Deore XT SL-M8000 1×11, Miranda crankarms
Brakes: Magura MT5/MT5, hydraulic disc brakes, 203mm/203mm
Controls: Brose Marquardt Comfort
Fork: RockShox Lyrik RC Boost Solo Air, 150mm
Frame: 7005 aluminum
Tires: 27.5" Schwalbe Magic Mary Snakeskin/Nobby Nic
Weight: 54 lb.
Color choices: Silver/black
Sizes: 44/49/54cm
---
THERE ARE SO MANY WAYS TO GET ELECTRIC BIKE ACTION
The post Bike Test: Bulls E-Stream EVO AM 4 appeared first on Electric Bike Action.
Welcome to America's first magazine about electric bikes
Bike Test: Bulls E-Stream EVO AM 4