New Bike Discovery: E-Moto's by Cake
Sean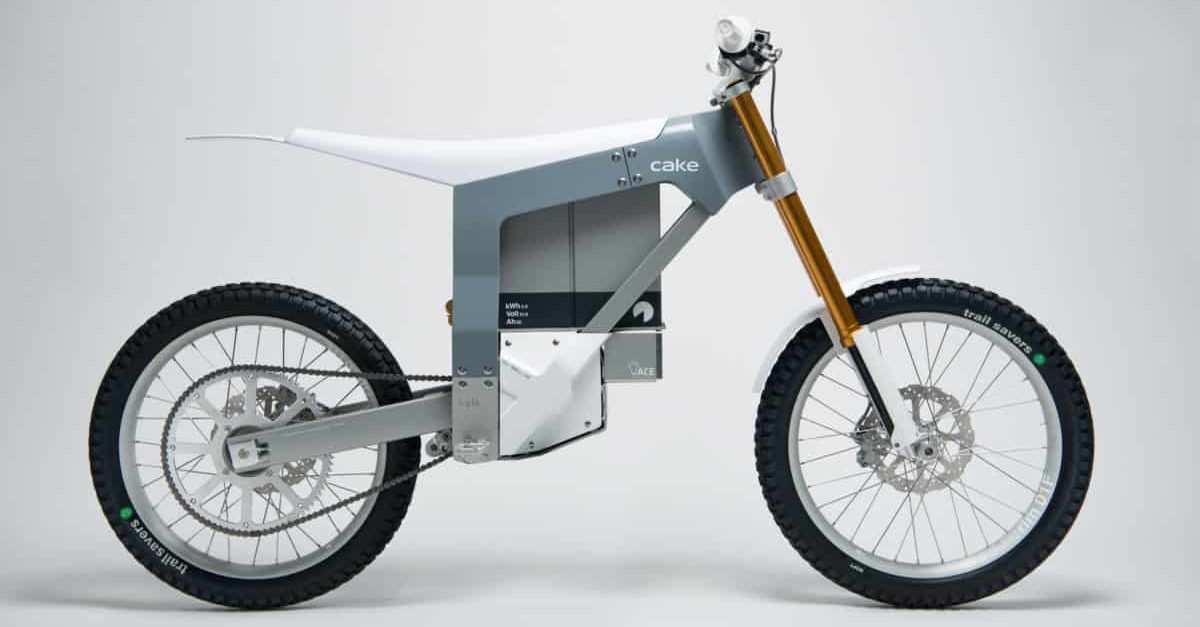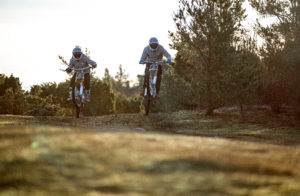 CAKE develops uncompromising high performance electric off-road motorcycles. CAKE's mission is to speed up the journey towards a zero emission society, while enhancing excitement and fun. All components are made from scratch to optimize the riding performance in this new category. Every little detail is elaborated for perfection, while considering the perspectives of sustainability.
This category of light electric off-road motorbikes has been evolving from small dedicated builders, assembling and customizing standard parts from the cycling and motorcycling space. These hybrids, equipped with motors, batteries and controllers, are pointed in the direction towards something that will change the future of riding. The properties of an electrical drivetrain, different to a combustion engine, means a number of things. The weight aspect is one. Being able to reduce the weight dramatically, compared to what a similar combustion bike would be, supports a snappy and livelier ride. They are light, 154lbs, light.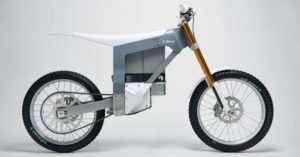 No pollution or fumes and you can charge your bike with renewable energy or even with the solar panels from sold by CAKE themselves. Since there are no fluids, grease, gasoline or oil, the bike doesn't suck up dirt like a magnet, meaning it's more like a bicycle.
Pre order fee 1,000 €/$
Final payment 13,000 €/$
Total price 14,000 €/$
The simplicity of riding is evident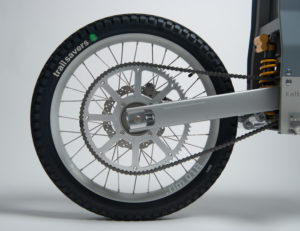 Thanks to the progressive span of an electric motor, no gears are needed. The hassle of clutching and changing gears doesn't exist. Throttling and braking is all there is to it. That together with the lightness, the absence of noise and the fact that one can pre-set the level of bike performance, invites everyone, regardless of previous experience, to enjoy and to explore.
Cake has tested the competition and has had 100s of people testing their bikes and sharing the experience with us. Anybody from international pro athletes in MX, DH MTB and Dirt to average people with no prior experience, men and women between 12 and 75 years old. The ride is strongly influenced by DH and Enduro MTBs, in terms of geometry, suspension, stance, components and handling.

The reason behind model the name: KALK
The model name "KALK"  is for KALKsten or Limestone, being the bedrock of the island of Gotland. The Gotland bedrock was largely made up of coral reefs, created in the tropical sea four hundred million years ago. The continental drift, took Gotland on a ride from the tropical waters, made a few turns and placed it in the Baltic Sea, where the rest of the surroundings are mostly granite. That white limestone gives Gotland a special light and flight, which is unique.
Kalk's Ingredients
The motor is customized for CAKE and made in Europe. It ́s a 15 kW mid motor, powered by a 51.8 Volt, 50Ah battery for torque and range, conducted by specifically developed tuned software. The suspension is specifically developed, by Öhlins.
Weight: sub 70 kilos
Top speed: 80 Km/h
Nm: 42 on motor shaft
Range: up to 80km
IPM motor with direct drive
Kw: 15 peak, converted to hp: 16hp Lithium Ion battery pack, at 2.6 Kw/h The controller services 3 riding modes Adjustable motor braking
Motor:
-IPM
-15kW peak/9kW continuous -42Nm peak torque
-3000 rpm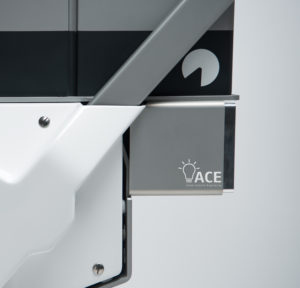 Battery:
-18650 lithium cells -51.8 Volt
-50Ah
-2.6kWh
Controller:
-Configured for 3 ride moods -Tunable motor braking and re-gen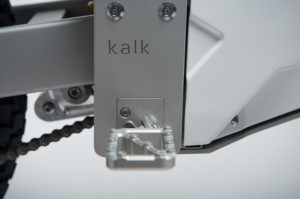 Frame:
-6061 aluminium, extruded, CNC jointed and welded.
Body:
-Carbon fiber.
Swing arm:
-6061 aluminium extruded tube profile with linkage.
Suspension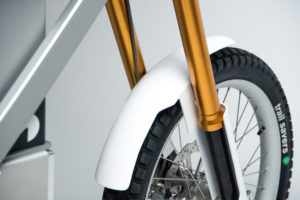 Front:
-The upside down fork is air/oil sprung and features 38mm stanchion tubes for extra rigidity and strength, with 204mm travel, specially developed by Öhlins. It is adjustable for high-speed compression, low-speed compression and low-speed rebound.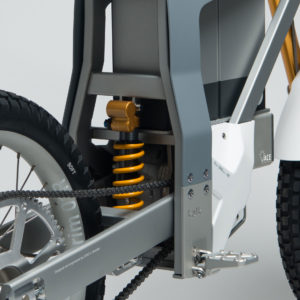 Rear:
-Öhlins TTX dampening technology, Nitrogen pressurized bladder reservoir system, 3-level high speed and 16 clicklow speed compression and 7 low speed rebound
adjustment. Linkage.
Brakes:
-Motorcycle standard, four pistons calipers, alloy levers and 220mm/3.2mm stainless steel rotors.
Cockpit
Handlebar:
-Aerospace grade 7050 aluminium, 800mm wide, 20 mm rise, 31.8mm.
Stem:
-Aerospace grade 7075 aluminium stem with integrated dashboard.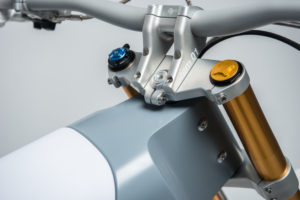 Headset:
Hope
Seat:
Developed by Reconsider.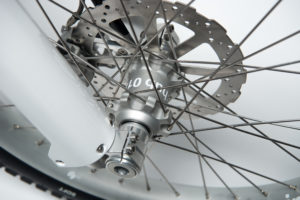 Wheels and tires:
-Enlarged 25 mm axles
-Aerospace grade 7075 Power hubsTM
-24 inch/50 mm 6061 alloy, triple chamber rims.
-24 inch specially developed tires for durability and minimum trail wear.
All fenders and side plates made of carbon fibres. All bearings throughout the bike are SKF ́s.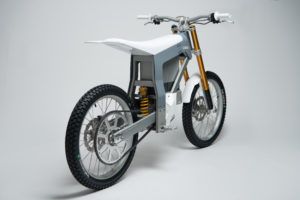 It's all about the outdoors. Explore with respect.
"Like flying down an endless DH course with no need for a hill"
Robin Wallner Ibis cycles Enduro race team
"Like skiing powder, at high speed on the flat"
Steven Nyman US Ski Team/American Downhiller
"It ́s a beauty to ride. Its silent power, torque and swift handling is a sensation"
Olle Ohlsson 2 times Paris-Dakar, 2 times Dakar and 57 times dessert race contender.
---
THERE ARE SO MANY WAYS TO GET ELECTRIC BIKE ACTION
The post New Bike Discovery: E-Moto's by Cake appeared first on Electric Bike Action.
Welcome to America's first magazine about electric bikes