Author: MOBOT via YouTube
Go to Source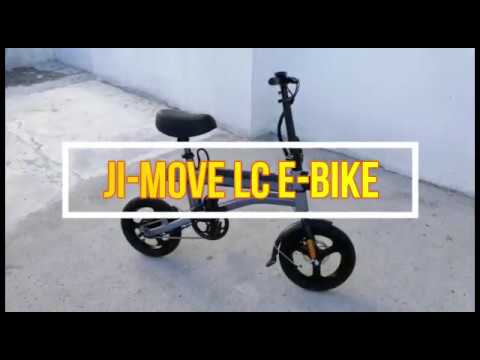 The JI-MOVE LC is the latest LTA approved foldable ebike (electric bicycle) affix with LTA orange seal. This video shows the key features of the JI-MOVE LC.
Subscribe to our channel for more e-bike videos https://www.youtube.com/mobotsg?sub_confirmation=1
======================================================
JI-MOVE LC LTA approved Electric Bicycle (ebike)
The JI-MOVE LC is a LTA approved, affixed with orange seal, EN15194 certified ebike (or electric bicycle).
The JI-MOVE LC is the smallest and most compact LTA approved ebike, using LG MH1 3300mAh battery cell. Constructed using 6061 aluminium and uses 14″ sports tyres, the JI-MOVE LC is the top choice for the daily commuter.
Note 1: In Singapore, ebike is also known as Power-Assisted Bicycle (PAB).
[Frame]
The JI-MOVE LC ebike frame is made of 6061 aluminium which is commonly used for aircraft components. This type of aluminium has high strength and good corrosion resistance. This LTA approved electric bicycle adopts a simplistic and modern frame. Unlike other foldable bicycles which need to fold at the center to minimise the length, the JI-MOVE LC only measures at 126cm. Therefore you only need to fold down the handlebar stem when transiting to public transport or storage.
[Motor]
This ebike uses a 36V 250W DC brushless motor. There is 5 levels of electric assistance mode to choose from, depending on the riding condition.
[Battery]
The JI-MOVE LC power-assisted bicycle (PAB) adopts a detachable battery design, using 18650 LG MH1 3300mAh cells. Unlike other ebikes where you would need to fold the ebike or remove the seat to detach the battery, this electric bicycle battery is conveniently mounted on the top tube. As such, you can swap the battery while remaining seated on the bicycle.
The 36V 9.9AH LG li-ion battery is able to assist the rider up to 80km per full charge. You can extend the distance by having spare batteries or removing the battery to charge when resting.
[Wheels]
This PAB uses 14″ diameter and 2.125″ wide pneumatic (tubeless) sports tyres (without spokes). Therefore this ebike is suitable to urban city and also partially rough terrain use.
[Display]
This ebike comes with a display panel which displays the speed, electric assistance level, battery level and distance travelled.
[Safety]
The JI-MOVE LC electric bicycle uses front and rear disc brakes. This PAB is also equipped with front light (white) and rear light (red).
[Important note]
Electric bicycles (e-bikes) are also known as Power-Assisted Bicycles (PABs).
JI-MOVE LC is type approved by LTA.
The use of e-bike in Singapore is regulated by the authorities. Some of the important regulations are:
1. PAB rider must wear a helmet when riding on roads.
2. PAB rider and pillion must be 16 years and above
3. PABs cannot be used on pedestrian pathways.
THINGS YOU SHOULD KNOW BEFORE YOU BUY YOUR FIRST EBIKE
https://mobot.sg/blog/things-you-should-know-before-you-buy-your-first-ebike/
INSTALLMENT PLANS FOR EBIKE
https://mobot.sg/blog/installment-plans-for-ebike-with-affortable-monthly-repayment/
PRODUCT SPECIFICATIONS
https://mobot.sg/shop/electric-bicycles-ebike/ji-move-lc-electric-bicycle/
PURCHASE
https://mobot.sg/checkout/?add-to-cart=171157
SOCIAL MEDIA
Instagram | @MOBOTSG
Facebook | https://www.facebook.com/mobotsg
Email | info@mobot.sg
#ebike #JiMoveLc #mobot