BIKE TEST: KTM MACINA CROSS 10 CX4 LC
Sean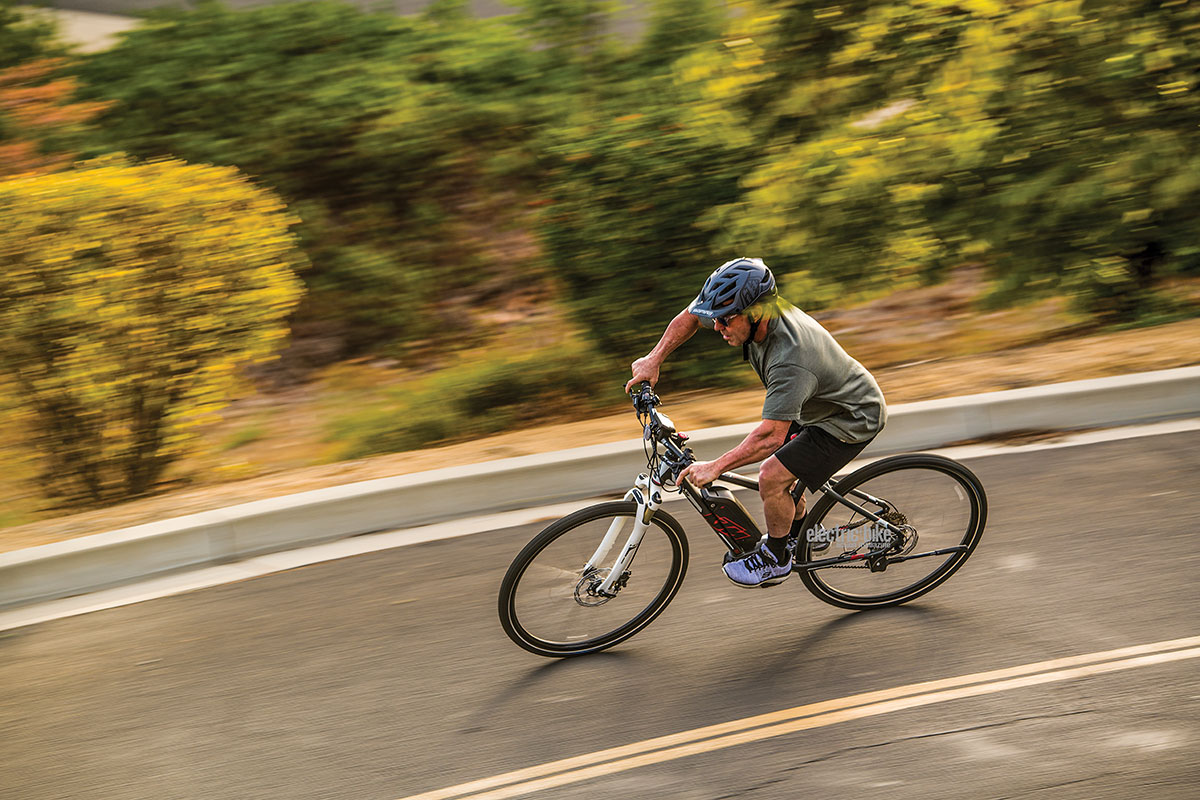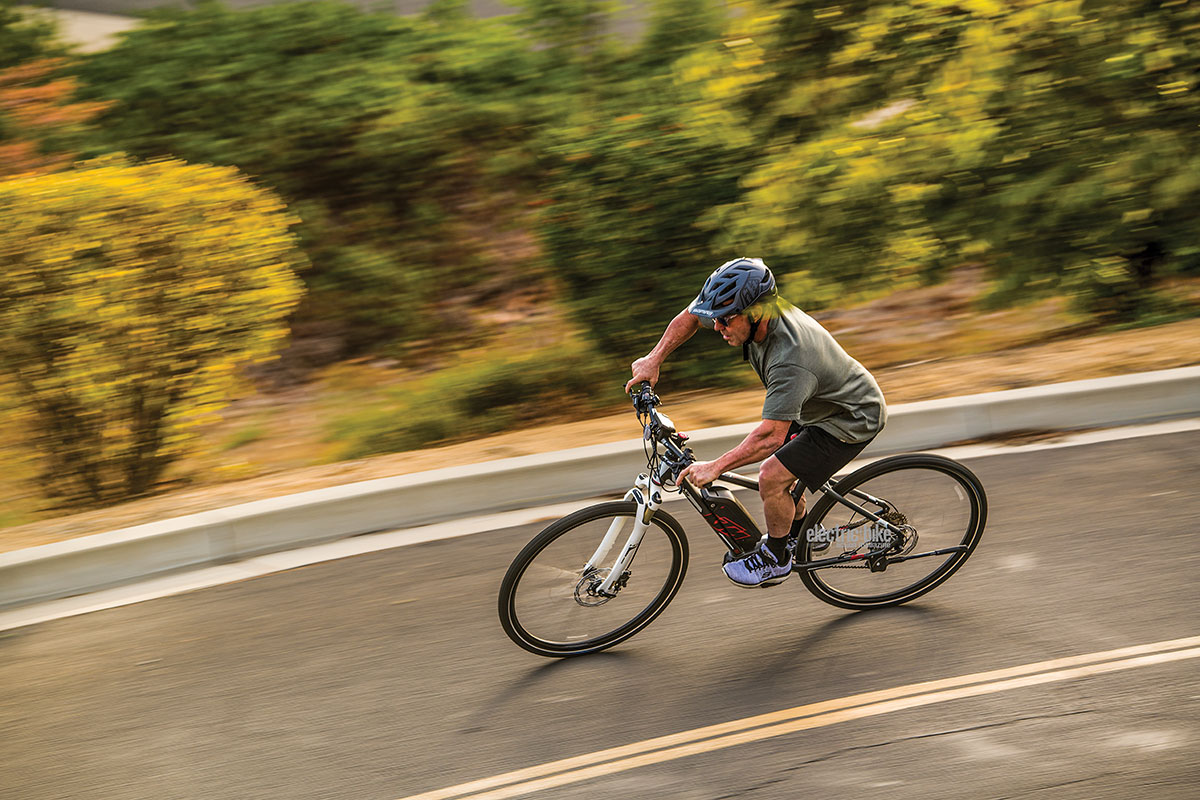 As you may know, Electric Bike Action is published at the same company that produces Motocross Action and Dirt Bike. Their editorial offices are across the hall from ours. These throttle-twisting editors don't usually pay much attention to the e-bikes they see us wheeling around. However, their interest level suddenly went up when they saw the KTM logo on the battery cover of the KTM Macina.
That reaction is not unusual for motorcycle guys, because KTM is a legacy motorcycle brand that has a reputation for building high-performance, championship-winning dirt bikes. However, despite the same name and embrace of the color orange, KTM's bicycle business is actually the result of an unrelated company that purchased the naming rights for the bicycle division years ago. KTM bicycles have been popular in Europe for decades, and now they're offering a line of bicycles for American riders too.
KTM Bike Industries is the name the bicycle company goes by in America.  Although KTM's Euro e-bike catalog is as massive as most other brands' complete catalogs, they are currently only offering a smaller assortment of mountain and road bikes and five electric bikes.
The Macina Lycans are their full-suspension mountain e-bikes, The Macina Force is their hardtail 29-inch e-bike, and then there's the Macina Cross 10 CX4, which we're testing here. KTM offers two versions of this model—one with a high top tube (CX4) and the step-through version (CX4 LC) tested here. Both versions sell for $3695.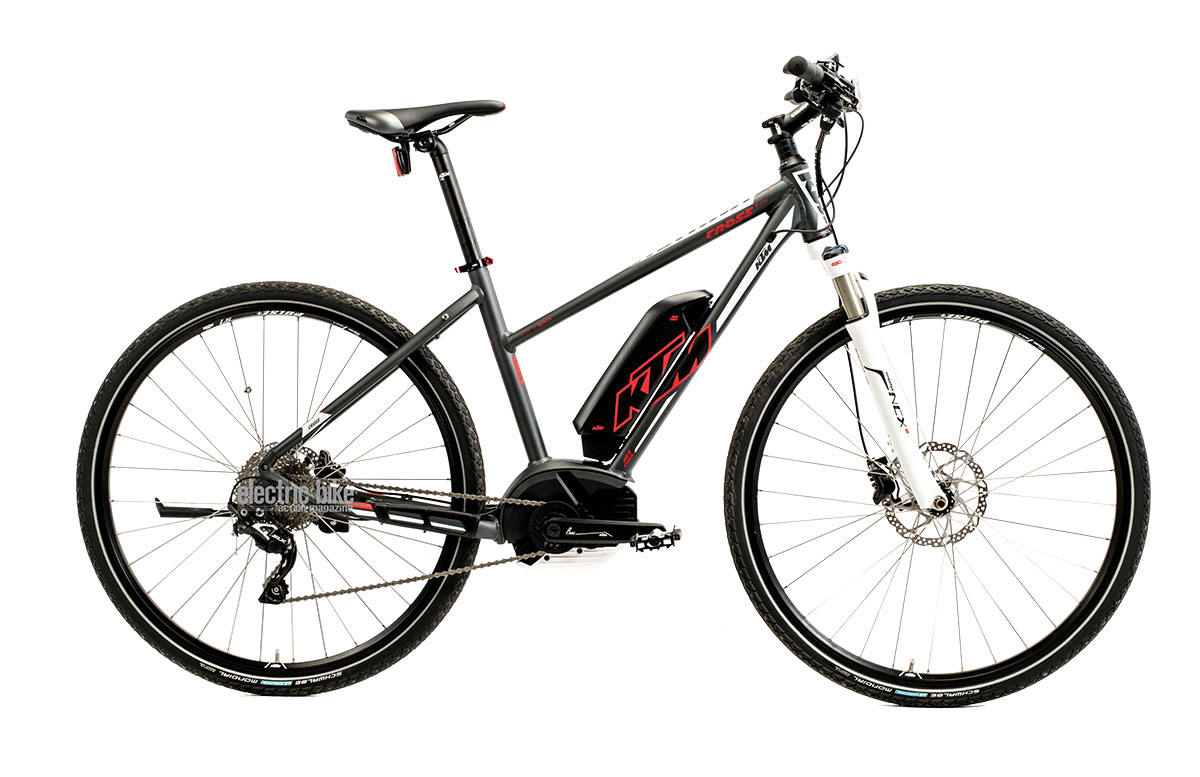 THE BIKE 
As with all of KTM's e-bikes, our Macina Cross is a mid-drive powered by a Bosch Performance Line CX with 36 volts rated at 350 watts. The lithium-ion battery is a Bosch PowerPack with 11.1 amp-hours and 400 watt-hours. Naturally, it comes with its own battery charger that can juice up a drained battery in around three and a half hours. The locking battery with a convenient carrying handle is easily removed (but only if you have the key), and it can be charged on or off the bike.
The aluminum frame has a quality look with its oval-shaped top tube and downtube. The internally routed cables help give the bike a clean, uncluttered and sleek appearance. It has a 10-speed Shimano 11-36 cassette with a single chainring up front, which is normal for many mid-drives. It may look small, but the gearing inside the housing makes it work like it's larger.
Other quality components you'll appreciate are the Shimano hydraulic discs brakes with a big 180mm rotor up front. KTM spec'd the bike with a Suntour NCX-D LO suspension fork and 700c wheels. The bike weighs 45 pounds, which is lighter than many e-MTB bikes we test.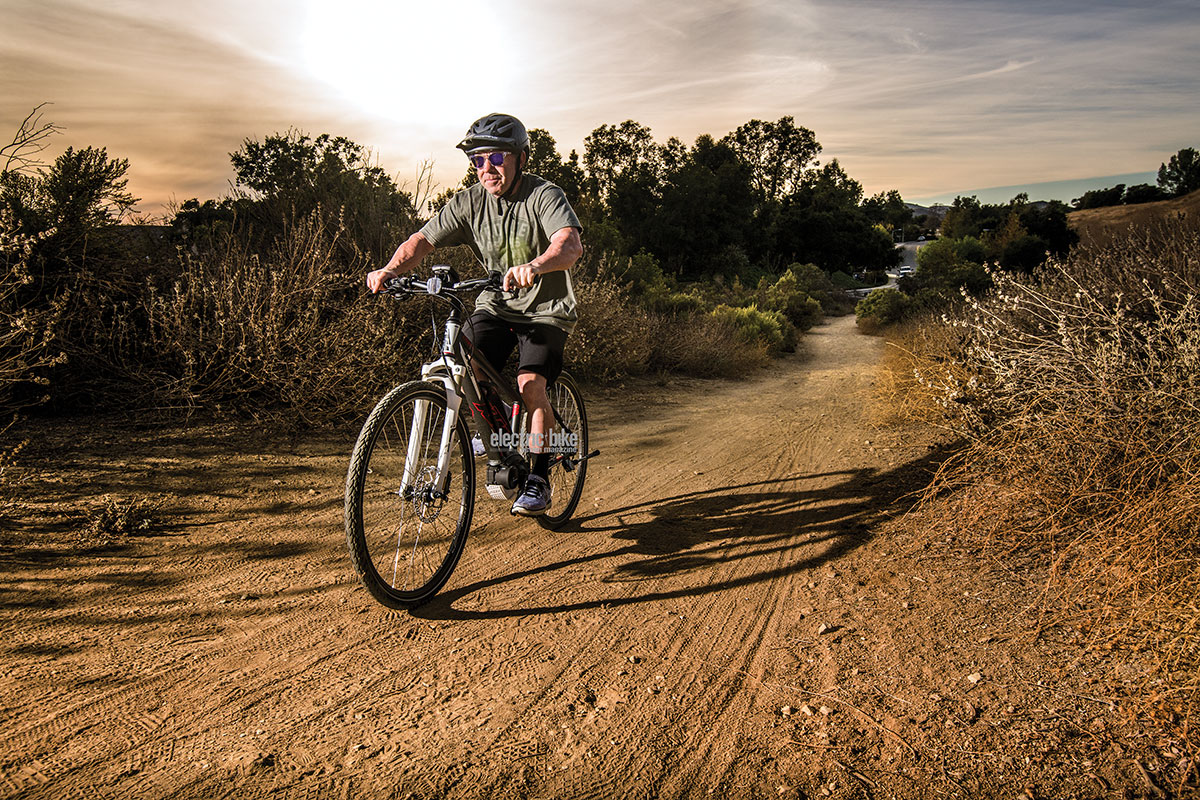 WHO IT'S MADE FOR
The Macina Cross line is a commuter/touring bike made for street and light off-road use. It's great if you can take an off-road shortcut to work or you want to do some exploring. The light suspension fork and Schwalbe Marathon Mondial tires are slightly knobby and provide grip on off-road dirt trails and gravel, and are comfortable and sure-footed on-road as well.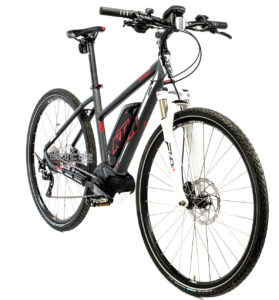 THE RIDE
To get going, you first push the button on the LCD display to turn on the controller. It's positioned in the middle of the handlebars, making it easy to see. There's a housing at the left side of the handlebars with buttons easily reached by your thumb to toggle up or down to adjust pedal assist. The KTM has four levels—Eco, Tour, Sport and Turbo—along with no assist at all. The electric assist stops when the bike reaches 20 mph. The LCD display tells you your speed; miles traveled in the trip; and overall, trip time, averages, as well as battery level. It will also tell you how many miles are left in the battery given your level of pedaling input at the time.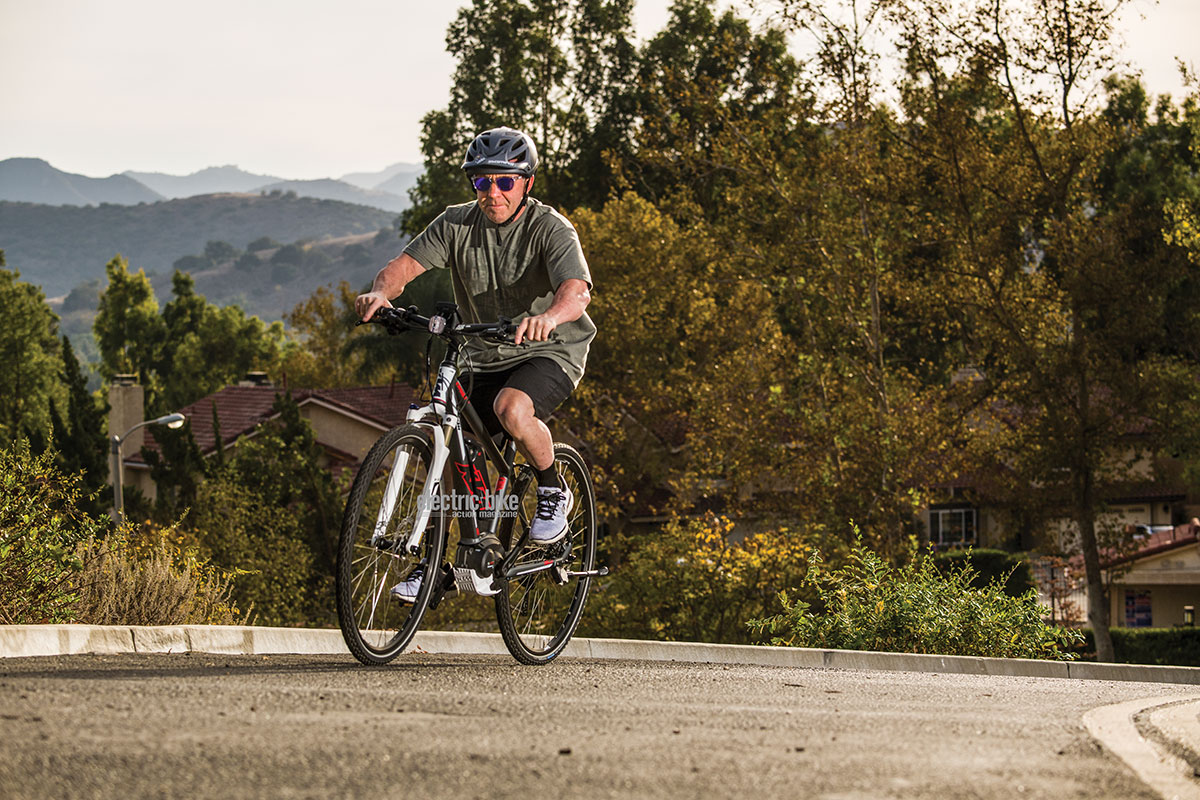 The seating to the flat handlebars positions you in a way similar to most mountain bikes. KTM doesn't label the Macina Cross as a mountain bike, but it can handle trail riding with no problem. The main difference are the tires, which are narrower than standard mountain bike sizes, but the Schwalbe Marathon Mondials have a smart tread pattern that provided good grip when the road turned to dirt. The smaller size shows its advantage on paved and concrete surfaces where it offers less rolling resistance and allows you to scoot along with less effort.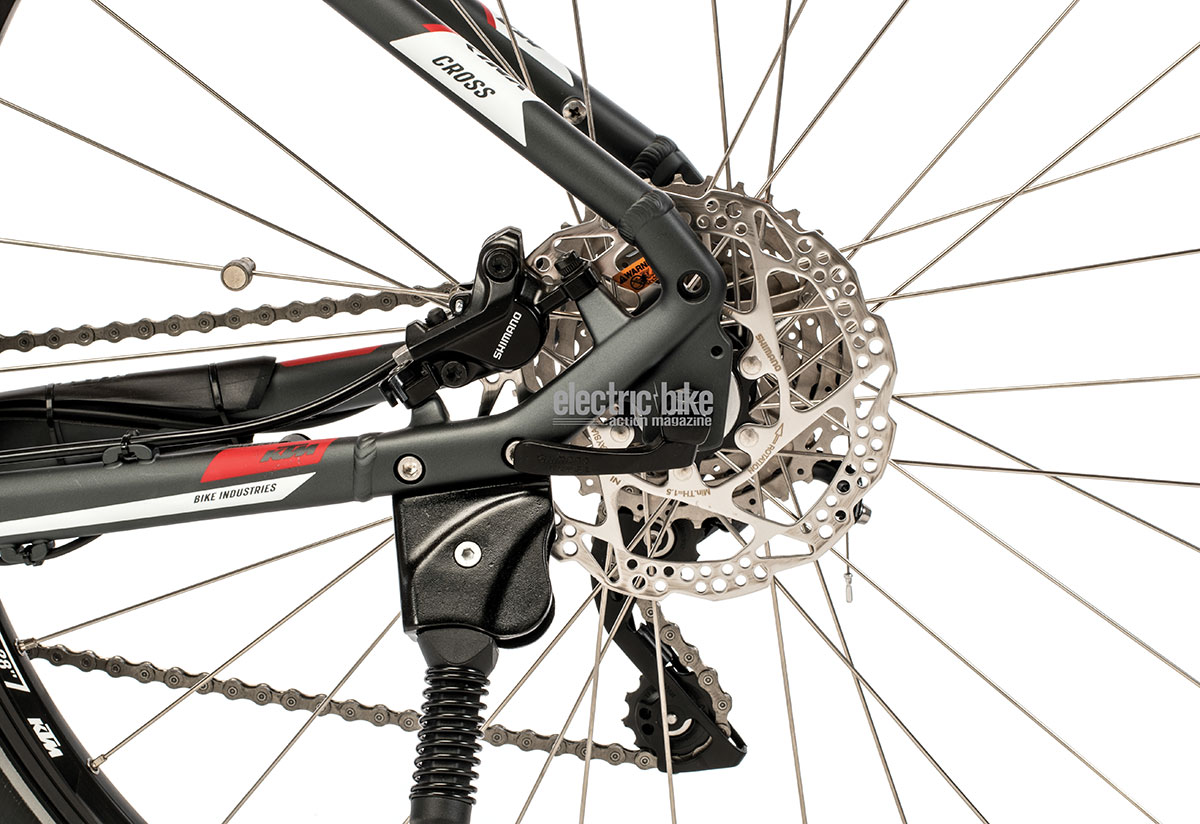 After spending some seat time on the KTM Macina Cross, we'd rate it as a good all-around e-bike that you could use as a commuter. There are seatstay bosses in place to add a rack if you wish, but then again, a backpack may be the way most people prefer to tote around their expensive laptops. The kickstand adds to its usefulness as an around-town bike. Another thing we liked are the ergo hand grips that spreads your upper weight over your entire palms. You'll still have feeling in your hands after a long ride. The Shimano brakes are two-finger affairs that give you confidence when it comes to slowing down without much effort. They're powerful.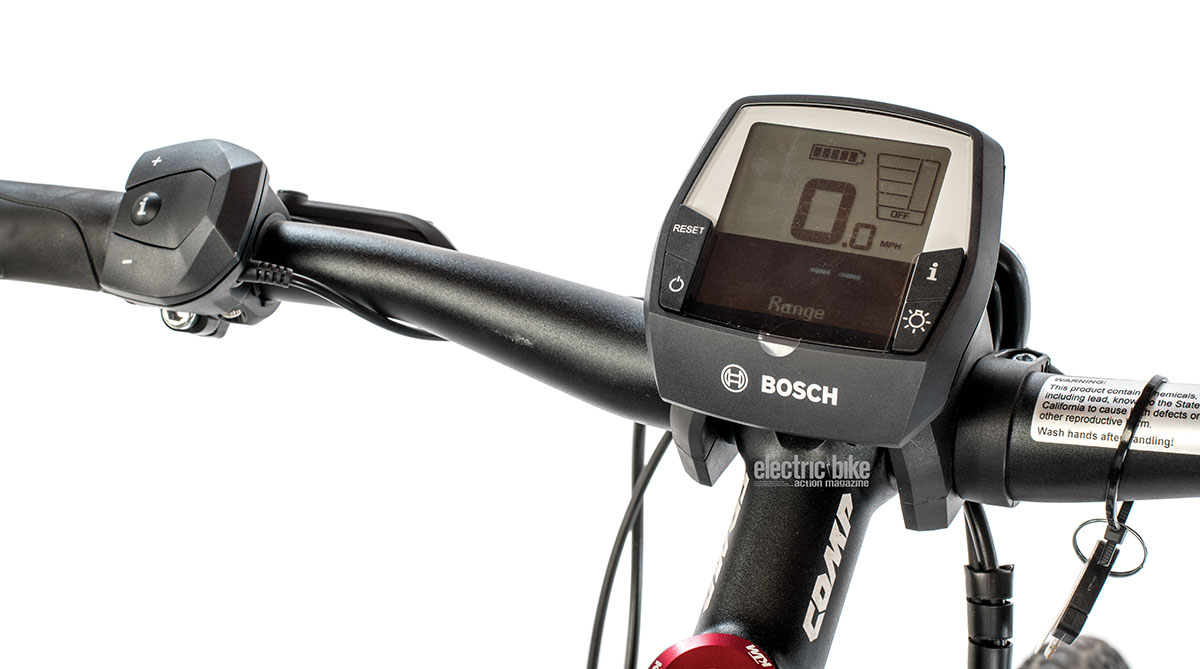 WHAT ABOUT THE MOTOR?
The Macina Cross' drive unit is just like all other Bosch mid-drive systems. It provides a strong assist to your pedaling, which is especially true when going uphill. This is where mid-drives tend to outperform hub motors. One thing you may notice about mid-drives when compared to hub motors is when you reach the 20-mph limit. On our Macina Cross, we could definitely feel the power stop at 19.5 mph. We could pedal harder, but it was difficult to increase our speed much thereafter. We've ridden bikes with hub motors where we could maintain a good 23 mph if we put some leg power into it.
We had no complaints regarding battery range on our test bike. After 15 miles of spirited riding in Sport and Turbo modes, we still had half of the battery charge left. That would translate to a 30-mile range. A 50-mile range would probably be possible if you never went above the Tour mode.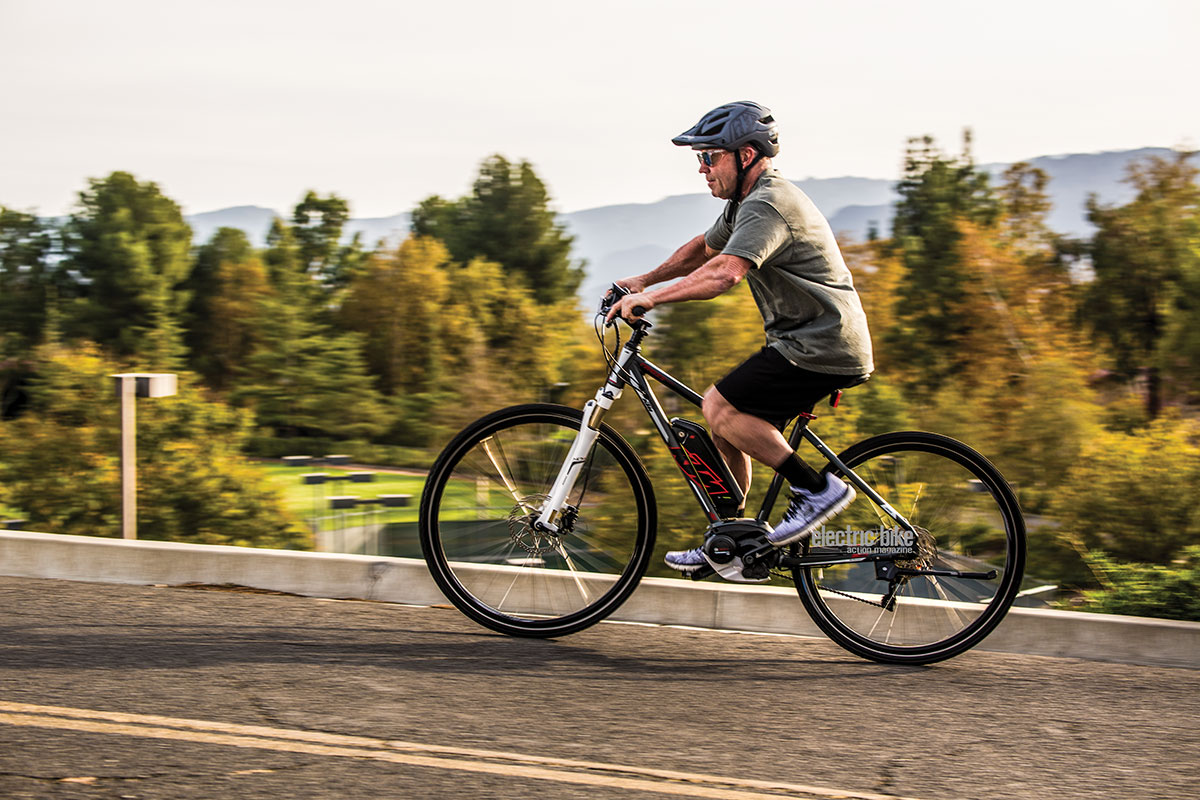 THE VERDICT
If you've been shopping for an e-bike, you've probably noticed that mid-drives generally cost more than hub drives. Since the KTM Macina Cross has the Bosch Performance Line CX system, its $3695 price tag seems about right. You get an electric bike from a proven, high-end Austrian brand with a reputation for building well-crafted machinery with a priority on performance.
SPECS
KTM MACINA CROSS 10 CX4 LC
Motor: Bosch Performance Line CX, 36v
Battery: Bosch PowerPack 400; 11.1Ah, 400 Wh
Charge time: 3.5hours
Top speed: 20 mph
Range: 30–50 miles
Drive: Shimano Deore 11-46 (10-speed)
Brakes: Shimano M396, hydraulic disc
Tires: Schwalbe Marathon Mondial, 700c
Fork: Suntour NCX-D LO
Control display: Intuvia LCD
Frame: Aluminum alloy
Weight: 45 pounds
Color: Gray with red & white
Price: $3695
https://ktmbikeindustries.com
---
THERE ARE SO MANY WAYS TO GET ELECTRIC BIKE ACTION
The post BIKE TEST: KTM MACINA CROSS 10 CX4 LC appeared first on Electric Bike Action.
Welcome to America's first magazine about electric bikes
BIKE TEST: KTM MACINA CROSS 10 CX4 LC