BIKE TEST: PEDEGO BOOMERANG PLUS
Sean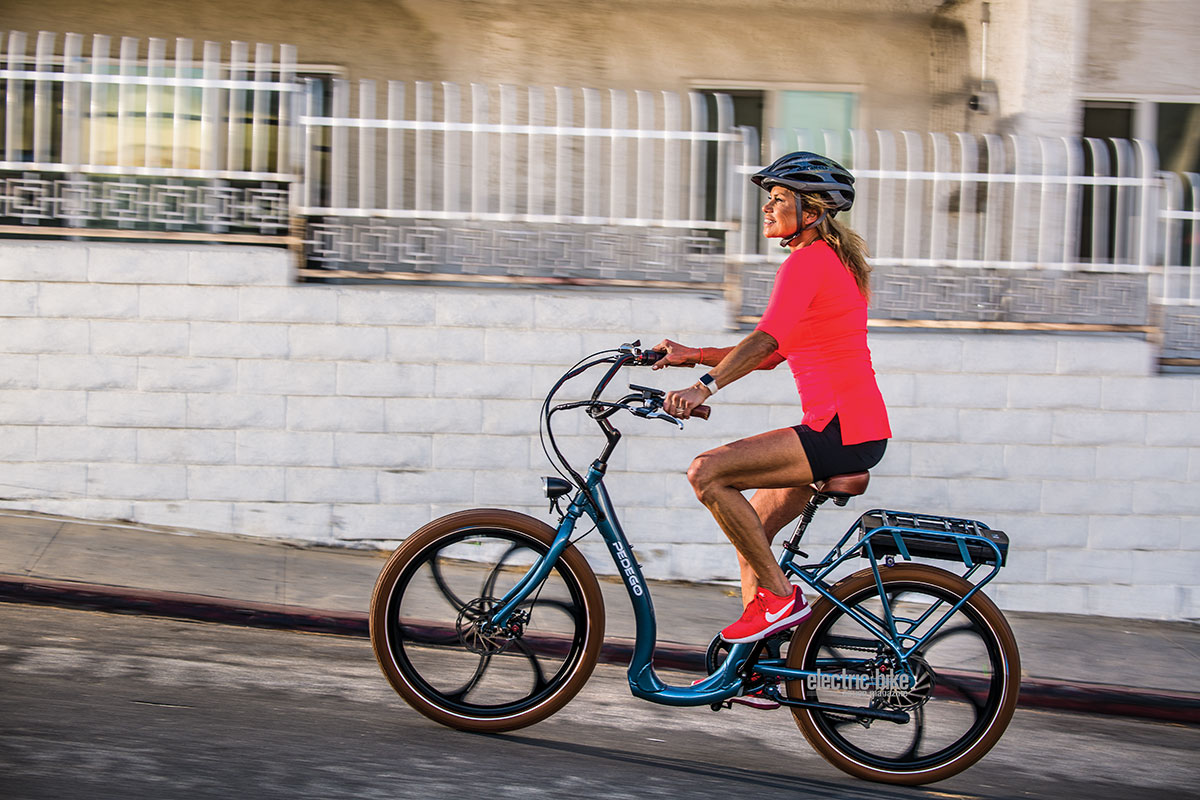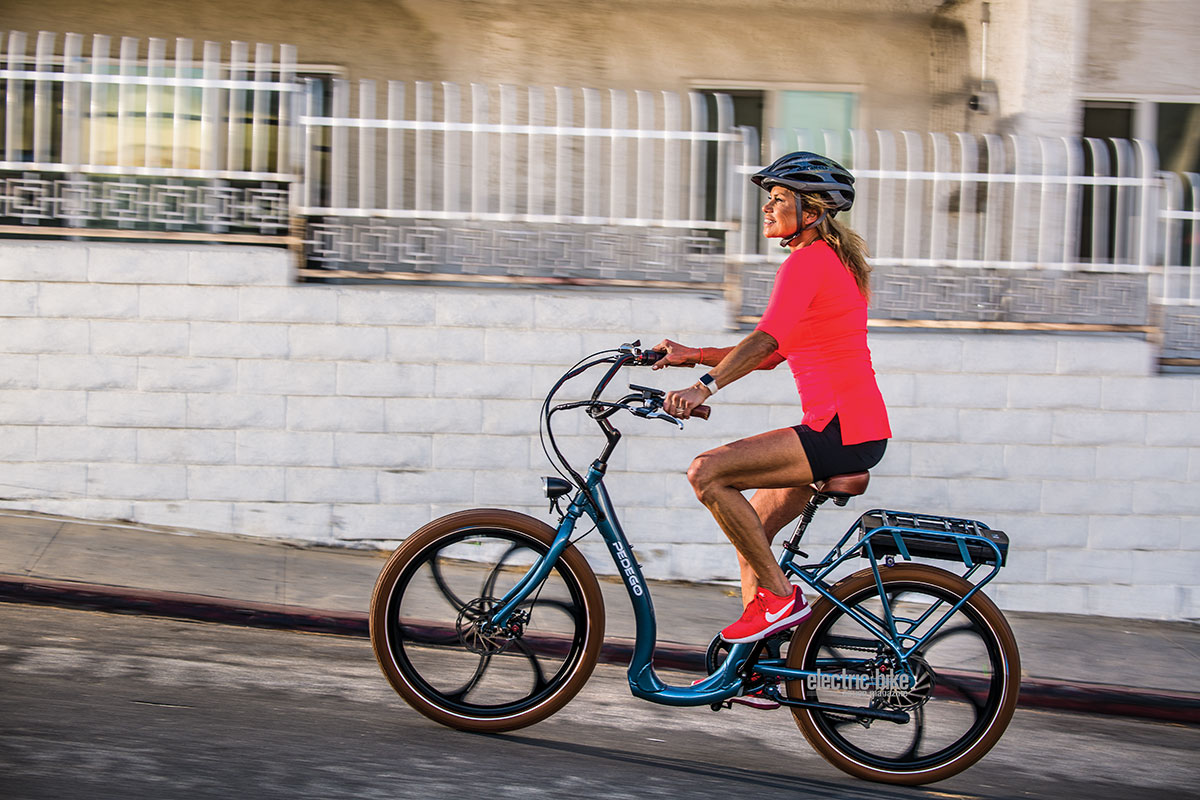 Pedego makes a variety of different bikes, and over the years their low, step-through frames have proven to be the most popular in their catalog. Due to its ease in mounting, the Interceptor model, which is essentially an electric beach cruiser, sells much higher numbers of the low step-through-framed version than the traditional frame to both men and women.
For some, however, the climb aboard the Interceptor can still be a hard task. For those folks who want or need something as easy to climb aboard as a scooter, they make the Boomerang Plus. It is easily the lowest of the low step-through frames we've ever seen.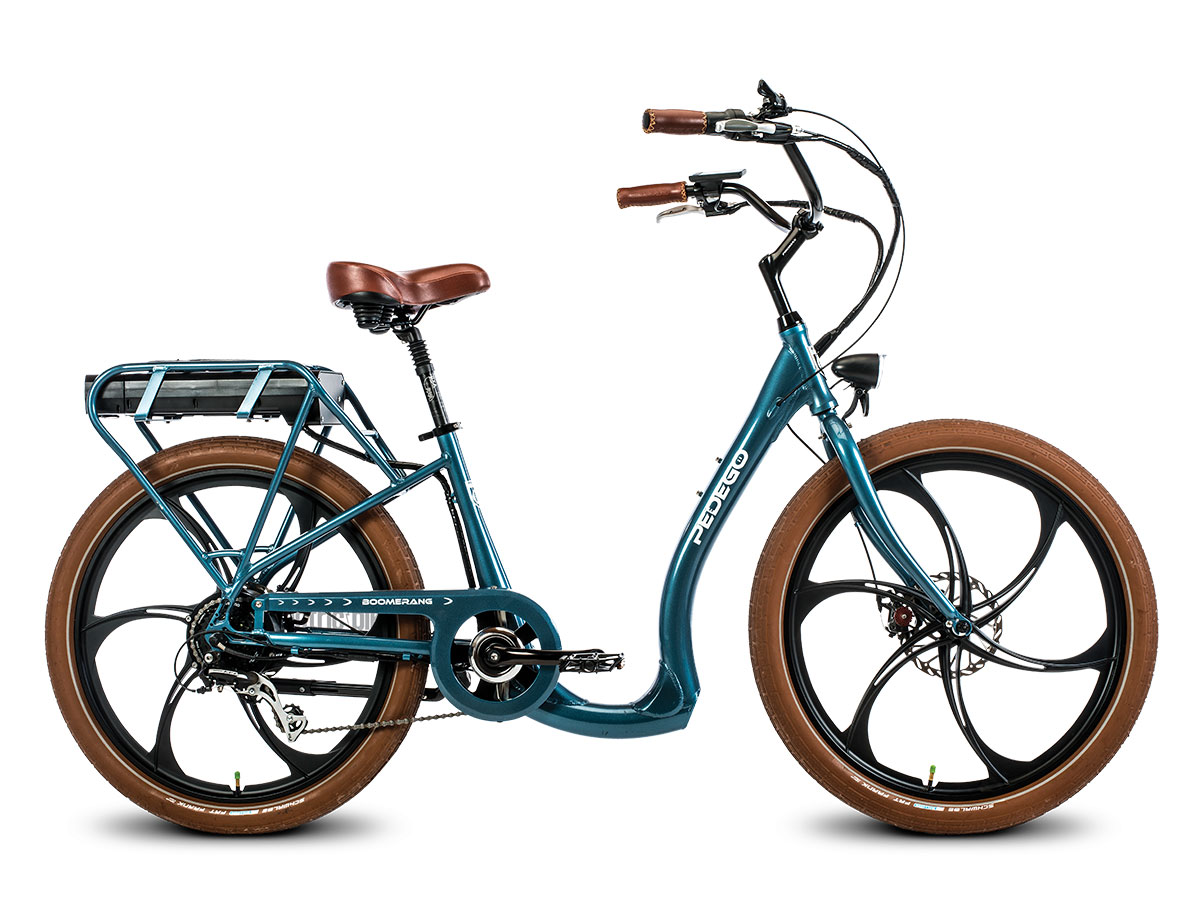 THE BIKE
With a single downtube and no top tube at all, the aluminum-framed design is really unique. It curves down to almost hug the front tire and actually dips well below the bottom bracket. It is then welded to a bottom tube with a tubular gusset that allows it to stay fairly flex-free but also allows a rider to barely lift a leg to get over it. In back, there is a very sturdy rack welded to the seatstays that also houses the battery.
The Boomerang Plus is offered in a few different configurations beyond frame-color choice. You can also select the tire color, as well as the capacity of the battery. There is a 10-amp-hour or a 15-amp-hour option. The latter is a $300 premium, and we recommend it for the best range. Our test bike also came with the optional mag wheels, a very attractive option that increases the carrying capacity to 300 pounds (rider plus cargo).
The 500-watt rear hub motor is small, and in the mag wheels it disappears. Hang some saddlebags off the rack and the battery is hidden completely, so observers will never know it's electric. It has really wide, swept-back handlebars like you'd find on a beach cruiser, a fairly tall stem for an upright riding position, a simple Shimano Acera rear derailleur with seven gears and internal cable routing for a very clean look.
The thickly cushioned saddle has elastomer springs to make it even cushier. It's then attached to a suspension seatpost. The seatpost is adjustable enough to make it fit anyone from 5 feet tall to well over 6 feet, so one size fits most everyone. The included front and rear lights are great for night- or daytime riding for visibility. The rear light is built into the battery. Both are LED lights for low-battery drain and long life.
WHO IT'S MADE FOR
This bike is ideal for anyone who has trouble mounting a regular or even low step-through frame. It's very comfortable to ride and easy to get moving. The caveat with this bike is that it's great if you have a ground-floor garage to store it in. We had to take it up and down stairs, and that was difficult because the bike weighs 61 pounds, with most of that due to the battery and motor, which are both located in the very back of the bike. The Boomerang is also difficult to put on a car bike rack, at least without using an adapter bar.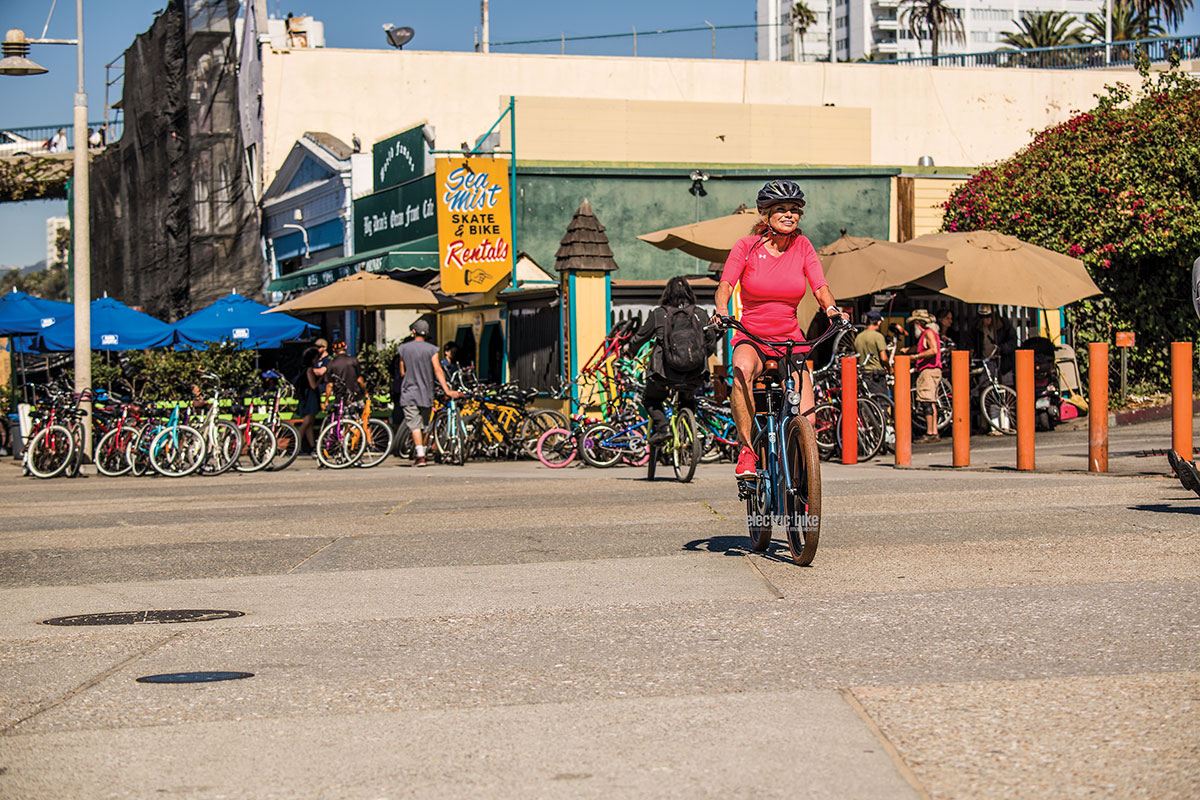 THE RIDE
Taking off on the bike is exhilarating. It's not neck-snapping acceleration, but it does have a lot of torque, especially at the higher assist levels. There are six assist levels to choose from—level 0 is off, 1–5 offer different top speeds and power levels, and level 6 is throttle only. We'd call this a Class 2 bike because of the throttle, but the bike tops out at almost 26 mph in level 5 or via throttle, so it's technically a Class 3 bike.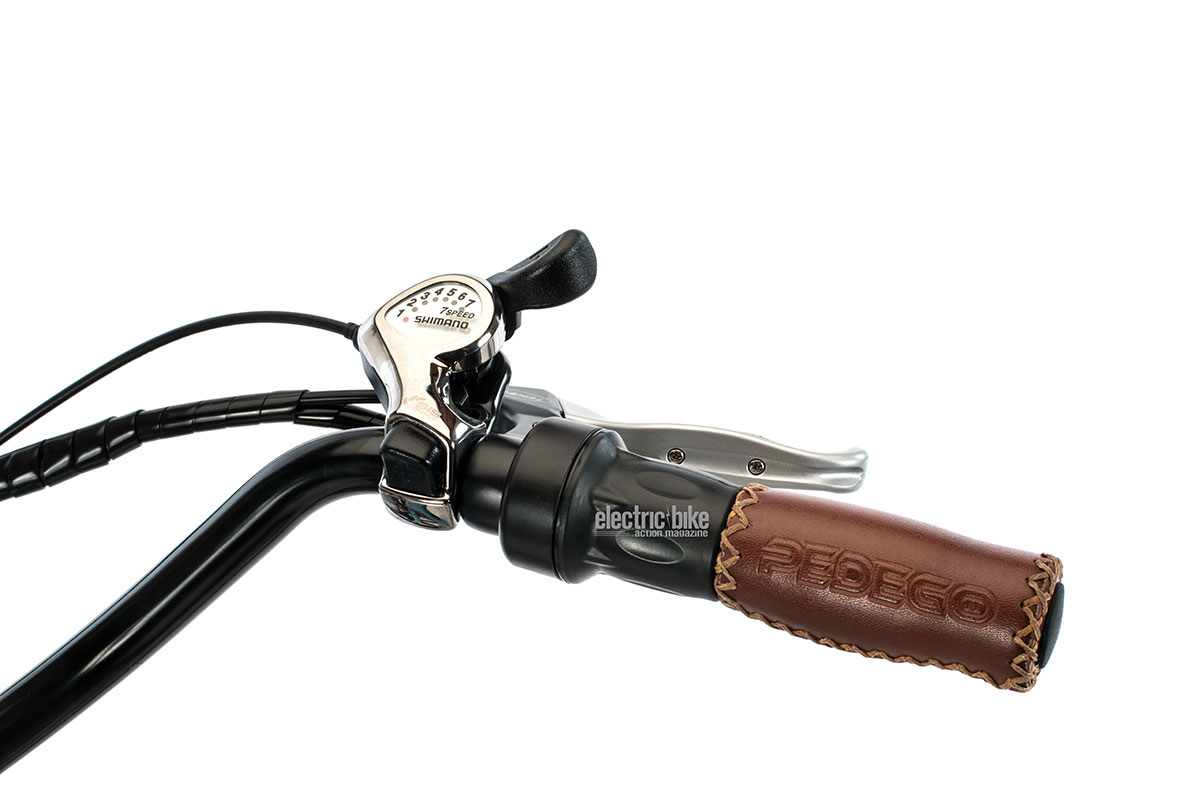 We love Schwalbe's Big Ben tires. These look great on the bike in a color that matches the saddle and grips.The levels are great for reaching an exact speed by throttle or pedal. We go to 11 mph in level 1, 14 mph in level 2, 18 mph in level 3, 22 mph in level 4 and 24.5 mph in level 5. The throttle is handy any time to help you take off from stops, and since the bike has a cadence sensor and not a torque sensor, you merely have to keep your pedals moving to get up to the top speed of your selected power level. The geared hub motor packs a punch and gets you moving quickly.
Thankfully, the disc brakes are ample to control the bike easily, and the levers have motor cutoff switches, so even lightly applying the brakes cuts the motor power instantly.
"Taking off on the bike is exhilarating."
The frame, for the deep-bend single tube, is surprisingly stiff. Made of aluminum, it should be, but it has plenty of engineering that makes sure of that. A single tube bent to this shape would likely flex or twist a lot more, and the gussets work wonders. The stiffness is confidence-inspiring, but it can also transfer bumps in the road to your posterior. The combo of the highly cushioned seat and the suspension seatpost smooths that right out. Uneven roads and bumps were no issue, and with the 15-amp-hour battery, long rides weren't a pain in the backside.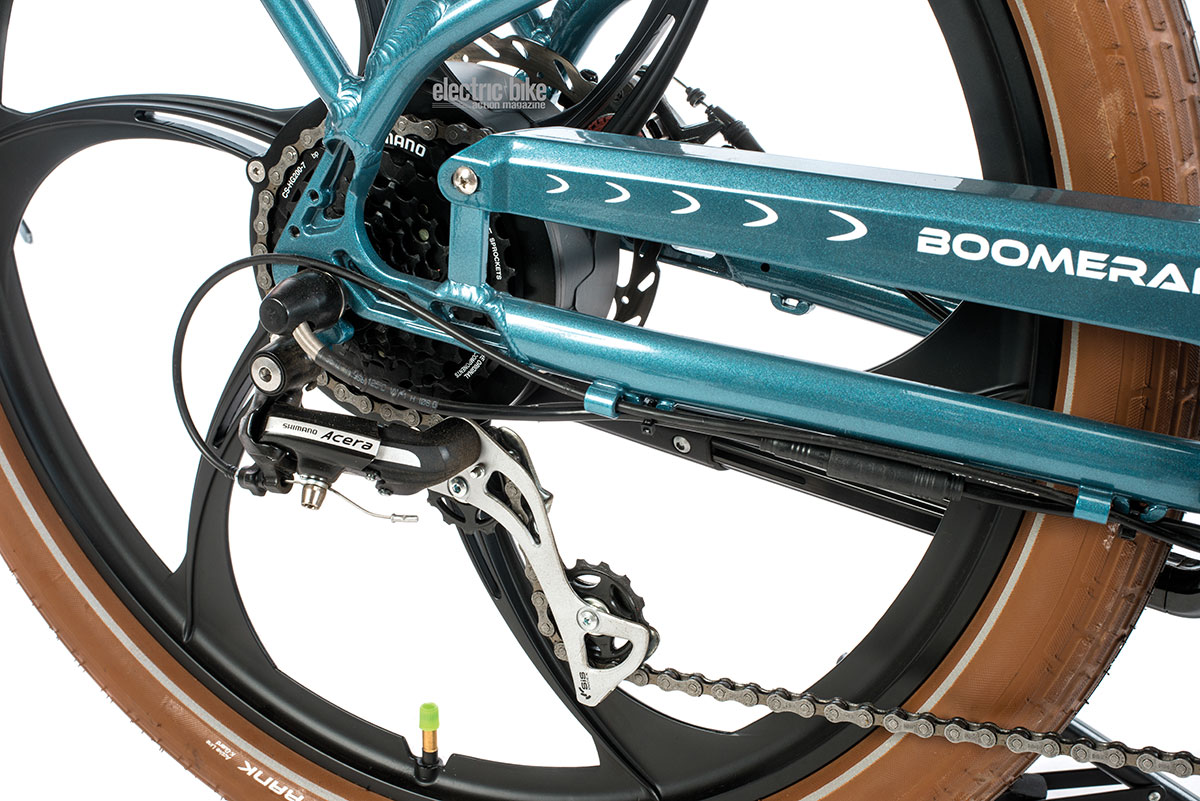 What was painful was the handlebars. Though they're equipped with very attractive, cushioned grips, the bend on the wide bars comes back to have them almost a half circle, putting our hands in an uncomfortable position when riding. It caused us wrist pain even on short rides, which made us want to swap the bars for something with a milder sweep.
The rear rack, being welded to the frame, was sturdy enough to carry everything we ever wanted to carry, even 50 pounds of camera gear, with confidence that it would stay put. The battery is enclosed in that rack, so it's protected against just about anything.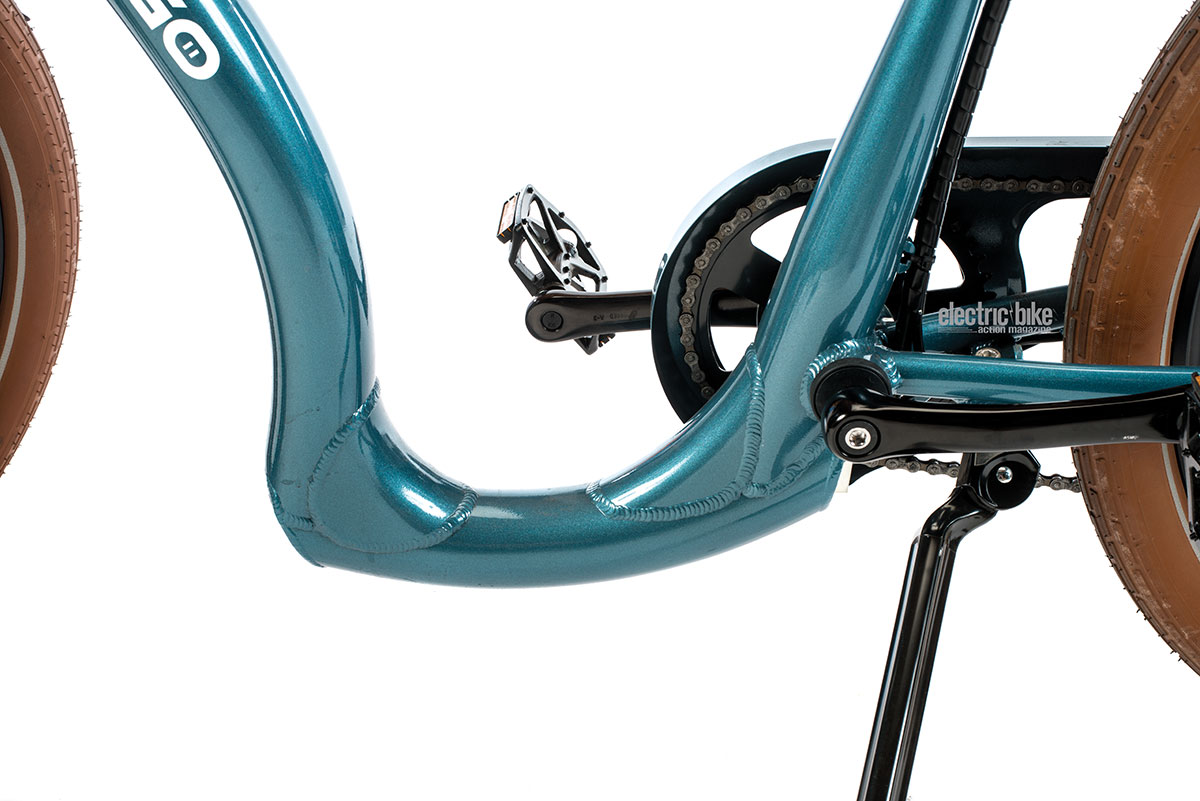 The Schwalbe Big Ben tires are among our favorites for cruiser-style bikes. They have enough volume to allow for a very smooth ride even when the road beneath you isn't. They offer great grip and make the bike feel very planted.
In all of our rides, we never had to worry about battery life. The 15-amp-hour battery gave us enough range to go as far as we felt like going. We had a lot of great compliments on the bike as we rode it around. The unique shape, great colors and the mag wheels caught the attention of many people.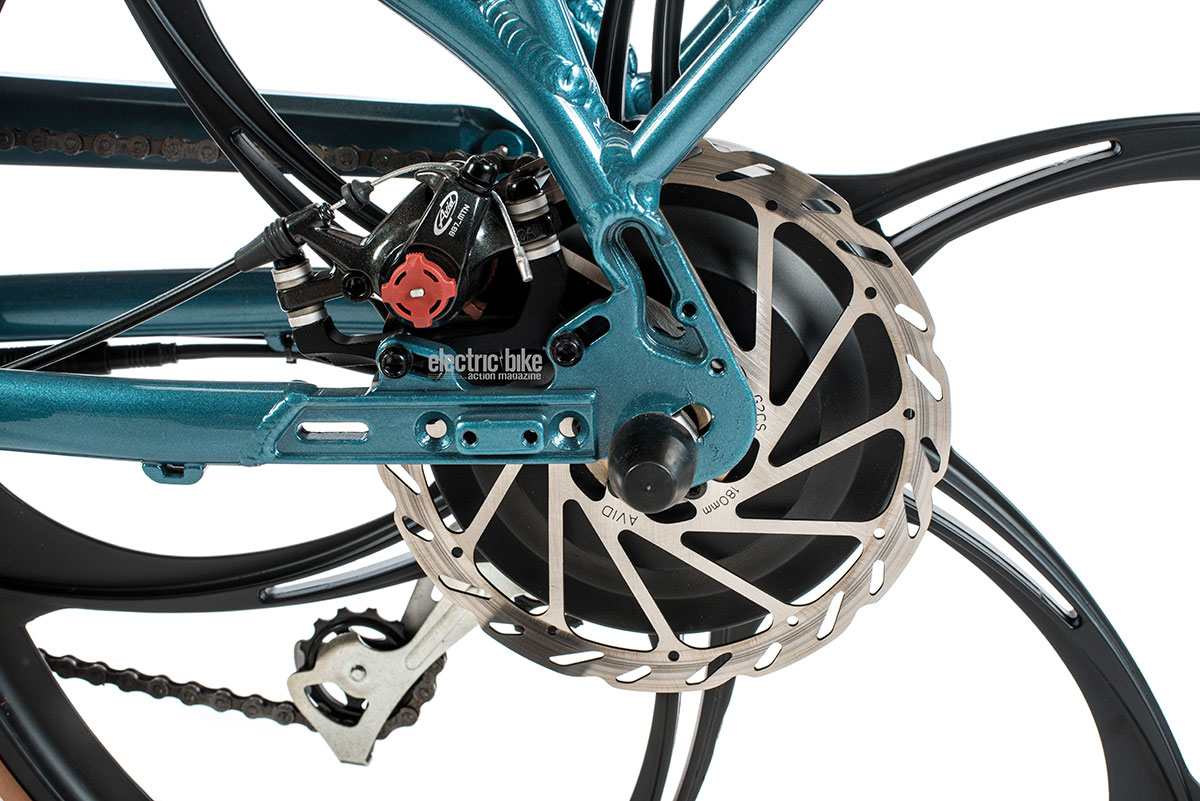 THE VERDICT
The Boomerang Plus is a thrilling bike to ride with a powerful, torquey motor. It is set up for easy mounting and looks great. The ride is comfortable, save for the extreme angle of the handlebars, something you can swap out if it hurts your wrists the way it did ours. Definitely opt for the higher-capacity battery—unless you will break the bank with the extra $300, the extra range is well worth it. The mag wheels look fantastic and give it a different look from other bikes on the road, and we think they're worth the extra $300 as well.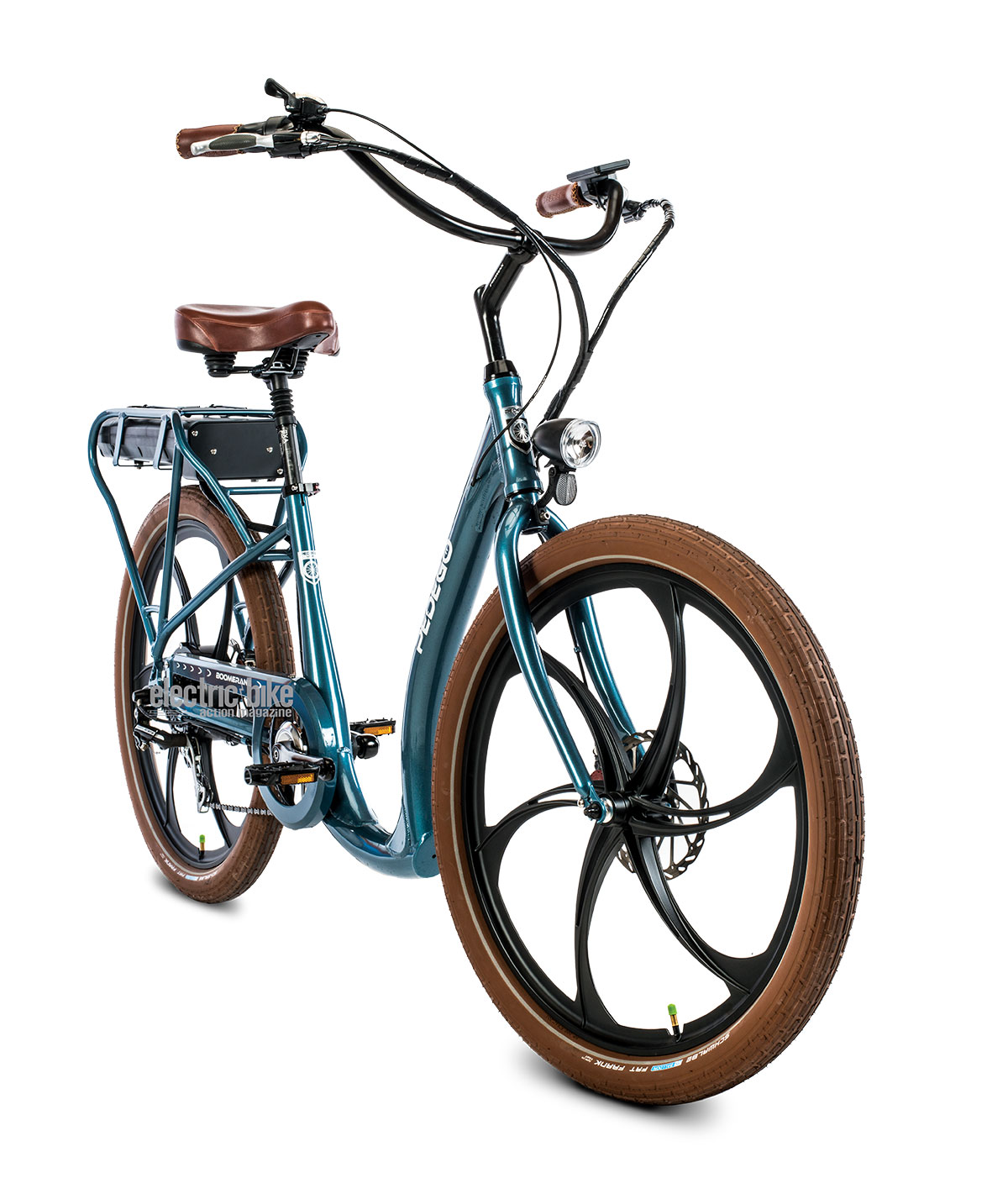 SPECS
PEDEGO BOOMERANG PLUS
Price: $2995–$3690 depending on options ($3690 as tested)
Motor: 500-watt brushless geared rear hub motor
Battery: 48V, 10 Ah or 15 Ah
Charge time: 4.5 hours
Top speed: 25 mph (with assist)
Range: 15–45 miles (tested)
Drive: Shimano Acera 7-speed, 11-42t
Brakes: SRAM Avid BB7 hydraulic disc w/ pad fins; 180mm front and rear
Controls: Pedego
Fork: 6061 aluminum
Frame: 6061 aluminum
Tires: Schwalbe Big Ben
Weight: 61 lb.
Color choices: Mineral Blue, black or red
Sizes: 15.5 inches
www.pedego.com
---
THERE ARE SO MANY WAYS TO GET ELECTRIC BIKE ACTION
The post BIKE TEST: PEDEGO BOOMERANG PLUS appeared first on Electric Bike Action.
Welcome to America's first magazine about electric bikes