Electric Bike Rentals and Tours | Boulder, Colorado | Pedego Boulder
Pedego Electric Bikes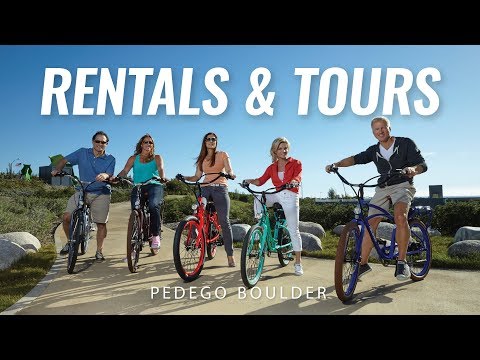 Visit: https://www.pedegoelectricbikes.com/dealers/boulder
The best way to see Boulder, Co is on a Pedego electric bike. Pedego Boulder offers some of the best guided tours in the area, or you can just rent one of their many bikes and explore the area on your own!
Tour Options:
Whether you are a longtime local or a first time visitor we have designed the ultimate tour of Boulder, Colorado. Our expert guides will lead you from our shop in historic downtown along the Boulder Creek path effortlessly winding through "The Happiest City in America". Delivering Miles of Smiles with minimal effort, this tour hits all the "must see sights" including:
• Boulder Canyon
• Eben G. Fine Park
• CU Campus
• Chautauqua Park
• NCAR
Attention all thrill seekers! Jump on Pedego's award winning full suspension Elevate Mountain bike and head for the hills. Select 1 of 3 electric assistance modes as you wind your way up the switch backs of a local fire road and enjoy some of the best backroad biking Boulder has to offer. Climb, climb, climb and once you reach the top get ready as the best is yet to come. Soak up the transcendent views and feel the wind in your face as you fly through the canyon on one of Boulders most famous downhill stretches. One more stop for a panoramic picture before completing this epic loop back to the bike shop. You have been Elevated!
Electric Bike Rentals and Tours | Boulder, Colorado | Pedego Boulder