NYC To Legalize Pedal-Assist Electric Bicycles
Tony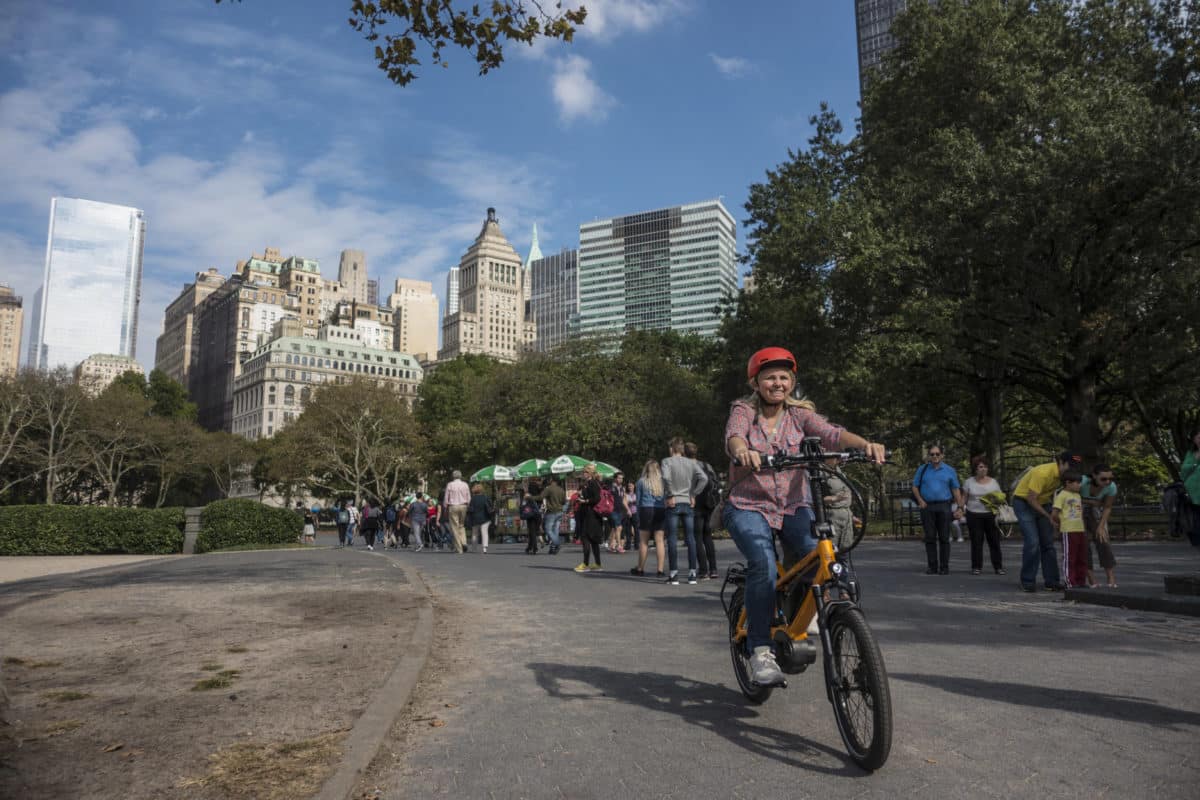 In an attempt to bolster cycling in NYC, Mayor Bill de Blasio announced that the DOT begins the rule-making process to clarify that pedal-assist electric bicycles are permissable in the city.
Previously, the city had cracked down on electric bicycles because of problems with delivery persons operating class 3 bikes with throttles riding on sidewalks and other wreckless behaviors. We had covered this in an article on riding in NYC last year, where we could easily see one delivery person on an electric bike every few minutes, none of them pedaling and many breaking the law even if they were.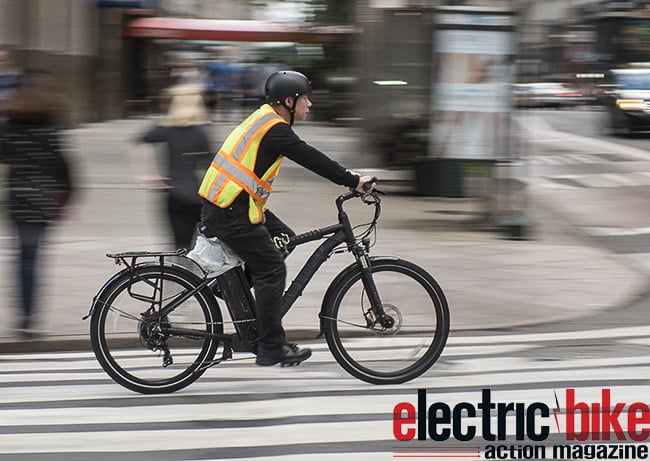 Though electric bikes still aren't legal per the State of New York, legislation is pending in Albany. NYC officials are trying to quickly implement legislation to legalize pedal-assist bikes in the five boroughs of the city to alleviate congestion and double the number of active cyclists in the city by 2020. There is a planned, 18-month closure of the L train tunnel for maintenance starting in April 2019 that will affect thousands of commuters and cause tremendous congestion, and it is hoped that increased bicycle traffic will alleviate some of that.
"As cycling continues to grow in popularity for commuting, deliveries and tourism, we are seeing the demand for pedal-assist bicycles that can help cyclists travel longer distances and more easily climb steep hills," said Mayor de Blasio. "With new and clear guidelines, cyclists, delivery workers and businesses alike will now understand exactly what devices are allowed."
"By creating the framework for pedal-assist bicycles, our goal is to join other world cities that are opening the door for delivery workers, older or less able-bodied cyclists, and other casual aspiring cyclists to experience a safe and low-emission mode of travel," said DOT Commissioner Trottenberg.  "Cycling, including on pedal-assist bikes, is not only fun, it's a fast, affordable, healthy and sustainable way of getting around.   With challenges like the L train tunnel closure on the horizon, our aim is to balance moving even more New Yorkers on two wheels with the need to manage that growth safely."
"The NYPD supports the clarification of the legal status of electric bicycles being operated on New York City streets," said Chief Thomas Chan, the NYPD's Chief of Transportation. "The NYPD will continue to work closely with the Department of Transportation to ensure the safety of the city's bicyclists."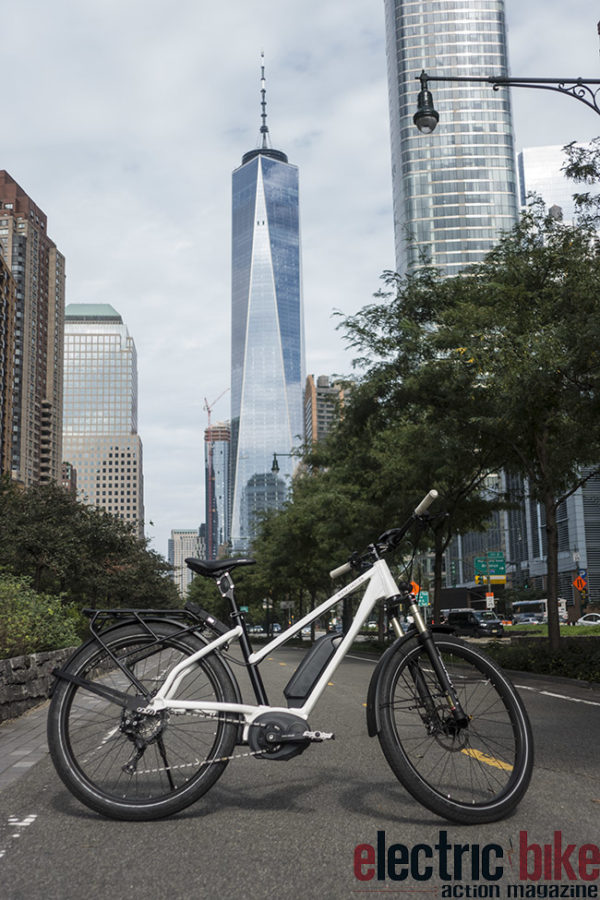 Increased Cycling Options for Delivery Workers and Commuters: The new rule will also help meet the City's goals of doubling the number of active cyclists by 2020.  In addition to creating more ways to get around in neighborhoods and areas underserved by transit, the rule will be helpful for those considering new commuting options during the closure of the L train tunnel starting in April 2019. The Williamsburg Bridge currently has over 7,000 daily bicycling trips; during the tunnel closure, cycling trips over the bridge are expected to more than double.
Health and Sustainability: Pedal-assist bicycles contain a rechargeable battery that can be used to travel longer distances or boost power going up hills — and are among the fastest-growing and most environmentally sound modes of urban travel, both around the U.S. and around the world.  One European study has shown substantial health and environmental benefits, including that pedal-assist bicycles increase cycling, especially among older users.  Research has also shown that pedal-assist bicycle trips most often replace car trips; with the ability to avoid car traffic and parking costs, trips on pedal-assist bicycles are usually both faster and cheaper.
In October 2017, Mayor de Blasio and the NYPD announced increased enforcement against improper use of electric bikes, with a particular focus on the hazardous operation of e-bikes and businesses that use them or permit employees to ride them.  Under the framework announced today, DOT and NYPD will sanction low-speed pedal-assist bicycles that operate with the assistance of human power, specifying the exact type of permissible equipment. E-bikes possessing throttle capacity or any capacity to operate without human power remain illegal under State and local law. Several bills addressing e-bikes are active in Albany, and New York City would also be open to further clarification.
Under the new rule, cyclists as well as delivery workers who currently do not travel by bike will have an alternative that is legal, sustainable (zero-emission) and safe. Throughout the rulemaking and implementation process, the Administration will continue to work with and hear from a variety of stakeholders, including immigrant and delivery worker advocates.
"Expanding and promoting the technology that underpins pedal-assist bicycles is an exciting part of our city's ongoing transition to safer, lower emission, electrified vehicles," said Mark Chambers, Director of the Mayor's Office of Sustainability.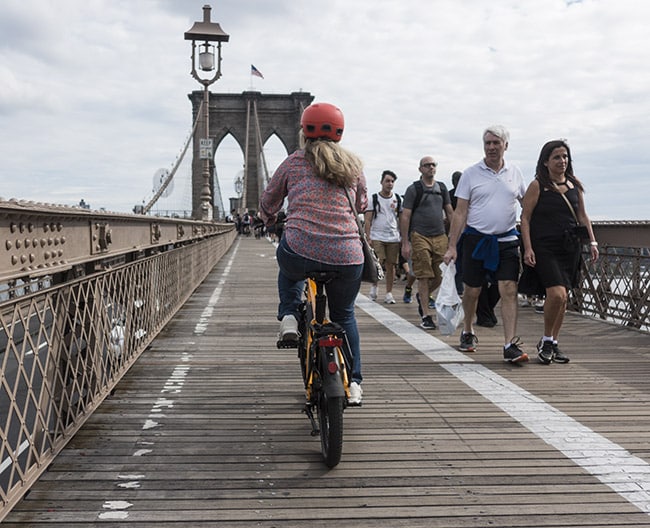 City leaders and community groups are applauding this, as it not only enables more cyclists to ride for transportation, it ensures that delivery cyclists that are generally low-wage immigrants can use pedal-assist electric bikes to deliver over 100,000 meals per day in NYC.
This move will also allow for electric bikeshare opportunities, as there are companies ready to jump in to the fray with docked and dockless solutions. Citibank-sponsored CitiBikes are already hugely popular and omnipresent, adding in electric bikes would facilitate far more bicycle use.
New York is an incredibly bicycle-friendly city, with over 500 miles of bike lanes and greenways. We found that there is no greater, faster or more convenient way to get around the city, on electric bikes we borrowed from Propel Bikes, we covered more of Manhattan and Brooklyn in a half-day riding than we did in a week of taking public transportation and walking. This reversal of ruling shows de Blasio's forward-thinking and understanding of the power of electric bikes to shape the future of transportation in cities.
For more information on e-bikes and enforcement, visit: http://www.nyc.gov/html/dot/html/bicyclists/commercial-cyclists.shtml
The post NYC To Legalize Pedal-Assist Electric Bicycles appeared first on Electric Bike Action.
Welcome to America's first magazine about electric bikes