Author: Electric Mountain Bike Network via YouTube
Go to Source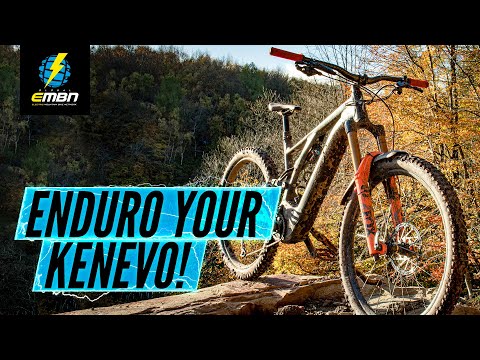 Here at EMBN we often get asked which bike people should choose between the Specialized Kenevo or the Lighter weight, more nimble Levo. It's often thought that the bigger travel bike will be better for big jumps and downhill sections and that the lighter weight and slightly steeper angles of the Levo make it more of an enduro bike. But is this thought just based on conventional non-assisted bikes? Steve investigates by creating the 'KENDURO'.
Subscribe to EMBN: http://embn.me/subscribenow
Pick up official EMBN merch: https://embn.me/Bk
Follow us on Instagram or Facebook! @emountainbikenetwork
Sign up to the EMBN newsletter: https://embn.me/newsletter
Please submit your content to our uploader: https://upload.embn.com/ we love to check out what you have been up to and may feature it on the show!
Watch more on EMBN…
📹 How NOT To Ride An EMTB (Feat Olly Wilkins) – https://embn.me/hownottoride
📹 Features Playlist – https://embn.me/Features
🎵 Music – licensed by Epidemic Sound
Olympos – Ooyy
Salamanca – Sarah, the Illstrumentalist
balance, kid – Justnormal
A City in Ruins – Matt Large
Hurrungane – Luwaks
What do you think of Steve's 'KENDURO' mod? Let us know 👇
#EMBN #EMTB #MountainBiking #eBiking #MountainBike #MTB #BikeLife #Cycling #Ebike
The Electric Mountain Bike Network (EMBN) is the world's leading electric mountain bike (eMTB) channel and community.
Dedicated to igniting your passion for eMTBs, EMBN delivers weekly original content to inspire you to take your riding further, faster – and with more fun.
Whether you live to conquer the techiest terrain – both up and down; to access and explore the beautiful backcountry; or simply to pack as much fun as you can into the precious riding time you have, EMBN is dedicated to covering eMTB from every angle.
From inspiring you to go electric – helping you understand what you need, where and how to ride to get the best from your eMTB experience, and more – through showcasing and exploring the latest, most innovative tech, empowering and entertaining features, to skills videos that help you progress and can tackle ever-more adventurous terrain, and much, much more.
Every week we bring you informative and entertaining videos on…
– The know-how…
– The skills…
– The tech…
– The inspiration…
…to go faster and explore more!
EMBN is mountain biking… fully charged: helping you go faster, further, and with more adventures than ever before.
Join the EMBN community:
Facebook: http://embn.me/facebook
Instagram: http://embn.me/instagram
Twitter: http://embn.me/embntwitter
Thanks to our sponsors:
Specialized: http://embn.me/specialized
Haibike: https://embn.me/haibike
Canyon: http://embn.me/canyon
Ergon: http://embn.me/ergon
Maxxis: http://embn.me/maxxis
Park Tool: http://embn.me/parktool
Garmin: https://embn.me/garmin
Muc-Off – https://embn.me/MucOff
Mavic Wheels: https://gmbn.eu/Mavic
The 'Kenduro' – Making a Specialized Kenevo More Enduro