Author: ElectricBikeReview.com via YouTube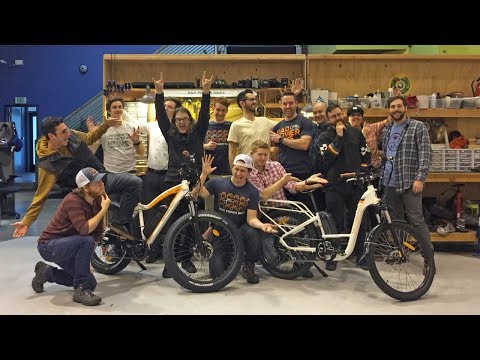 Rad Power Bikes has a completely revamped line of electric bikes set to launch in 2018 as well as some business changes. They will be expanding from the US into Canada and several countries in Europe with the RadRhino. I was told that RPB has become the largest consumer direct electric bike maker in the US.
Dan Henderson will be the Canadian Business Director, the company is now fulfilling orders direct from their Vancouver BC shipment center and that means free shipping. Canadian ebikes will meet the legal spec with 500 watt motors there.
Arnot Saladin will be the European Business Director operating out of Rotterdam Netherlands will be their EU fulfillment center. They will be shipping to Germany, France, the UK and many others using the L1EA category (it's like a hybrid of an ebike and a moped which requires a license but allows for higher power, it's classified as a Light Power Cycle).
Rad Power Bikes is also partnering with Velofix in the US to deliver, assemble, tune and support electric bikes locally since they are a consumer direct brand that is not carried in shops. RPB is their largest premiere partner using the Velofix direct model.
The RadRhino, only available in Europe, has a license plate mount, brake light, and always-on headlight. These are all mandatory features for operating on the road in Europe.
Some key features of the 2018 models for the US are a standardized battery pack that works across all models, it's a custom designed pack (though it sort of looks like the Shark pack) that contains more cells and a replaceable fuse. One of the brand new models that I really liked was the step-thru RadCity which positions battery weight well and is still very approachable but the frame has been reinforced with gussets, to reduce flex. Mike explained to me that they have a new rack system which is compatible with all models, and it's super sturdy and stiff being frame-mounted vs. on the front fork (which can impact steering). The rack can also be mounted to the back of the RadWagon and all of the models now have nice integrated lights…
All of the 2018 electric bicycles for the US market are going to be priced at $1,499 except for the RadWagon (electric cargo bike) which will be priced $100 more at $1,599.