Author: ElectricBikeReview.com via YouTube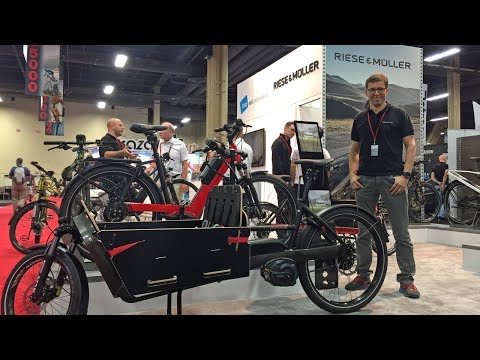 For 2018, Riese & Müller is celebrating it's 25th anniversary by launching a "top of the line" Deluxe Signature model. It's built around their full suspension, dual-battery, Deluxe model which is designed for touring. It comes stock with two batteries for 1,000 watt hours, integrated metal lights, it uses a carbon handlebar, a Shimano XTR Di2 electronic shifting, and Fox Factory air suspension. This model is priced at $11,000 USD. They built it with all of the top-end components that they would like to have on their own personal bicycles without worrying about spending more, it's a joint effort by Marcus Riese and Heiko Müller who founded the company, they are physically signing each model with a hand written autograph.
The Homage has also been updated, with a new 27.5" wheel size option with fatter tires. This should bring the frame closer to the ground for lower stand over height and offer some improvements with comfort and stability. This bike will be priced similar to before, maybe $100 more at the $5,899 price point. You can see my original review for the 2017 Homage model at: https://electricbikereview.com/riese-muller/homage-nuvinci-hs/
From here, we moved to the Packster 40 which is a slightly smaller version of the original Packster which I have reviewed here as the 2017 Packster 80 https://electricbikereview.com/riese-muller/packster-touring-80/ The new version is shorter but still offers more load capacity than the Riese & Müller Load model which has full suspension. The packster is a bit less expensive as it only has a front suspension fork. One thing that struck me as being unique, was the look-through window on the front of the load that makes steering easier. It aims to be a crossover between a standard bike which is narrow, short, lightweight, and nimble, with a cargo bike that is capable of hauling supplies or a child. It fits one child and they are seated backwards so you can see them and talk with them easier. There's a dropped area where feet can go and this doubles as a storage area for when you fold the soft seat materials down in. This model comes either with a belt drive and NuVincie CVT or a standard chain and sprockets. You can get the Bosch CX or Bosch Speed motor here.
The Nevo has also been updated with a 27.5" plus tire option, just like the Homage, this improves stability and adds some comfort when riding. You can watch the full Nevo review I did on the 2017 NuVinci model here: https://electricbikereview.com/riese-muller/nevo-nuvinci/ they now offer a smaller frame size option at 43 cm which would be great for petite riders, it comes with 26" wheels, so even lower to the ground. Heiko told me that the Nevo was one of their most popular models in 2017. It is easy to approach but can still handle heavy riders up to 353 lbs. It also comes stock with an SR Suntour NCX Suspension seat post to improve comfort as well as a traditional suspension fork.
The Roadster model has also been updated for 2018, having a more integrated battery which seats into the downtube a bit. They now offer a mixte step-thru frame for people who cannot mount the diamond high-step frames as easily. I reviewed the 2017 roadster model at https://electricbikereview.com/riese-muller/roadster-touring-hs/ it comes in white, metallic lime green, and matte black colors.
Heiko ended our interview by saying that 2018 looks very good for electric bikes, more people are adopting them (they were common to see at Interbike, very popular this year) and the options are getting better and better. Riese and Muller will be attending the Ebike Expo events around the USA in 2018 so you can go for test rides and there are a number of shops that now carry them including Propel in New York, New Wheel in San Francisco, and Splendid Cycles in Seattle (there are about 15 shops total at the time of this video). Because the models are more expensive, it's great that they are growing their dealer base in the USA.
You can see some of my previous Biomega ebike coverage at https://electricbikereview.com/brand/riese-muller/ and learn more about the company at their official website: https://www.r-m.de/
2018 Riese & Müller Electric Bike Updates Interbike (Deluxe Signature, Packster 40, Roadster Mixte)