Author: ElectricBikeReview.com via YouTube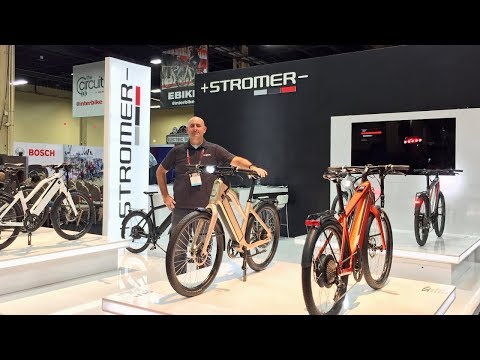 For 2018, Stromer is refining their control system and display interface, while meeting European speed pedelec regulations. I spoke with the director of sales for North America, Justin Manthe, and was given a tour of their latest electric bike models at Interbike.
Stromer is a European brand that is following the updated spec guidelines which requires brakelight activation for all Class 3 speed pedelecs and an audible horn. This means, anytime you pull either brake lever, the rear light will become brighter to alert other cyclists, pedestrians, and motorists of your intention to stop. And, anytime you press the horn button, an electronic chirp will alert those around you and generate attention. Other requirements include an auto-stow kickstand, side mirror, and always-on headlight with consistent Lumen output that is brighter. For their lights, Stromer has chosen to use the Supernova M99 headlight and 5-LED tail light. The M99 Pro headlight has two modes, a daytime LED outline and automatic photosensor activated nighttime mode with a full beam of high and low offering up to 1600 Lumens.
We looked at the new ST2 Limited which comes in a beautiful brushed aluminum finished. They are only producing 555 of these models for global distribution. Much like the ST1 Limited, which came in a metallic blue finish. The new Limited model comes with a Brooks saddle, grips, and pannier upgrade, as well as a SIGG water bottle, each with special Stromer branding and numbering. It also comes with a 983 watt hour battery pack for long-range riding, estimated at 70 to 110 miles per charge. The pricing for this particular model is $7,999, as I understand it, that's $1k more than the standard ST2.
Stromer has a new OMNI display which is a bit more touch-friendly than the old because it doesn't measure pressure, instead relying on capacitive touch. This updated hardware is called OMNI C or OMNI Connect and will be shipping on select models in January of 2018 but all models should have it as of April 2018. The new display has a menu bar across the top with connection signal graph, upload / download bar, map, and Bluetooth symbols. The center area shows your current speed, trip distance, trip time, battery level, assist level (1-3), clock, and trip speed. I was also told that this new display panel works well, even if you are wearing cycling gloves… but perhaps it they need to be special silver infused touch gloves?
If you have an older Stromer ebike, you need to upgrade the OMNI hardware (which requires a spanner to be removed in the back, and should be easy for most bicycle shops to perform). The retail price on the OMNI Connect hardware, to upgrade, is $650. It does not come with the horn button because there is also the matter of installing a horn along the base of the downtube. It sounds like the new OMNI has much more memory than the original which might help with GPS navigation.
We looked at the 2018 ST1 X model, which also has a brighter headlight, brake-activated rear light, and horn. New colors include metallic Sand (that looks like rose gold), and Ocean (a deep metallic blue), Orange and Charcoal are still options. The ST2 is offered in traditional black and white. The premium ST2 S with Shimano SLX Di2 electronic shifting, is still going to come in Charcoal with red accents.
Pricing for many Stromer electric bikes has been lowered: ST1 X is $4,999, ST2 is $6,499 (that's $500 less than 2017 and the only change is the new Omni system). The ST2 offers a more powerful motor with 40 Nm of peak torque vs. 35 Nm. All models have recuperative power regeneration features. This allows you to simulate climbing or slow the bike when descending hills and is automatically activated when either brake lever is pulled.
One of the cool updates to the new OMNI C is Bluetooth connectivity, so it can sense when you are near (by using a smartphone) and unlock automatically. It uses GPS tracking and theft prevention. You would get a message on your mobile device if it is moved without unlocking and the rear wheel will be held using the strongest regenerative recup mode so a thief cannot ride it away. This tracking feature is not something that you have to pay more for after you purchase the bike, it's a free service.
Stromer offers three frame sizes and two frame styles (sport and comfort), the comfort frame is more of a mid-step / step-thru design that is easier to approach and it comes in 17". You can get the sport high-step models in 20" and 22" so between all of the frame choices, Stromer says they can serve riders as tall as 5'4" to 6'7". There was one final update, that the ST2 S is dropping in price, going from $9,999 to $8,999 in part because Stromer is preparing an ST5. I'm not sure why they skipped ST3 and ST4… but whatever 🙂
You can see some of my previous Stromer ebike coverage at https://electricbikereview.com/brand/stromer/ and learn more about the company at their official website: https://www.stromerbike.com/