Are E-Bikes the Future in London? VOLT™ Featured in BBC News
volt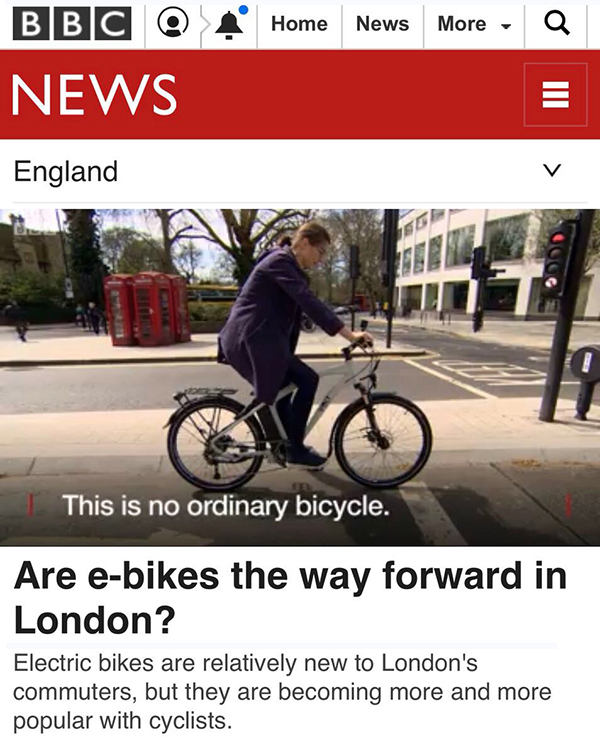 Yesterday, BBC News asked: Are electric bikes the future in London?
If you caught the segment, you may have seen a familiar face (and a familiar e-bike!).
In a bid to tackle congestion, and even make your daily commute less stressful, the Mayor of London is calling on people to "ditch their cars" in favour of e-bikes. He believes that pedelecs would help alleviate emissions and travel chaos in the Capital, whilst providing a healthier alternative to other forms of transport.
VOLT™ Director James Metcalfe spoke to the BBC about the countless benefits:
"We're seeing them being chosen by cycle couriers, by delivery firms, and importantly, by commuters…it's much cheaper to use an e-bike than it is to use public transport or your own vehicle."
"It just makes cycling and transport and exercise so much more accessible to people," he added.
Riding our VOLT™ Pulse, cyclist Majonne Frost said that her e-bike has "transformed her commute."
"It just makes the journey to work a lot easier," she raved. "The way home is quite uphill, so hills can be a bit of a struggle at the end of a long day, but the e-bike makes it super easy."
Check out the full video below. Book a free test ride to try one out for yourself.
The post Are E-Bikes the Future in London? VOLT™ Featured in BBC News appeared first on Volt News.
Latest Ebike News, Reviews and Announcements