Author: ElectricBikeReview.com via YouTube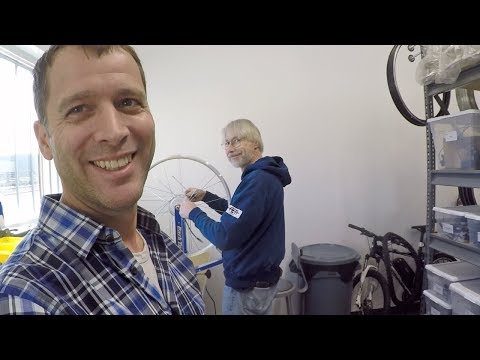 While visiting Denver to film reviews for Electric Bike Outfitters (EBO) I was able to speak with the founder, Jason Livingston, and see how his business operates. We looked closely at the different hardware and talked about how his company has grown since 2015. It now ships internationally and he works closely with a battery repair and repacking service provider named Patrick Duggan. It sounds like Patrick is opening his own business in Denver called Hi-C Battery in early 2018 and can provide higher power and higher watt hour solutions, so you can fix your ebike, electric skateboard, electric scooter, or other device vs. having to throw it away at end of life.
Jason explained that he has been doing electric bike motor design for some time and now sells to a lot of retirees, even providing medical solutions (which we saw later in the video). EBO brings in freight containers full of e-bike parts and then they either spoke motors into custom rims (he said they build about 50% of the wheels custom and the 700c 28″ size is their most popular). Part of the reason they do wheel builds is to offer color customization and cassette options (either single speed, 7, 8, or 9 speed).
They also simulate a bike ride and drain all of their batteries before shipping them out. This is an extra step that 100% of their batteries go through because there is a ~1% failure rate from the manufacturer… apparently batteries sit in a freight container for over one month and then sit in customs. By testing the batteries, they reduce the failure that end customers might experience, which would be frustrating and time consuming. It's one of the reasons that EBO kits cost a bit more, they offer a higher level of customer service and warranty. Jason recommended that users never go three months without charging, and then charge them fully. Jason recommended storing your battery in a cool dry environment, and not charging in freezing cold conditions.
Jason does receive some walk in business, and he has built a small fleet of demo bikes with his kits installed. If you want to visit, the address for Electric Bike Outfitters is: 999 Tejon St, Denver, CO 80204 and their phone number is (303) 947-5416 the official website is http://www.electricbikeoutfitters.com/ and you can visit Patricks website for Hi-C Battery at https://www.hicbattery.com/
Electric Bike Outfitters Tour, Hi-C Battery Repair Interview