Author: Addmotor electric Bikes via YouTube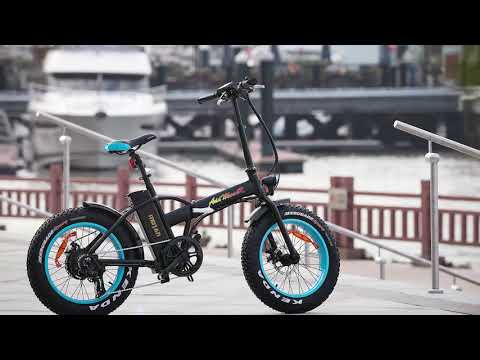 MOTAN M-150 Motorized Electric Bicycles 2017 Design Fit For 5'2″-6'4″ And It Can Carry Adults Weighing Close To 300 lbs, Making It An Ideal Option For Larger Riders.
Using Motor Power Only-Faster If You Also Pedal With Level one assist.The Max Speed Can Go to 23MPH And Distance Up to 40-55 Miles Per Charge-Can Still Pedal If Charge Is Lost.
With Night Mode LCD Ensured Visibility At Night And Shows Mileage And Speed; LCD Display With USB Charging Port For Your Phone and Other Devices.
Mechanical Front and Rear Disc-brake Design and Shimano 7 Speeds TX55 Gears Professional Transmission System. Perfect Climbing Ability.500W Brushless Motor Easily Conquers The Beach. But 350W Can't.
Collapsible Top-Tube, Frame And Pedals Makes It Portable And Wasy to Store In Your Car or Anywhere You're Ready to Use.Folding This Foldway Electric Bike Only In 10 Seconds.
ADDMOTOR MOTAN M150 Electric Bicycle 2018 New Upgrade