Author: BenjaminNelson via YouTube
Go to Source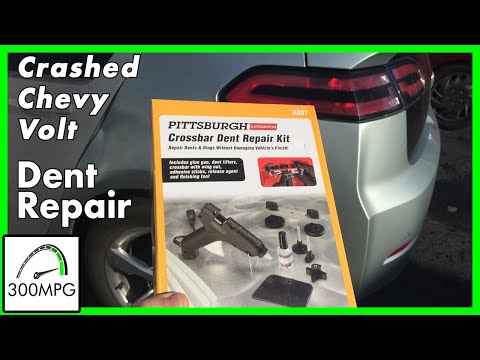 I got the replacement doors on the Volt, but there's still a couple of dents to get out. I bought a "hot-glue gun" dent remover and set to work! Please click SHOW MORE!
I bought a Harbor Freight paint-less dent removal tool. It's essentially a hot-glue gun, a crossbar, and tabs with a threaded bolt. You glue the tab to the car, and then pull it up with the crossbar by rotating a threaded knob. All other kits are similar to this. If I did this again, I think I would buy a kit with more accessories. It seems like having more and different size tabs would make it easier/better to remove dents.
I would get something like this one:
https://amzn.to/2Fl4BI6
The kit also included only a very small bottle of glue remover. It turned out to just be acetone anyways. I bought a can of it at the hardware store. The other alternative would be to get some strong isopropyl alcohol.
Acetone: https://amzn.to/39FqO1o
Alcohol: https://amzn.to/2sz3rWV
I ended up breaking my Harbor Freight puller and the dent on the fender really wasn't pulling out from it any more anyways. So, I removed the interior of the back of the car to get at the sheet metal. There wasn't much access, but I found a one-inch-square hole which I could insert a socket extension and a jack handle through. I was able to push and pound with those and get the metal pushed out some more.
The dents in the car certainly are not back to a "like-new" body, but they are certainly an improvement. I think I'll try a little Bondo and paint and see how it turns out!
If you like what I do you can support me at:
https://www.patreon.com/300MPG
By shopping at Amazon anyways: https://amzn.to/2rkMTxt
For more Information, visit:
https://300mpg.org
Tweets by 300MPGBen
Most Popular Playlists:
Build Your Own Electric Car: https://bit.ly/2zMufmN
Build Your Own Electric Motorcycle: https://bit.ly/2AT7eOF
Solar Garage: https://bit.ly/2KgQpS5
Contact Ben Nelson:
Please just leave a comment for me at: https://300mpg.org/about/
and I'll get right back to you.
Music by:
"Shaving Mirror" Kevin MacLeod (incompetech.com)
Licensed under Creative Commons: By Attribution 3.0 License
http://creativecommons.org/licenses/by/3.0/
As an Amazon Associate I earn from qualifying purchases. Amazon links help support this these videos.
Crashed Chevy Volt Dent Repair – Paintless Dent Removal – Does it work?