Author: Electric Mountain Bike Network via YouTube
Go to Source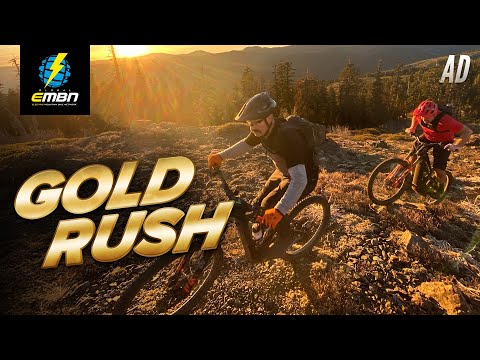 Steve Jones joins mountain bike legend Mark Weir, Mark is the 8 X winner of the Downieville Downhill race and is now an EMTB ambassador for Cannondale. They take on an amazing all-mountain adventure in Downieville's surrounding trail network.
In association with Cannondale: https://embn.me/Cannondale
Subscribe to EMBN: http://embn.me/subscribenow
Shop EMBN Riding Jerseys here: https://embn.me/Jerseys
Follow us on Instagram or Facebook! @emountainbikenetwork
Sign up to the EMBN newsletter: https://embn.me/newsletter
Please submit your content to our uploader: https://upload.embn.com/ we love to check out what you have been up to and may feature it on the show!
Watch more on EMBN…
📹 The most custom E-MTB ever? – https://embn.me/MostCustomBike
📹 Watch Our Weekly Show – https://embn.me/TheEMBNShow​​​​
🎵 Music – licensed by Epidemic Sound
Nanda Devi – Ooyy
Fire Sheet 2 – SFX Producer
Fire Sheet 3 – SFX Producer
Film Projector 2 – SFX Producer
Slide Projector 10 – SFX Producer
Projector Screen 3 – SFX Producer (1)
Ghost Hunt – Sixteen Wheelers
Runaway Man – Headlund
Western Wayne – Roy Edwin Williams
On the Trail – Tigerblood Jewel
Western Call – Cody Francis
Aces Up Your Sleeve – Marc Torch
Delicato – Luwaks
Riverside Drive – Northside
Ride Baby Ride – Easy Wheelers
Love Sick Information (Instrumental Version) – Peter Crosby
Gone Goofy – Sixteen Wheelers
Dark Tavern – Walt Adams
Hacienda – Jett Everill
#EMBN #EMTB #MountainBiking #eBiking #MountainBike #MTB #BikeLife #Cycling #Ebike
The Electric Mountain Bike Network (EMBN) is the world's leading electric mountain bike (eMTB) channel and community.
Dedicated to igniting your passion for eMTBs, EMBN delivers weekly original content to inspire you to take your riding further, faster – and with more fun.
Whether you live to conquer the techiest terrain – both up and down; to access and explore the beautiful backcountry; or simply to pack as much fun as you can into the precious riding time you have, EMBN is dedicated to covering eMTB from every angle.
From inspiring you to go electric – helping you understand what you need, where and how to ride to get the best from your eMTB experience, and more – through showcasing and exploring the latest, most innovative tech, empowering and entertaining features, to skills videos that help you progress and can tackle ever-more adventurous terrain, and much, much more.
Every week we bring you informative and entertaining videos on…
– The know-how…
– The skills…
– The tech…
– The inspiration…
…to go faster and explore more!
EMBN is mountain biking… fully charged: helping you go faster, further, and with more adventures than ever before.
Join the EMBN community:
Facebook: http://embn.me/facebook
Instagram: http://embn.me/instagram
Twitter: http://embn.me/embntwitter
Thanks to our sponsors:
Specialized: http://embn.me/specialized
Canyon: http://embn.me/canyon
Husqvarna: https://embn.me/Husqvarna
Ergon: http://embn.me/ergon
Garmin: https://embn.me/garmin
Muc-Off – https://embn.me/MucOff
Bell Helmets: https://embn.me/Bell
Nukeproof Pedals: https://embn.me/NukeproofPedals
Going Beyond | EMBN's All-Mountain Adventure with Mark Weir