Author: ElectricBikeReview.com via YouTube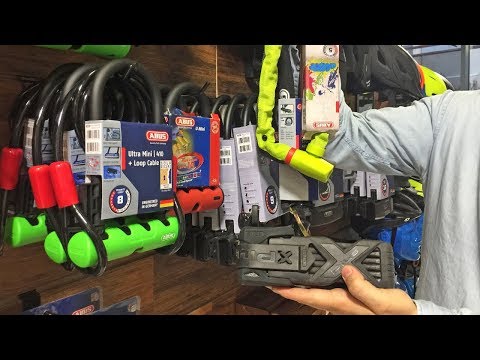 https://electricbikereview.com/guides/ebike-locks-and-security/ For this video guide, I met with Chris Nolte, the owner of Propel Bikes in Brooklyn, NY. He sells a wide assortment of u-locks, chain locks, cable locks, folding locks, and other security devices. Major cities tend to experience higher rates of bike theft and since electric bikes cost so much, it's worth spending more on a lock and knowing how to use it.
Chris carries a lot of ABUS branded bike locks because they can be "keyed alike" with keys that match the locking core cylinders on the ebikes themselves. Usually, the battery pack is locked to the bike, and in this way, you can unlock the battery and the bike lock without having to carry around multiple keys. ABUS locks are designed in Germany and tend to cost more, but are made very well… they even have an electronic lock that sounds an alert if tampered with. Chris explained that right now, only Plus level locks from ABUS can be keyed alike. Another use case would be to save the key code and order replacement keys if you lose them, or perhaps loan keys to friends and family members. Most of the locks are numbered with strength ratings such as 9 or 15, but Chris did have a 20 rated u-lock which was designed more for use with motorcycles. It costs $300 while many other locks were in the $100 range. Some of the nicer city style ebikes will come with frame locks (also called cafe locks) that immobilize the rear wheel. There are chain locks now that can plug directly into the cafe lock, and Chris showed me one of them.
Chris explained that one of the most common ways that people overcome bike locks is with a portable angle grinder. Unfortunately, this sort of attack is very difficult to overcome. Chris recommended parking your e-bike where people are frequently around. For example, near a door man at a bar vs. in an alley where nobody is walking by or paying attention. If you used a u-lock with a chain that has protective material, it might take a thief longer to cut through and even require multiple batteries.
If you're just eating lunch, a cafe lock and mid-toughness chain could work. If you have a fancy saddle or seat post, it might be worth purchasing a small chain or cable to secure the seat through the saddle rails (especially if you have a quick release seat post collar). Some people will leave a seat chain connected at all times, just looping through and connecting it to the frame triangle, seat stays, or a rear rack. Chris had some really small u-locks and he explained that they are easy to put into pant pockets and use quickly, just locking to a street sign pole. Another step in securing your electric bike is to use a Pitlock or other security hardware to replace skewers and seat post clamps. Another brand of security hardware is Pinhead. These use specialized keys that fit into pits or indentations in order to unscrew the bolt. ABUS has created a design that requires the bike to be tipped onto its side to unlock (and that usually cannot happen if a bike is locked in the upright position). Kryptonite has a locking hardware design where you have to flip the bike upside down. One other company is called Hexlocks which uses a magnetic design so people can't just override the bolt. Another option is bicycle insurance from a company like Velosurance. Some insurance companies have exclusions for products with motors… so check with that. Apparently New York City now has a law where new buildings have to provide a bike cage for safe storage. There is also a law where buildings have to provide access for bringing bicycles inside places of work. Folding locks can be easy to mount to bike frames but some u-locks are small enough for pockets or to slip into your belt. Chris said that he will frequently use three bike locks when parking his bikes for over an hour (folding lock, a u-lock, and a chain). The extra weight of additional locks isn't such a big deal when you're on an electric bike. One of the things that's neat about some of the fancier u-locks is that both bars will lock, so a thief would have to cut through both bars. Apparently Kryptonite has an insurance policy for their locks but it is void if the lock is broken with a power tool… which is one of the more common methods of theft.
One of the challenges that Chris raised about ebikes that use thru-axles is that there doesn't seem to be a locking hardware solution on the market right now. Some thru-axles use a 9 mm skewer type of thing in the middle and this can be replaced with a locking skewer, but it requires some modification. Robert Axle Project might be a resource for those looking into locking thru-axles (because they build these special solutions for trailers).
Locks and Security Solutions for Electric Bikes