Author: Raglan Electric Bikes via YouTube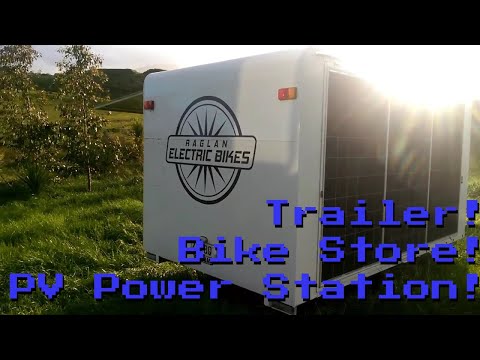 Raglan Electric Bikes' brilliant multifunctional and possibly multidimensional trailer 🙂
Designed by us to be an independent, mobile ebike rental outlet. It stores electrical energy during the day and bikes at night. While storing the bikes safely it charges their batteries getting everything ready for the next day's fun.
Spec:
Internal dimensions:
3500 x 2000 x 1850 length, width, height
Capacity: 16 bikes locked up safe inside, room for bike rack on towing arm and maybe some on the roof?
Solar PV: 1.5kWp panels, Outback FX60 charge controller, Outback GFX1400 48V inverter, 12.5kWh deep-cycle batteries.
Trailer is braked, will be WOF'd and rego'd. Electrical install is WOF'd
Its wicked!
Solar Powersatation, Pop-Up Bikeshop and Trailer