Author: ElectricBikeReview.com via YouTube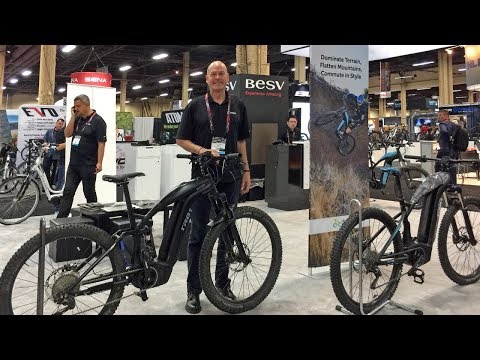 For 2018, BESV is refining some of their older models, carrying them forward but lowering the price or enhancing features, and introducing some new off-road models. I spoke with James about what we can expect to see and he took me on a tour of their booth at the Interbike show.
We started with the BESV JS1 Advance, it comes stock with a rear carry rack, higher handlebar, hydraulic brakes from Magura, 10-speed Shimano Deore drivetrain. The price is a bit lower at $2,999 so it's really better in every way.
BESV is owned by Darfon, a Taiwanese company that also produces electronics. Their US headquarters are in Mountain View, California. Darfon also owns Votani, an ebike company that has been selling to European audiences for several years, and are now coming to the United States. They offer mostly low step-thru bikes with upright body position, sort of like a traditional Dutch bicycle style. Their first model for the US is priced around $2k USD.
We took a close look at the Votani X1 which is uses a Bafang Max Drive mid-motor and offers chain protector, fenders, skirt guard, and rear rack with battery. It's an approachable low-step electric bike in white and grey color scheme. I especially liked the suspension fork and suspension seat post. James told me that this is a popular model for ebike rental programs because it has so much adjustability in terms of fit.
A bit later, we took a look at the PS1 compact electric bike models, which come in a Carbon fiber or Aluminum version (which is more affordable). I like how these offer full suspension frames for improved comfort. This bike also comes in an Advanced model, which is the higher-end spec. It goes for $2,499 which is even cheaper than 2017 (it used to be $3,250) and weighs just 39 lbs. The PSA1 is $1,999 and weighs about 3 lbs more. It uses the same 250 watt internally geared hub motor. Apparently, these models can also reach up to 24 mph now!
Next, we took a look at the CF1 which comes in two frame sizes with different wheel diameters. You can get a higher, more efficient 28" wheel or the standard 26" which could be more approachable for petite riders. It comes in black, white, and grey color schemes.
Towards the end, we took a look at the BESV TRB Series electric mountain bikes. The TRB name calls out B for Brose motor, that's what they are using for the mid-drive. They are available in both hardtail as the TRB XC and full suspension as the TRB AM. The All-Mountain model comes with 150 mm travel suspension and plus sized 2.8" tires with boost axles. The frame is a split tube design which allows you to slide the battery down from the top. It seemed well protected, thanks to a plastic bash guard. The XC is $3,499 and the AM is . You can get blue, black, yellow or possibly some custom camouflage designs. Even special materials like thermo-plastic and titanium. It sounds like it comes in different sizes including 15", 17" and 19" frame sizes. The battery offers a very large capacity and is rated at 36 volt 21.5 amp hours (756 watt hours).
James told me that BESV stands for Beautiful Environmental Smart Visions which is neat. It's a green division of Darfon. They also have a solar division which produces charging stations that are being mounted near railroad stops so you can get free charging for your ebike and other portable electronics. This might be part of Dardon Mobility. As we discussed this, James told me about some mountain biking trails in France and Germany that have solar charging stations along the way to fill your bike up.
You can see some of my previous BESV ebike coverage at https://electricbikereview.com/brand/besv/ and learn more about the company at their official website: http://us.besv.com/ and http://votani.nl/
2018 BESV Electric Bike Updates Interbike (Votani X1, BESV JS1 & PS1 Advanced, TRB Series XC & AM)