Author: Rad Power Bikes via YouTube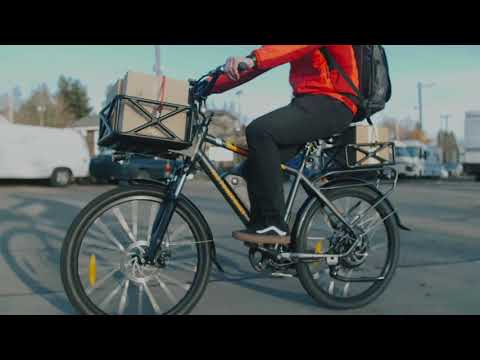 Never again arrive at work, a meeting, or class covered in sweat and red in the face. Stylish, safe, and comfortable the RadCity lets you leave your car in the garage and get biking!
Step-Thru Model:
RadCity Step-Thru Electric Commuter Bike Version 3
Our brand new RadCity Step-Thru electric commuter bike features a low-step frame design and swept-back handlebars, making this the true comfort cruiser you've been searching for. Still packed with a 750W direct drive hub motor and 48V power system, you get all the benefits of the RadCity 16″/19″ in a more approachable package.
16″ & 19″ Model:
RadCity Electric Commuter Bike Version 4
The RadCity electric commuter bike lets you get around your city like never before! Featuring a powerful 750W motor and large 48V battery, you'll power over hills with ease. Add to that the stock rear rack, fenders, and front suspension, you'll do it with style and comfort.
We offer premium ebikes for almost half the cost you can buy a comparable bike for in a traditional bike shop or online through distributors and dealers.
We are a group of dedicated ebike enthusiasts, product designers, and entrepreneurs with a passion for business and technology. We all met while attending Humboldt State University and have since teamed up to bring you Rad Power Bikes!
https://www.radpowerbikes.com
2018 RadCity Electric Commuter Bike – Electric Bike From Rad Power Bikes