Author: ElectricBikeReview.com via YouTube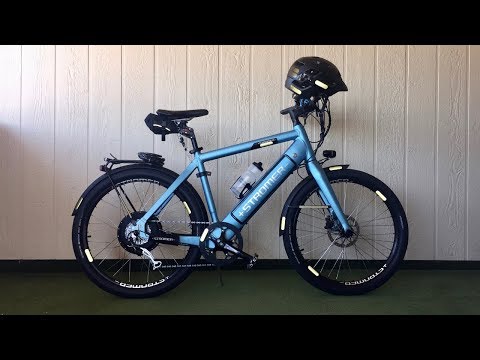 Stromer loaned me an ST1 Limited Edition electric bike in 2016 when I did a full review for EBR at https://electricbikereview.com/stromer/st1-limited-edition/ The bike has held up very well and I thought this would be a perfect time to do a recap and share what worked, what needed to be fixed, and what accessories we purchased to improve the ride experience.
Overall, the bike performed very well and is still in usable condition after hundreds of miles of riding. The chain and derailleur did go out of tune and had to be repaired (which is not abnormal for bicycles that are used frequently). The battery began to lose capacity, but the original is still in good working order. The same tires, fenders, and lights are all in tact and we have never gotten a flat, noticed rattle, or had a light begin to flicker. The biggest fail point has been the plastic LCD display panel. The arm that attaches it to the right side of the handlebar cracked when we upgraded to a swept-back bar and we had to use zip-ties to repair and re-attach it.
I hope this video helps you to estimate how reliable and durable Stromer products are. This was not a paid video and I am not associated with Stromer other than simply borrowing one of their early demo models for an extended period. I welcome comments and feedback here as well as in the EBR Forums at https://electricbikereview.com/forum/threads/stromer-st1-limited-3-year-recap-good-accessories.22634/
Accessories that we added to improve the ride experience:
– Kinekt BodyFloat suspension seat post https://amzn.to/2HeDUbr (we used a 27.2 mm post with a shim like this https://amzn.to/2K1EZ4n but the 31.6 mm post they now offer should fit perfectly on the ST1 Limited if you own that bike)
– Specialized Roll Cage Side-entry water bottle cage with adjustable position https://www.specialized.com/us/en/roll-cage/p/130385?color=219827-130385
– I probably would have upgraded the pedals from cage style to magnesium platforms like this https://amzn.to/2K3C8YI but that could also increase pedal strikes when you turn
– These clear stickers can be used to protect the chain stay as well as any area on the bike where wires are rubbing and marring the paint https://amzn.to/2qLXcdp
– Solid alloy center-mount kickstand, I believe it is this one but a local shop added the part so I cannot say for certain https://amzn.to/2K1hqZl
– BV saddle bag for carrying accessories, I belive we got the medium size but it comes in several size choices depending on how much gear you need to carry https://amzn.to/2qN1Fwh
– bicycle multi-tool https://amzn.to/2qLr5ew and tire levers for fixing flats on the go https://amzn.to/2vuM2zg
– My Dad loves lights so he added two USB-rechargeable LED strip lights from Blitzu including a white headlight https://amzn.to/2HRDYLy and red backlight https://amzn.to/2K3HIu8
– This plastic phone mount looks exactly like the one we got but is made by a different brand, there seem to be many options online https://amzn.to/2HNHy9i
– I think we added the bell, there are many to choose from but my Uncle bought a flick style bell like this https://amzn.to/2qM1a5N
– Swept-back mid-riser handlebar to raise the body position and create a more comfortable hand position https://amzn.to/2K3IIhS
– We used a motorcycle helmet cable lock with combination vs. key to secure the saddle and suspension seat post https://amzn.to/2qO8PjP
– I talked about using the SKS Anywhere adapter https://amzn.to/2qM0lcU to add a folding lock to the seat tube like this https://amzn.to/2K3fxeK since the bike only has one pair of bottle cage bosses, the cheaper combination cable lock that my Dad has is not very secure so I wouldn't recommend it for most riders
– Black reflective stickers to blend in with the black accents of the frame while keeping you visible https://amzn.to/2qM1qS0 we added them to the rims, fenders, and my Dad's black helmet
– Bell Stoker helmet which is designed for people with larger heads https://amzn.to/2K4dwPw
Things I liked about the Stromer ST1 Limited
– Powerful but quiet motor, offers recoup (power regeneration), the torque sensor is very fluid and natural feeling, the bike looks beautiful, the rear rack is useful for hauling cargo but doesn't stick out much or add a lot of weight, being able to ride above 20 mph (up to nearly 28 mph) speeds up commuting and adds some excitement as well as keeping up with traffic, the Ergon saddle and locking grips feel good and have held up very well
Things I felt could be improved about the Stromer ST1 Limited
– The kickstand is mounted near the bottom bracket and gets in the way of the left crank arm, I replaced the spring kickstand with one that will stay in the down position because it makes the bike much more stable, the charge port cover on the left side of the bike is easily broken off and then the port is completely exposed to the elements.
3-Year Performance Update: Stromer ST1 Limited Ebike + Accessories