Author: ElectricBikeReview.com via YouTube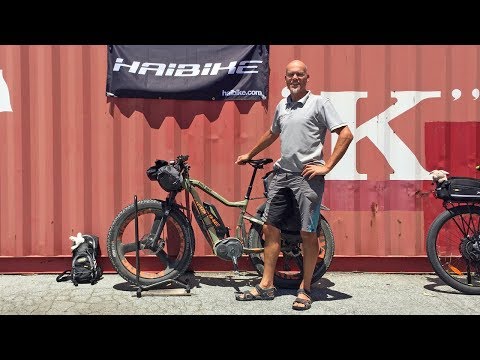 While visiting Motostrano in Redwood City, California, I met with Frank Schulz, a German cycling enthusiast who had built a custom Haibike XDURO FatSix electric fat bike for touring and we spoke about the modifications and what it's like to ride in different parts of the world.
The inspiration for this custom e-bike was touring in Europe and Eastern Europe, being able to cary a lot, feel stable, and be comfortable on any terrain. The FatSix has a suspension fork as well as large fat bike tires (Schwalbe Jumbo Jim) measuring 26" x 4" in size. I actually reviewed the 2015 model that Frankie had and you can learn more about it at https://electricbikereview.com/haibike/xduro-fatsix/
I asked Frankie why he had not chosen the Full FatSix (which offers full suspension) and he said it was not available at the time and that he wanted to be able to put a sturdy rack on the back which is easier with a hardtail. In addition to racks, Frankie put two fenders on the front (one below the fork to keep mud out of his eyes, and one on the downtube to keep the battery, his shins, and the chain clean), and a rear fender that was actually taken from a motorcycle and adapted to fit. We estimated that the bike would weigh ~70 lbs with all of the extra bags and gear installed for touring. Frankie explained that he usually carries two Bosch Powerpack 500 batteries (one on the frame and one in a side-mounted rear pannier bag) and will charge them at lunch when he stops. He also pedals without assist a lot of times on flat smooth roads. He also carries a spare tire (because he runs tubeless), bike tools, a mattress pad and sleeping bag.
Accessories that match or are similar to what was shown in the video:
– Supernova M99-Pure headlight: http://amzn.to/2zgm9RF and mount http://amzn.to/2yhwAWm
– Supernova E3 taillight: http://amzn.to/2yeb3wf
– Fat fork base mud guard: http://amzn.to/2gxrqMR
– Fat bike downtube fender: http://amzn.to/2xznGEY
– Motorcycle rear fender: http://amzn.to/2yh04nj and black zip ties http://amzn.to/2z0OE4T
– Tubus FAT disc brake compatible rear rack: https://www.universalcycles.com/shopping/product_details.php?id=72075 with Thule Pack n' Pedal side frames http://amzn.to/2z0FdSL
– Thule Pack n' Pedal trunk bag: http://amzn.to/2z16DYQ
– Thule Pack n' Pedal adventure touring pannier: http://amzn.to/2zhnqrG
– Ortlieb Handlebar Pack: https://www.rei.com/product/112097/ortlieb-handlebar-pack and some ABUS handlebar bag that I couldn't find
– Bicycle bell: http://amzn.to/2hC9Xma
– Folding bike trailer: http://amzn.to/2xzzZwm
– NEXTIE Wild Dragon tri-spoke carbon rims: http://amzn.to/2ydjRCF
– SRAM EX1 Cassette: http://amzn.to/2gczy8o and derailleur http://amzn.to/2z0uGae and chain http://amzn.to/2xzH1kR and shifter http://amzn.to/2gwNKGc
– Magura Vyron wireless electronic dropper seatpost in 31.6 mm width for Haibike: http://amzn.to/2gwWdcx
– ABUS Bordo Combo 6100 folding bicycle lock: http://amzn.to/2z070Tv
– Bosch NYON display retrofit kit: https://www.merlincycles.com/bosch-nyon-display-retrofit-kit-101051.html
Custom Trekking / Bikepacking Electric Fat Bike – Haibike XDURO FatSix