Author: ElectricBikeReview.com via YouTube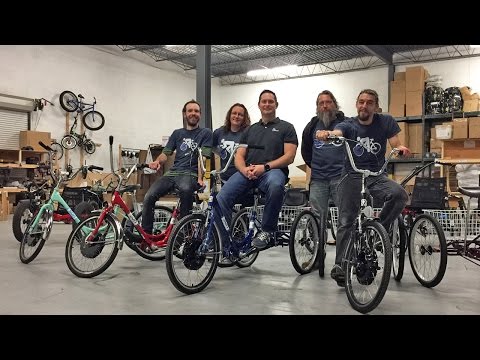 I recently visited Electric Bike Technologies in Pennsylvania to speak with the founder Jason Kraft. He took me on a site tour and let me see the latest from the ebike brands they produce and sell including electric bicycle kits, many electric trikes and the custom folding trike that they make in partnership with Worksman Cycles called the Liberty Trike. Some other partners they work with include Sun, Sun Seeker and J&B Importers. These companies produce frames and Jason's companies offer completely converted final products which are shipped all over the US (and even the world if you arrange shipping).
Jason has been in the e-bike business since 2008 and slowly grown his team. I met four of the employees who work on assembly, shipping and office management during my visit and even got some extra help with details as I conducted my reviews. I was told that their space is 8,500 square feet and is able to accommodate each of the different assembly lines, support and their shipping and receiving which follows all of the laws about hazardous materials etc. appropriately. Jason also talked about how they work with Trenton Corrugated to use cardboard as packing instead of foam and other messy less environmentally friendly materials. Many of their manufacturing partners are local including Worksman Cycles in Queens New York. That company makes the Liberty Trike frame and the Personal Activity Vehicle recumbent delta trike.
Address: 951 River Rd, Croydon, PA 19021
Phone: (888) 220-6736
Website: http://electricbiketechnologies.com/
Brands included in the Electric Bike Technologies portfolio:
– EbikeKit: https://www.ebikekit.com/
– Electric Trike: https://www.electrictrike.com/
– Liberty Trike: https://www.libertytrike.com/
Electric Bike Technologies Visit (EbikeKit.com, ElectricTrike.com, Liberty Trike)