Author: ElectricBikeReview.com via YouTube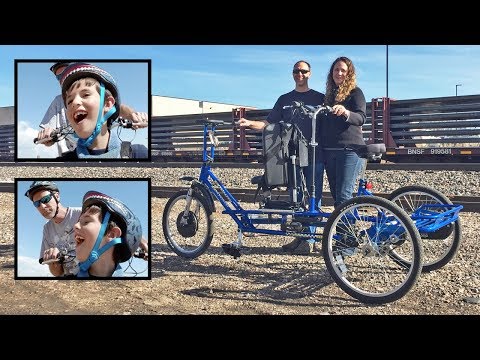 While visiting the headquarters of Electric Bike Outfitters in Denver, Colorado, I was able to meet with Robert and Adrienne Paradis and learn about their Freedom Concepts ET2611 tandem adaptive bicycle. Their Son, Adrian, has a genetic disorder called Dup15q and was getting too big and rowdy for a traditional trailer. Robert had been pulling him with a Weehoo trailer but was struggling as Aidan would bounce around and flail for fun as they rode. He couldn't see as well being pulled and his parents couldn't keep an eye on him there, so for a year and a half they simply stopped riding as they looked for solutions. Eventually, the family discovered the Freedom Concepts ET2611 trike by doing lots of online research, and participated in the Great Bicycle Giveaway crowd funding programe, which lowered the price from $7,500 to $5,400.
The key ingredients for choosing a bike to ride with their special needs Son included stability, being a tandem, and a setup where he would not have access to steering. Finally, having Aidan sit up front means that he gets a full 360-degree view of his surroundings and can enjoy the rides more. The front seat actually slides forward and back and can move up and down to accommodate different sized riders and there are velcro feet cups that allow for pedaling but also keep legs safe as the bike is pedaled. Another important feature is the body harness that keeps passengers from falling out as the bike is ridden (belt, lower harness, chest harness). Aidan likes to rock back and forth, stand up, and swing his arms around when they go for rides. The rear seat is generally higher and allows the captain to see over to navigate effectively. I love how the bike comes with an internally geared hub that allows for gear shifting at standstill and reduces chain drops.
The handlebar does fold down, but this bike is fairly long at ~101 inches (8.5 feet or 256.5 cm) and heavy at ~85 lbs. The Paradis family uses a lightweight trailer to pull it behind their car in order to explore new places. You can see them loading it up towards the end of this video.
Freedom Concepts, a Canadian company building special needs bicycles and mobility devices since 1991
– http://www.freedomconcepts.com/product-lines/adaptive-bikes/et2611-tandem/
Electric Bike Outfitters 750 watt Clydesdale Ebike Kit
– Official website: http://www.electricbikeoutfitters.com/ebo-clydesdale.aspx
– Full review: https://electricbikereview.com/electric-bike-outfitters/clydesdale-2-0-kit/
The Great Bike Giveaway, helping special needs children with crowd funding since 2011
– https://www.greatbikegiveaway.com/
Dup15q is a neurodevelopmental disorder caused by the partial duplication of Chromosome 15 that confers a strong risk for autism spectrum disorder, epilepsy, and intellectual disability. Aidan has motor planning issues and autism issues with short attention span. He weighs ~80 lbs and becomes very active (jumping, rocking, bouncing).
– https://en.wikipedia.org/wiki/Dup15q
Electric Trike for Handicap Son (Dup15q), Freedom Concepts ET2611, Great Bike Giveaway