Author: ElectricBikeReview.com via YouTube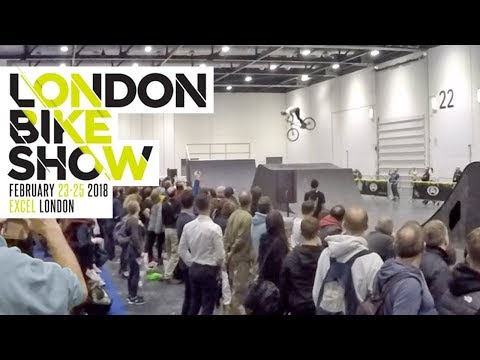 Hi guys, I was visiting London to film some reviews with a shop called Fully Charged and happened to wind up at the London Bike Show. This video is a quick overview of interesting products I saw. Each shot takes a moment to highlight the electric bike or accessory and then show the name of the company who produced it. One of the highlights for me was the new Electric Brompton. I have not gotten a chance to ride it yet.
The music used in this review is from Be Svendsen, used with permission. You can visit their Soundcloud page to listen to more tracks at: https://soundcloud.com/besvendsen you can learn more about the London Bike Show at their official website: http://thelondonbikeshow.co.uk/
Highlights in order of appearance:
– Air to the Throne (freeride mountain bike jumpers) http://thelondonbikeshow.co.uk/air-to-the-throne
– Métier Cycling Clothing https://www.metiercycling.com/
– Gocycle premium folding ebikeshttps://gocycle.com/
– Navigata Pedibal Bikes http://www.pedibal.com/navigata/
– Brompton Electric https://www.brompton.com/Brompton-Electric
– Kalkhoff electric bikes https://www.kalkhoff-bikes.com/en.html
– Velosock bike cover https://velosock.com/
– Orange bicycles, model: Alpine 6 E https://www.orangebikes.co.uk/bikes/alpine-6-e-le
– Focus bikes https://www.focus-bikes.com/
– Clif Bar http://www.clifbar.co.uk/
– Tern bicycles, model: GSD https://www.ternbicycles.com/ca/bikes/471/gsd
– Hummingbird lightweight folding bicycle https://hummingbirdbike.com/
– ARCC Innovations https://arccinnovations.com/
– KwikFold folding ebikes https://www.kwikfold.co.uk/
– Batribike electric bicycles https://www.batribike.com/
– Neomouv electric bikes https://neomouv.com/
– Ezee Bike http://ezeebike.com/
– L-BOW Safety Light for bicycles https://l-bow.co/
– Furo Systems carbon electric bikes https://www.furosystems.com/
– Closca bike helmets, model: Fuga https://closca.com/products/fuga-helmet?variant=53832191509
– FlyKly e-bike motor http://flykly.com/
– Tailfin bike rack https://www.tailfin.cc/
– Coboc electric bikes https://www.coboc.biz/en/
– Fully Charged bike shop in London http://www.fullycharged.com/
I rushed to get this video processed and posted because the event continues tomorrow (Sunday February 25th). Check it out if you're in town, the bicycle ramp riders were amazing.