Author: ElectricBikeReview.com via YouTube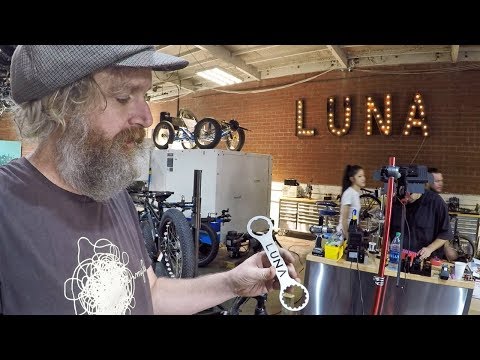 In late 2016, I drove to Los Angeles, California, to visit Luna Cycles and meet Eric Hicks and his girlfriend Ashley, to tour their headquarters. We looked at the different kits, talked about a range of ebike products, explored custom chainrings, and talked about how they do business. It was an interesting adventure, I did not have time to review any products. Eric explained that Luna Cycles was about three years old in 2016, so maybe it began around 2013? However, the retail side started in 2015. Eric said that his operation runs 10am to 10pm every day. I visited on a Friday afternoon around 5:20pm and there was still a lot going on.
Eric talked a lot about speed, Luna can make things fast and they had three full time engineers working on custom projects. He said that it can be cheaper to do ebikes in China, and they do get some of their components from there, but he has also found good deals on machines and tools in the US. Eric and I went for a ride in his scissor lift and discussed how the industry is growing and changing, he said it can be scary and that there is a lot to learn. He wants to produce electric bikes that are fast but also be responsible and think about safety.
Luna Cycle Headquarter Visit, Interview with Eric Hicks, Founder