Author: ElectricBikeReview.com via YouTube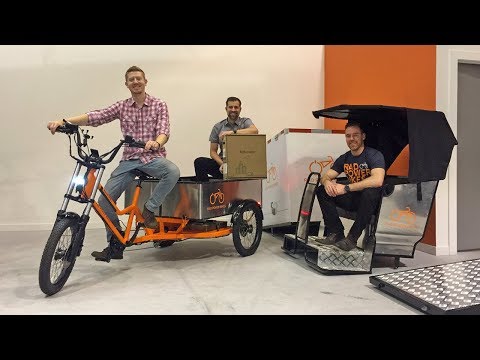 https://electricbikereview.com/rad-power-bikes/radburro/ Rad Power Bikes is launching a new light electric vehicle weighing ~250 lbs that can haul up to 700 lbs of cargo in a truck bed configuration, flat bed, pedicab, or food box (which heats or cools) designed to be sold to commercial companies or in fleets. RPB is actually selling all of their bikes commercially (B2B) at discounts and has standardized most of their batteries to make them easier to service and swap out. The main battery in the RadBurro is a 48 volt 52 amp hour but it is swappable for continued use. Compared to their updated RadWagon, the Burro is a tricycle style electric bike that still offers pedal assist and throttle on demand, but the brakes are much stronger and the 750 watt motor is overbuilt and run through a reduction gear for high torque applications.
I met with Brian Rinkenburger for this review because he's leading the commercial division of Rad Power Bikes and shared the vision and mission of this part of the company. He explained that they have a minimum quantity of two for the Burro. We jumped into the technical specs and I learned about the color display, locking battery on/off switch for security, and tilt-up bed. The charger for the RadBurrow is 25 Amps compared to just 2 Amps on a lot of smaller e-bikes. The battery pack itself is ~31 lbs. 10 to 1 gear reduction and temperature sensor, trans-axle. Can adjust the top speed. It's sized to fit a Euro pallet.
RadBurro Commercial Ebike Review – $5.5k Light Electric Truck Mover, Food, Electric Pedicab)