Author: E-Bike Commuter, in inChicago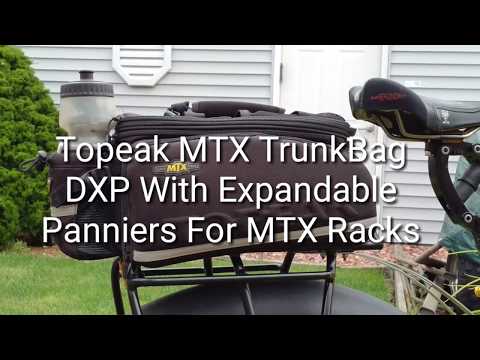 During this video I review my Topeak MTX TrunkBag DXP, with Expandable Panniers for MTX Racks. I transfer this one bag between my Sonders two ebike models.
I purchased this Trunk Bag last fall of 2016, along with the two Topeak MTX Rear Cargo Carriers from Modernbike.com… The Trunk Bag set me back $120.00 USD
The bag is spacious, especially when those expandable side panniers are deployed. The expandable panniers can be left folded in there compartments. The two side compartments can be use as pockets; which is where I store the bigger parts of the bike repair kits. The insulated trunk w/divider is where I store my lunch…. The bag has a stitched on carrying handle, a removable shoulder strap is also supplied.
The bag sides on /off, and latches securely to the MTX racks with ease, making this bag great to use between bikes with the MTX racks. Also with the convenient removal /installation of this bag, a rider can take the bag and contents along when locking the bike in public places.
Despite a broken cord at the bottom of one of the panniers, and a couple of missing zipper levers, which I can't be sure how, when, and where these damages occurred, I will recommend this bag. Otherwise; the bag is well thought out and made.
In closing; Topeak does offer other simpler inexpensive MTX Trunk Bag models. The one I selected simply has it all, but it did cost!
Thanks for watching.
Like, Share, and Subscribe.
E-Bike Commuter, in Chicago
Review of the Topeak MTX TrunkBag