Author: Blue Monkey Bicycles via YouTube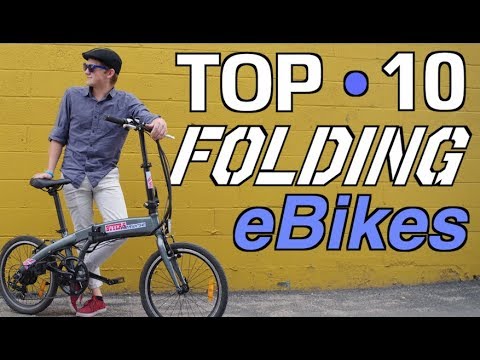 Folding bikes are pretty slick, but what makes them really neat is the innovate ways they move. Check out our list of the Top 10 electric folding bikes and so much more from Blue Monkey: Your electric bike resource!
www.bluemonkeybicycles.com
https://bluemonkeybicycles.com/collections/pedego/products/latch
https://bluemonkeybicycles.com/collections/pedego/products/latch
*TRANSCRIPT*
Hey, what's up? This is Mikey at Blue Monkey and in this video we're going to talk about the Top 10 electric folding bikes. Let's not waste any time and "unfold" the list!
*fanfare*
Sliding into home base for this one is the Luna Cycles Luna Folding Bike. This is a pretty peculiar bike that rocks a 52 volt system with a lot of punch to pack in a little nap-sack. The 5.8 amp hour battery pack will ensure that you will use your motor wisely…
*fanfare*
The eProdigy Fairweather! Like a lot of folding bikes; the looks may decieve you: Inside this lightweight carbon-fiber frame hides a 750w mid drive that can be programmed for no speed governor. This thing is a rocket-ship!
*fanfare*
The Dahon Ikon Electric! Dahon's been making a slew of awesome folding bikes for some years, so when they came out with an electric version; folks were pretty excited. The Dahon folding system is pretty slick, I've actually used it many times.
*fanfare*
The Easy Motion EasyGo Volt! Get it before it's gone! This bargain eBike may be the last we see of the Easy Motion folders, but this lightweight eBike has one secret power that other eBikes don't: a 5 year warranty! That's right: 5 years!
*fanfare*
The Yike Bike! Yes, it's a folding bike! My personal favorite, actually… It's kind of a stretch to call it a bike, and it took me about 30 miles to really feel comfortable on it. But hey, the Yike Bike, I can say, is the most fun I have had on 2 electric wheels. For real.
*fanfare*
The Mando Footloose! This bike literally has no chain. The pedaling motion activates the rear hub motor electrically, which is kind of a trip at first. Once you get the hang of it, it's… well… no, it's kind of a trip…
*fanfare*
The EG Vienna! EG's been making great value bikes for a while now, and the EG Vienna is no exception. Based on the Reention Scimitar frame: EG fills it with really good components for the price. Which is really great, considering some other "less reputable" companies will fill that same good frame with bad parts. I've seen it before… and it sucks…
*fanfare*
The Gocycle! … G-1? G-3? G-S? They're all really cool! Futuristic, feature-rich and truly made with the commuter in mind, the GoCycle is a spacey eBike that we can't take our eyes off of. In a variety of different colors and a few models, it's sure to be a practical and fun bike no matter what. And I really dig the belt-drive, it's good.
*fanfare*
The Vektron Accelerator! Like Dahon, Tern is a company that makes folding bikes first and foremost. So when they came out with this smooth, range-reaching Bosch powered folding bike with a strong frame, it was a match made in heaven. What more can I say?
Nothing… that's why I said what more can I say…
*fanfare*
The Pedego Latch!
It's no surprise, the Latch is gutsy, it's durable, comes in a few colors, but it really scales the list because Pedego has a wealth of Pedego stores all across the country to help if any issues arrive. And warranty claims are solved where you arrive at no extra charge. This is prime use for a folding bike, being able to fold it up and toss it in the back of a car, boat, an RV, and airplane! Being able to travel across the country with total peace of mind. *clicks* It's perfect.
Thanks for watching this video! We got a bunch of other top 10 videos for the 2018 electric bikes coming up very soon, so stay tunes for that. You can subscribe to our page, you can check out the recommended videos (or you can probably just wait 'til the end of this video and it will show you another option… so yeah…)
Also! You can buy some electric bikes from our store: bluemonkeybicycles.com, including the Pedego Latch, which will ship straight to your door!
I'm Mikey at Blue Monkey, and I'll see you on the later!
Top 10 Folding Electric Bikes | What folding eBikes are best?