Author: ElectricBikeReview.com via YouTube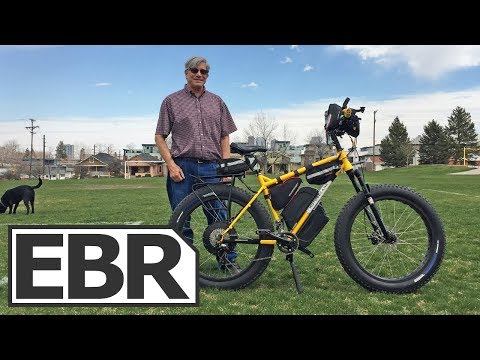 While visiting Best Electric Bikes in Denver Colorado, I met a gentleman named Ron who had a customized Motobecane fat tire bike which had been converted to electric using a Falco gearless hub motor. Ron said that he purchased the bike for a pretty good price at Bikes Direct. I've reviewed a few of the Falco hub motor kits at https://electricbikereview.com/brand/falco/ but have not covered his higher powered model.
Ron held the position of Chief Electronics Technician in the US Navy. He said that he has been building electric bikes for 15 years! mostly the fast transport style that can keep up with automobiles. One was capable of going 65 miles per hour… apparently the land speed record is 92 miles per hour. The custom fat electric bike we were looking at could reach 42 miles per hour. He told me that it cost him about $4,800 to build but many of the parts were purchased at discount.
The bike uses a chromoly steel frame, for strength. Apparently, the frame does flex a bit, but also offers some vibration dampening qualities. It weighs ~82 pounds, according to Ron. I noticed that the bike had a RockShox Bluto fat tire suspension fork and was told that it came stock on the frame when Ron purchased it.
Some things I noticed were the motor inhibitors that cut power whenever you pull the brakes. Ron said that this was necessary because the motor can sometimes activate on its own due to the very sensitive strain sensor (I experienced this myself when taking a test ride on his bike). The backup camera with LCD display panel that can be used as a rear-view mirror while riding. The double battery pack setup for increased range and power. He uses a Flick wireless Bluetooth button to change his smartphone readouts without having to reach all the way over and actually touch the screen. He even had some grocery store hangers to bring his supplies home. He customized a piece of metal to fit a double-leg kickstand… I love how it even allowed the pedals to turn backwards without locking. The batteries are both 48 volt 11.6 amp hour. He has a lot of keys (because each battery requires its own) and it sounds like both batteries must be charged independently. The bike even had an alarm with wireless fob built in and a GPS to track the bike if it gets stolen. He can track whether the bike has been moved via a smartphone app. He said that the GPS tracker was sold through a Kickstarter app.
Tricked Out Fat Tire Ebike with Loads of Accessories