Author: ElectricBikeReview.com via YouTube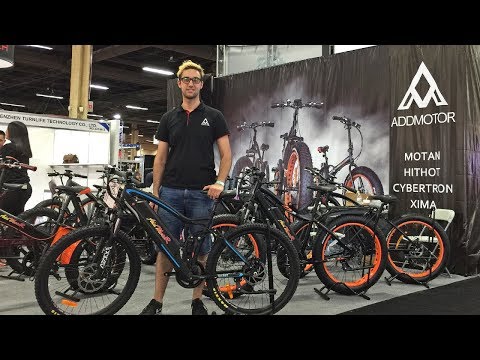 For 2018, Addmotor is introducing even more fat tire electric bikes and I was able to speak with Philip Ettrich about some of the new options and pricing. This was Philip's first time visiting the USA, he was from Germany, but Addmotor has an office in Los Angeles, California. The company sells their products all over the world including Europe, the United States, and Canada. They have been around since ~2007 producing motorcycle parts and have expanded into electric bicycles more recently, around 2015 is when they started with e-bikes.
The first model we looked at was the Addmotor MOTAN which has a retro look and long padded seat. It is priced at $1,299 on their website but I was told $1,400 at Interbike, which is interesting… maybe it is on sale?
The next model we checked out is the Addmotor MOTAN 750W Folding 20 inch Fat Tire E-bike which is priced at $1,599. This type of bike is a bit easier to store in a garage or shed than the other large fat tire e-bikes.
Then, we looked at the Addmotor MOTAN Electric Trike Tricycle 500W which would be a stable, but very capable fat trike. And Philip said it could be used for a picnic or for a rider who does not have as much balance perhaps. This one is a bit more expensive at $2,999 but is one of the only upright trikes I have seen which has a suspension fork!
We also looked at the M850 P7 which is one of their main models, it has a uniquely styled frame and looks more like a traditional fat tire bike compared to the smaller kids fat bike we saw earlier. This one also comes with a 750 watt motor but the older one had a 500 watt motor, so it's more powerful now for 2018. This is a full suspension fat electric bike.
It sounds like Addmotor has a one year warranty on all of their bikes, which is pretty good. Just before leaving, Philip and I looked at the new Beast model which is more of an off-road super powerful model, like the Stealth Bomber, and has a 3,000 watt motor. This model is priced at $4,500 which seems like a good price compared to similar looking electric motocross style bikes. Even though this company sells online, I was told that they are also interested in getting some retailers and shops that could also carry them for people to see in person and test ride.
You can see learn more about the company at their official website: http://www.addmotor.com/
2018 Addmotor Electric Bike Updates at Interbike (MOTAN Electric Fat Trike, Addmotor Beast)