Author: ElectricBikeReview.com via YouTube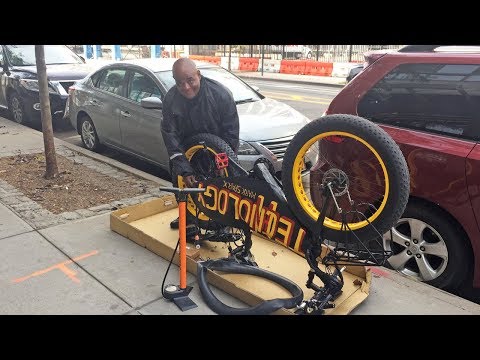 I happened across Mark Sparx again in Brooklyn, NY while visiting Propel to film reviews. He told me that he lives in Flatbush Brooklyn and rides all over the city for fun, to get supplies and groceries, and also for work each day (usually 17 miles per day). So Mark was out front of the store with his electric bike flipped over and was swapping the rear tire out for a new one from Trek. Mark works with the local shops, including Green Path e-bikes, to upgrade and service his custom Sondors fat bike (which he had owned for ~2.5 years at the time of this video). He told me the Trek Ground Control tire he was putting on cost $129 just for one tire! Since our last connection in April 2017, Mark had updated his frame cover with some new designs that say Technoogy and Humanity.
I noticed that Mark was wearing a fully waterproof jacket, pants with suspender straps, his helmet, and a new pair of clear safety glasses to keep his eyes protected from debris and water. These are just standard $2.59 glasses that he said he got from a local hardware store but they work great for cycling too because they are so large and have side protection. He even had $6 waterproof gloves that he also got at a hardware store… Mark knows how to spend money wisely and even his Sondors electric bike was an affordable purchase that he takes care of and makes last. Much of his clothes had reflective tabs and highlights along with his panniers and trunk bag and Mark now uses four rear LED lights to be seen in traffic!
Mark uses a Cycle Analyst display panel to manage two batteries and has one 36 volt and one 48 volt pack which both seem to power his stock 350 watt Bafang motor just fine. He uses cutoff switches to control which battery is selected but told me that he can actually run them both at the same time if he wants, in parallel. You can find more info on the Cycle Analyst at http://www.ebikes.ca/product-info/cycle-analyst.html Mark also runs a super-bright headlight and uses a handlebar extender to fit that and other accessories like his waterproof speaker. It sounds like he's offering some consulting or contract services to help other cyclists under the name Humanity Marks the Sparks Technology Solutions but there's no website or other info yet. He has mostly helped people who are located near him who see his bike and want to do their own.
One of the big topics of our conversation was police and electric bikes in New York, and how some delivery guys have been ticketed or had their bikes impounded. Mark said that since we last spoke, he got pulled over by some police and they almost confiscated his bike but instead gave him a $50 ticket… which he fought in court and won! This is because his e-bike has pedals and he was following the law when riding with pedal assist. The big reason he was pulled over was because he caught the tail end of a yellow and ran a red light at an intersection. He had been riding on the Green Path near the West End Highway. Towards the end of his powerful and wise message about treating police with respect and listening to learn, Mark sent a shout out to the NYPD thanking them for the services they provide to the city.
Mark shared that he weighs about 240 lbs and he estimates that his bike, when loaded up, weighs 70 to 80 pounds. He carries both of his chargers around with him so that he can make sure he doesn't run out and have to push his bike home. Mark is nearly 50 years old and he said that the reason he has customized his bike for more power is to be able to climb hills without over-exerting himself and to be able to make it to work and back on the longer rides.
Also… Mark told me that he has met Tracy Morgan before and thought it was cool that people likened his mannerisms and voice to Tracy, he's a fan of the guy's work.
Deep Update with Mark Sparx on NYC Police Ticket, Ebike Safety, Sondors Custom Electric Bike Updates